Korea Tourism Embarks on Medical Tourism


Toronto, Canada. December 11th, 2012. – Korea Tourism has embarked on a new niche market in Canada, medical tourism. Yesterday, the Korea Tourism Organization signed a memorandum of understanding for the further development and marketing of Korean medical packages with Elite Orient Tours and the Incheon Medical Tourism Foundation.
Elite Orient Tours plans on focusing on medical checks, dental procedures, aesthetics and cosmetic care beginning in the new year through their new found partnerships. Elite Orient Tours and the KTO believe that expanding into Canada will open new opportunities for travellers, especially when Korea is already well known in Asia as having advanced medical technology and state of the art techniques.
Korea Tourism began medical tourism in 2006, and currently the country receives nearly 120,000 medical tourists per year who are looking to avoid the high costs of their home country, the long wait times and take advantage of Korea's advanced medical technology.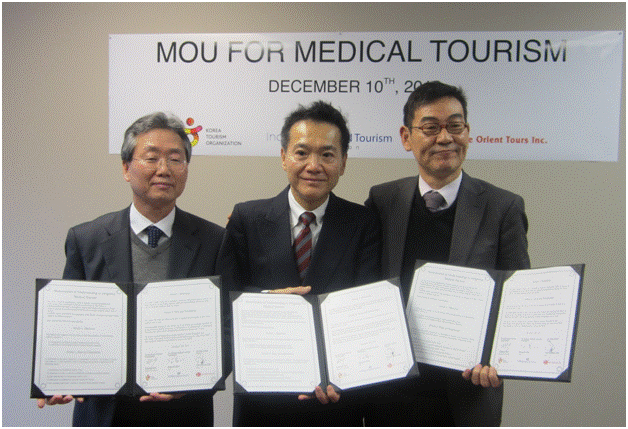 Seen here from Left to Right are Bong-ki Kim, president of the Incheon Medical Tourism Foundation, Grover Jun Hayashi, President of Elite Orient Tours and NJ Park, Director for Canada of the Korea Tourism Organization.
For more information about the Medical Tourism to Korea, please contact the Korea Tourism Organization at
1-800-TOUR KOREA (868-7567) or 416-348-9056;
Fax: 416-348-9058; e-mail: randy@knto.ca; Website: www.visitkorea.ca