FOR IMMEDIATE RELEASE
KOREA TOURISM ORGANIZATION NAMES NEW MARKETING COORDINATOR
Toronto, Canada. October 4th, 2010. – The Korea Tourism Organization (KTO) is pleased to announce that Randy Snape has been named new Marketing Coordinator. Randy is eager to bring his experience and knowledge of Korea to the KTO. Randy's responsibilities will include managing public and media relations, as well as supporting all marketing, advertising, and promotional projects. The KTO is looking forward to seeing Randy's passion and knowledge of Korean travel reflect in future marketing projects.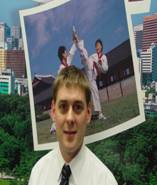 Randy was previously an English teacher in South Korea for nearly 8 years which allowed him to work at nearly every level of education. His knowledge of Korean culture, language, destinations and cuisine were crucial to his success in Korea. Randy was able to use Korea as a gateway into the rest of Asia and expand his knowledge of Asian culture. Living and working in Korea has helped Randy create a unique understanding of what Canadian travelers would expect of Korea and Asia. Being well traveled, Korean experienced and having a strong marketing background Randy is the ideal fit for the role as KTO's new Marketing Coordinator.
Randy looks forward to speaking with the media and public regarding any enquiries about travel to Korea.
Congratulations Randy!
-30-
Media Contact:
Randy Snape
Marketing Coordinator
416-348-9056 ext. 224 or
1-800 TOUR KOREA (868-7567) ext. 224
E-mail: randy@knto.ca