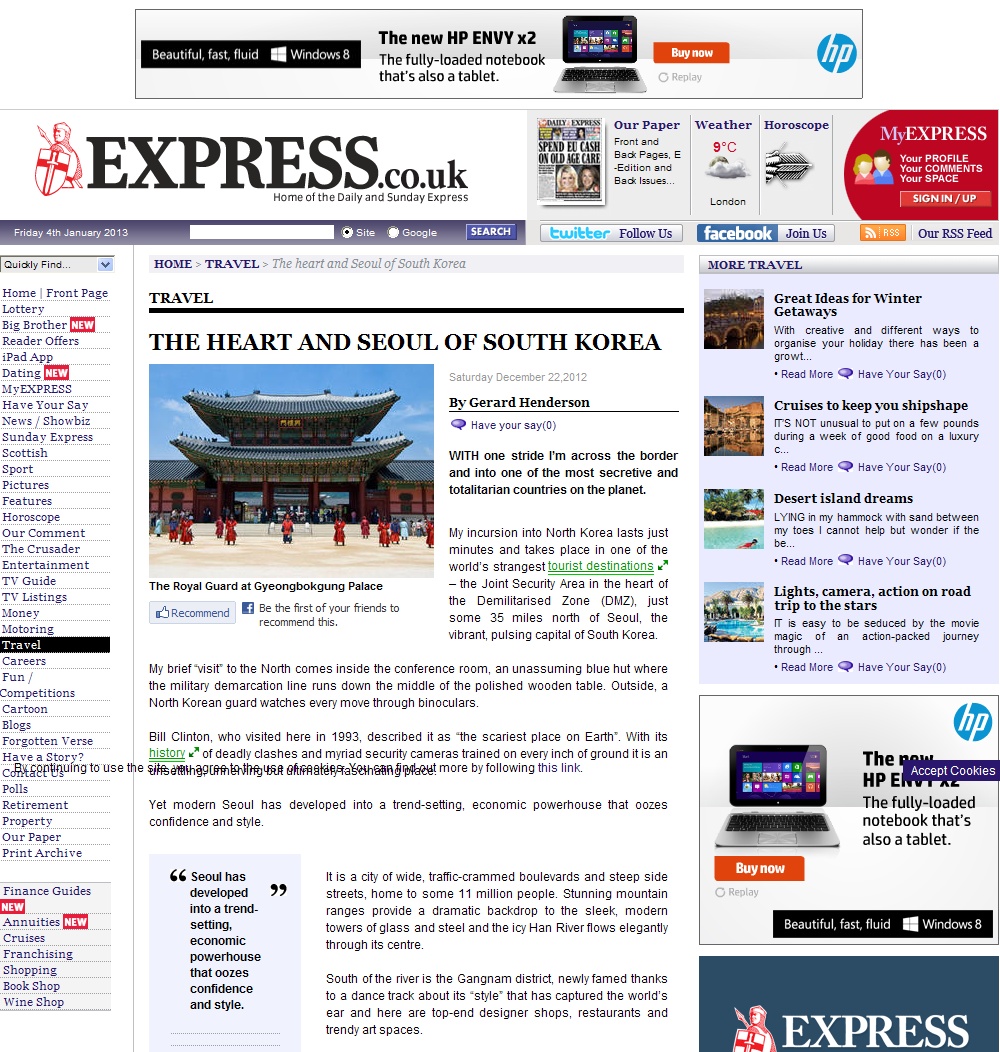 In early December the visitor figures from the UK to Korea totalled 110,229 which was a 10.6% increase over 2011!
Mr. Ramy Salameh, PR Manager and spokesman for the Korea Tourism Org, says "A 10.6% increase in arrivals from the UK to Korea is a clear reflection on the growing popularity of the destination, helped in no small part by PSY's Gangnam Style and the K-Pop genre in general which has wooed a new generation of travellers to Korea. We have introduced a brand new 'Gangnam tour' to satisfy the demand of the K-pop fans coming to Korea from all over the world. On December 2nd 2012 BA started a new service to Seoul from London which will give the consumer greater choice to visit Korea and so we can only see our market share from the UK increasing in 2013".
As 'Asia's leading sports tourism destination' (World Travel Awards) 2012, Korea is looking forward to another packed sporting year with the 'World Winter Games – Special Olympics', World Rowing Championships and another F1 race in Yeaongam.
From April to October 2013 the 'International Garden Expo Suncheon' will take place, exploring some key issues such as green industry development, solar energy, sustainability and electronic transportation. The expo will also be a Mecca for garden lovers with an exquisite array of gardens from all over the world.
Just take a look at a few of the most recent articles…..
Daily Mail
http://www.mailonsunday.co.uk/travel/article-2256548/Gangnam-Style-boosts-tourism-South-Korea.html
Daily Express
http://www.express.co.uk/features/view/366576/The-heart-and-Seoul-of-South-Korea
Guardian
http://www.guardian.co.uk/travel/2012/dec/28/seoul-k-pop-gangnam-style
BBC
http://news.bbc.co.uk/1/hi/programmes/fast_track/9776811.stm
Telegraph
http://www.telegraph.co.uk/travel/destinations/asia/southkorea/9718322/Seoul-a-24-hour-city-running-on-K-pop-and-kimchi.html