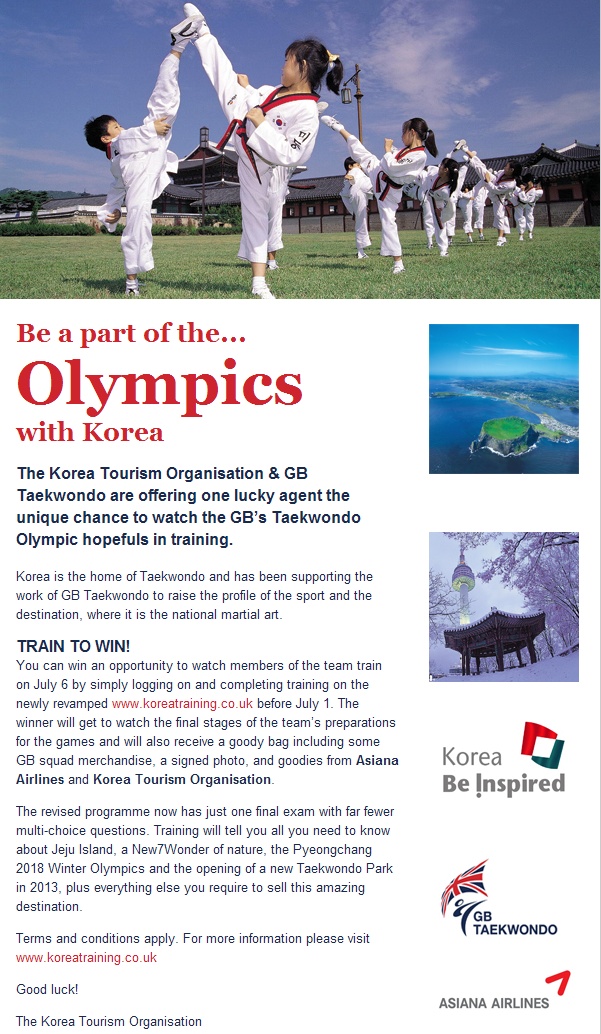 The Korea Tourism Organisation & GB Taekwondo is offering one lucky travel agent the unique chance to watch the GB's Taekwondo Olympic hopefuls in training.
Korea is the home of Taekwondo and has been supporting the work of GB Taekwondo to raise the profile of the sport and the destination, where it is the national martial art.
TRAIN TO WIN!

Travel Agents can win an opportunity to watch members of the team train on July 6 by simply logging on and completing training on the newly revamped www.koreatraining.co.uk before July 1. The winner will get to watch the final stages of the team's preparations for the games and will also receive a goody bag including some GB squad merchandise, a signed photo, and goodies from Asiana Airlines and Korea Tourism Organisation.
The revised programme now has just one final exam with far fewer multi-choice questions. Training will tell agents all they need to know about Jeju Island, a New7Wonder of nature, the Pyeongchang 2018 Winter Olympics and the opening of a new Taekwondo Park in 2013, plus everything else a travel agent requires to sell this amazing destination.
Competition only open to Travel Agents.
Terms and conditions apply. For more information please visit www.koreatraining.co.uk