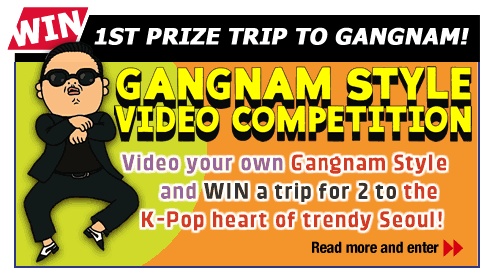 'Gangnam Style' the tune and the dance that everyone is talking about has received over 400 million hits on youtube! Now it is your turn to follow PSY's horse-dance moves and be in with a chance of winning a trip to Korea and Seoul's Gangnam District. The Korea Tourism Organisation wants you to video your PSY inspired dance on video and enter it at www.gokorea.co.uk.
Entering could not be easier, just video yourself or your friends stamping out your own Gangnam Style moves and upload your movie, which should be around 1 minute long, to YouTube and paste the link and your details into the form imbedded on our web site.
Gangnam is a district of Seoul literally means 'South of the river' and is a mainly commercial area located south of the Hangang River. The district is a mix of super modern department stores and designer boutiques intermingled with shops selling vintage clothes. The area is young, trendy, affluent and visitors are more than likely to spot a celebrity. Off the back of the success of 'Gangnam Style', visitors can now go on a one-day tour to experience the life of one of Seoul's major areas in true celebrity fashion.
We look forward to searching the best entry and sending a lucky winner to Korea.
For competition details plus terms & conditions please go to www.gokorea.co.uk
- Ends -
For further information please contact:
Mr. Ramy Salameh
Tel: 020 7321 2535 / Email: london@gokorea.co.uk