Korea's second largest city is emerging as a top spring destination for tourists. With Seoul currently riding high on hallyu, the Korean wave, Busan looks to follow suit and grab a bigger share of the country's tourism pie. The conveniently located Gimhae International Airport and extensive intercity bus and railway services make Busan the perfect hub for exploring the wonderful attractions of Korea's southern region. Popular domestic destinations such as Jeju and Gyeongju are merely a hop, skip and jump away.
In spring, beautiful cherry blossoms can be seen throughout Busan. Easily accessible by foot from the famous Haeundae Beach, Dalmaji Hill offers numerous vantage points for stunning springtime vistas. The 4.5km long Sibogubi-gil Road with its 15 curves from Mipa in Haeundae to Songjeong Beach is said to encapsulate the beauty of a lifelong journey as the gently undulating trail is accentuated not only by cherry blossoms but also the splendors of the sea.
Jinhae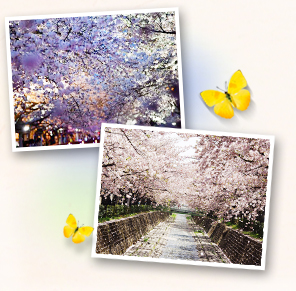 Jinhae is just a 40-minute drive from Busan and is known for its world-famous cherry blossom festival (Jinhae Gunhangje Festival) that began in 1952. Held annually to honor Korea's greatest naval hero Admiral Yi Sun-shin, this quaint and charming town holds a lively parade amidst its spectacular floral display, attracting over 2 million visitors annually from late March to early April.

Set on a mountainous stretch of Korea's southern coastline, Jinhae's large number of cherry trees has been immortalized thanks to the popular Korean drama "Romance." The most picture-perfect spots are the 1.5km boardwalk alongside the picturesque Yeojwacheon Stream and the 800 meter long Gyeonghwa railway track that is flanked by a continuous row of cherry blossoms on both sides.

Another great vantage point is the park on Jaehwangsan Mountain in the center of Jinhae. Visitors must hike up 365 steps for an encompassing view of the town blanketed with cherry blossoms, but for those who rather not to sweat it, hitch a ride on the monorail that goes right up to the summit.
Gyeongju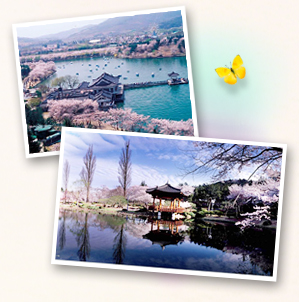 A great display of delicate pink flowers can also be admired around Gyeongju, the once capital of the ancient Silla Kingdom (57 BC – AD 935). Known as a museum without walls due to the city's heritage of historic tumuli (tombs) and Buddhist relics, Gyeongju is about an hour away from Busan by car, bus or train.

Bomunho Lake, a tourist resort complex surrounded by deluxe hotels, hot springs, golf courses and the Shilla Millennium Park is another popular spot to view cherry blossoms. The long, cherry tree lined walkway around the serene Bomun Lake becomes pretty in pink each April, paved with a flurry of delicate cherry blossom petals.

More cherry trees can be found blooming at the historical site of Anapji Pond. Built during the 14th year of King Munmu's reign (661-681 AD), Anapji was once a royal botanical paradise filled with beautiful flora and exotic fauna and remains as a romantic moon-gazing spot. Other cherry blossom trails in Gyeongju include the winding footpaths heading to two UNESCO World Heritage sites, Bulguksa Temple and Seokguram Grotto.