A Lavish Festival of Butterflies and Flowers
Hampyeong, a city flooded by butterflies attracted by the flowering plants densely lining its streets, is a choice destination for all eco‐friendly travelers. The Hampyeong Butterfly Festival, hosted every year in May by the municipality, is an amazing celebration of pollination, a process essential to life on our planet and the ecosystems it sustains. The city also has an Expo Park where butterflies and other insects can be seen year‐round.
☞ Hampyeong County Office Homepage: http://www.hampyeong.jeonnam.kr/2008_hpe/eindex.php
The Fragrant Heart of a White Lotus Blossom
An approximately 10 km stretch of the Yeongsangang River valley, beginning in Isan‐ri, Mongtan‐myeon and ending at White Lotus Pond of Hoesan in Muan‐gun, is considered the best foot tour itinerary in the area. Immediately past the town line of Isan‐ri, there lies a small open pavilion, perched on a low‐rising hill. This pavilion, named "Sigyeongjeong," was constructed by Hanho Im Yeon in 1630 when he took residence in Muan to lead a bucolic existence there, while devoting his time to the education of young scholars. One of the best‐known riverside pavilions, located along the Yeongsangang, Sigyeongjeong Pavilion is a great place to enjoy a panoramic view of the Naju Plain traversed by this splendid winding stream.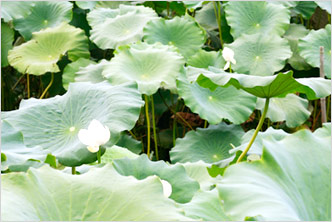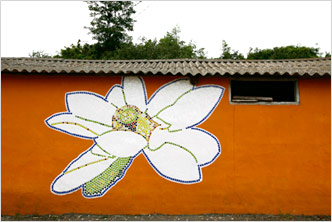 Baengnyeonji, the lotus blossom‐covered pond, lies shortly ahead. A complete foot‐tour of Baengnyeonji, the largest pond of this type in Asia, takes at least one hour. The extravagant spectacle deployed by this vast pond, carpeted with blossomed white lotus plants, a variety rather rare in Korea, is simply stunning. As different batches blossom at different times, the pond is continuously covered with its white floral blanket from July until the first frost of the year. The peak of the blossoming season, however, is between July and September. The lotus blossoms may be enjoyed from up‐close aboard a rowing boat or in certain corners along the foot path around the pond.
Tidal Flats ‐ the Wondrous and Unfettered Vitality of Ecosystems
Muan borders the sea from its south and west sides, with the Yeongsangang River serving as its eastern boundary. Its southern and western shores unfold in vast tidal flats that are homes for myriads of species. In 2001, Muan became the first town in the nation to be selected as a protected coastal wetland. Last year, its pristine tidal flats were also included in the list of protected wetlands under the Ramsar Convention. The Muan Tidal Flat Ecology Center, meanwhile, is a great resource for learning about the ecosystem of tidal flats. The center has indoor facilities realistically simulating tidal wetlands that are highly informative of the ecological universe they contain. Visitors of this place can continue their discovery journey on the actual tidal flats lying just outside.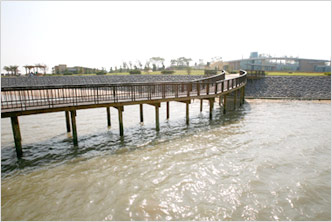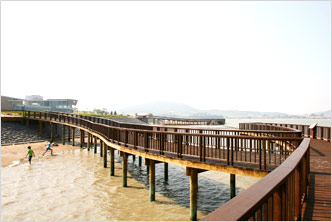 ☞ Muan County Office Homepage: http://eng.muan.go.kr/home/eng/