Yeongsanpo and Skate Ray
The skate ray is a fish whose flesh has a uniquely tangy flavor. One of the oldest skate ray‐based Korean recipes is fermented skate ray, going back as far as 600 years ago. This recipe originated from Yeongsanpo in Naju. Fermented skate ray is said to have been first eaten by people from Heuksando Island who were forcefully relocated, during the Goryeo Dynasty, to this coastal area, by a government decision to evacuate islands haunted by Japanese marauders. The new settlers of Yeongsanpo brought with them skate ray, a fish abundantly found in waters off Heuksando Island. The sea journey from Heuksando Island to Yeongsanpo took about five days at that time. The fish the islanders brought with them rotted during this five‐day journey, except the skate ray, which was fermented into an edible state. This is, apparently, how the recipe for fermented skate ray began.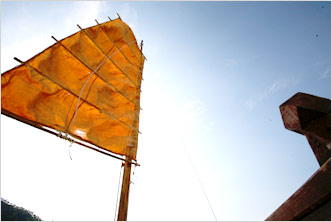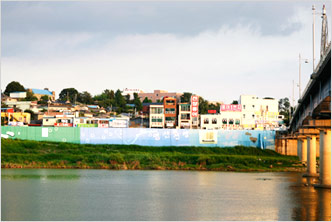 Yeongsanpo and Skate Ray
Yeongsanpo's role as a sea port had been interrupted for several decades, with a boat departed from its harbor in October in 1977 as the last one. Thirty‐one years later, in June 2008, its famous yellow sailboat (hwangpo dotbae) reappeared here. Although carrying tourists, instead of skate ray, salt, seaweeds and necessaries for the coastal community that they used to be laden with, these sailboats have lost none of their grace and lyricism.
Natural Dyeing Cultural Center: A Full Palette of Nature's Own Colors
The Naju Natural Dyeing Cultural Center displays for its visitors a rich palette of dyes, obtained from all natural sources such as flowers, plants, grass, soil and minerals. Set on a bank of the Yeongsangang River, in a section of Hoejin‐ri, Dasi‐myeon, Naju, the museum offers a wealth of experiential activities as well as accommodation, in addition to its well‐furnished exhibition rooms.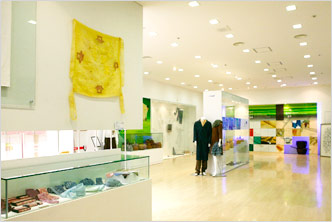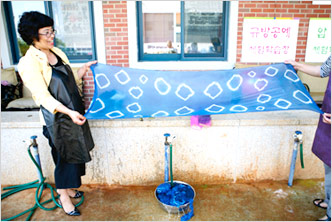 Pilgrimage to the Dawn of History, Home of Tradition and Primordial Wilderness
‐ History and tradition are alive and well in Naju. The city has strings of ancient estates with guest accommodations, offering an intimate window into its past. Among them is the house which used to serve as the residence of the Naju governor during the Joseon Dynasty. The chief administrator of Naju was known as "Moksa," both in Goryeo and the ensuing dynasty of Joseon. A post of royal court rank 3, Moksa was equivalent to today's provincial governor.

The Moksa residence was recently vaulted to fame, as a filming location of 1 Bak 2 Il (Two Days and One Night).

‐ Past the residence of Naju's Moksa runs by a gastronomic street, lined by restaurants specialized in gomtang, a clear broth made from beef bones and meat. Naju‐style gomtang is known for its lean yet rich taste. The soup is prepared by slowly simmering beef bones, then adding beef brisket or shank. Gomtang served in this street is prepared from prime‐grade beef, butchered the same day.