An Overnight Stay in the Delightful Historic Village of Changpyeong
Samjicheon Village in Changpyeong‐myeon, Damyang‐gun, a 16th‐century village with many of its ancient homes still in their original state, has been designated as a 'Slow City,' by the International Slow City Committee. The ancient stone and dirt wall‐lined streets and alleys of this village are full of old‐world charms. The village may be toured on foot or on a bike. Bicycles are available for rental, free of charge, at the borough office. Ancient homes in this village are open to the public and accept overnight guests.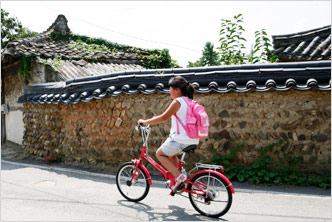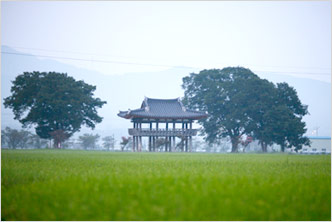 ‐ Spend a night in the ancient Korean home featured in the TV drama Daejanggeum.
Traditional Korean homes are built in a manner emulating nature itself. These homes, constructed with environment‐friendly materials like yellow clay, wood and rice straws, are excellent for the well‐being and health of their occupants. The recent trend toward ecological housing, coupled with an increasing interest in health and well‐being, has made traditional Korean homes the new big thing, and a growing number of Korean people are choosing to inhabit a traditional‐style house. For those interested in experiencing an authentic traditional Korean dwelling, the bed‐and‐breakfast, 'Hanogeseo,' is just the perfect place. 。
‐The House of Go Jae‐seon, the oldest estate in this village, is another must‐stop for those interested in traditional architecture. This typical upper‐class Joseon home, consisting of a sarangchae (outer quarters), anchae (inner quarters) and a munganchae (gate quarters), has an extra‐gate wing.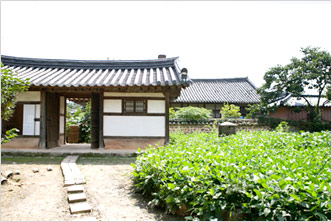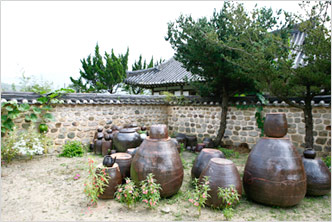 A Dreamy Journey along Shady Forest Lanes
The best way of touring Damyang to get the most out of its natural resources is traveling on foot. The itinerary, beginning in Jungnogwon Garden, continuing through Gwanbangje Forest and the Metasequoia‐lined promenade road, is particularly scenic. This endless stretch of romantic, shady lanes provides a full palette of colors of this amazing corner of Gyeongsangbuk‐do.
Jungnogwon Garden is a park created inside an ancient bamboo forest, located in Hyanggyo‐ri, Damyang‐eup. The park may be toured through one of its eight promenade trails, each with an exotic name like Unsudaetong‐gil (Great Fortune Lane), Jungmagou‐gil (Childhood Friends' Lane), Sarangi Byeonchi Anneun‐gil (Eternal Love Lane) and Cheolhakjaui‐gil (Philosopher's Lane). All of these lanes are dotted with pavilions, gazebos and rest areas, providing a convenient setting for forest therapy in its bamboo thickets (jungnimyok).

Damyangcheon, the headstream of the Yeongsangang River, runs past Jungnogwon Garden. The footpath over the stepping stones across this stream leads to Gwanbangje Forest. This forest stretching close to 2km in diameter was created in 1648, to prevent flood damage in the environs. At the end of the forest begins the metasequoia‐lined pedestrian road, deployed along National Road 24. The beauty of this scenic trail is best appreciated early in the morning.
☞ Damyang County Office Homepage: http://www.damyang.go.kr/eng/