Cherry Blossoms of Hwagae Market
Every year around early April, when spring is in full swing, Hwagae is buried under a pastel blanket of cherry blossoms. Breezes carry the petals far and away, throwing floral confetti by the bucketful on nearby hamlets, as if to speed up the advent of spring. This dazzling flower strewn lane is sometimes referred to as "Wedding Lane," as it is often walked by young couples in search of everlasting love.
Ssanggyesa Temple
This Silla Buddhist temple was constructed in the 21st year of King Seongdeok's reign by two monks named Daebi and Sambeop. The buildings populating its precincts, from the Iljumun and Cheonwangmun Gates to Paryeongnu Pavilion, the Daeungjeon (Hall of Shakyamuni) and the Samseonggak (Shrine of Three Sages), are aligned in one straight row. A pair of totem poles and two large rocks lying outside the entrance of Ssanggyesa Temple bear inscriptions, which state "Ssanggye" and "Seongmun." These inscriptions, according to an olden legend, were written by Choe Chi?won, with the help of his walking staff. Serenity pervades this temple, inspiring a deep sense of peace in visitors who happen onto its ground. The round trip on foot from Ssanggyesa Temple to the Buril Falls, one of the so called Ten Scenic Spots of Jirisan Mountain, and back takes only about an hour and half, so why hurry? This shady mountain trail is perfect for a leisurely hike.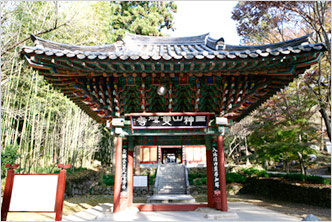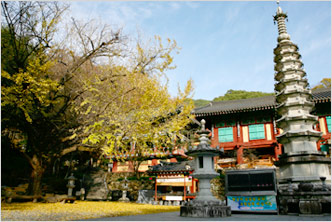 Wild Green Tea of Hadong
Hadong is one of the first places in Korea where tea plants were cultivated. Tea farming in Hadong is said to have begun during the Silla period, with the planting of seeds brought from Tang China. This town, tucked away on a slope of Jirisan Mountain, borders the Seomjingang River, which gives it its moist climate and misty weather. The wide range of temperatures between day and night in Hadong makes it perfect for tea farming. Green tea leaves are dried and accommodated in Hadong according to an ancient method, and premium tea products from this town are distinct from teas produced from elsewhere, for mass?market distribution. Tea aficionados interested in gaining a more in depth knowledge are recommended to drop by at the Hadong Wild Tea Center, located near the test farming site in Unsu-ri, Hwagae-myeon. Visitors of this place can learn about how tea plants are cultivated, equipment needed for successful cultivation, existing tea varieties and tea ware, and taste locally grown wild teas. There are, otherwise, a string of tea houses along the access road toward Ssanggyesa Temple.
Seomjingang the Beautiful
Hadong is also one of the most attractive riverside enclaves along the course of the Seomjingang. Hadong Pine forest, populated by close to 750 ancient pine trees that are 260 years of age on average, provides a flattering deep green backdrop to this landscape straight out of an oriental painting, composed of a meandering blue stream and rolling white sand dunes. This forest is also known as the site where during antiquity, envoys of Silla and Baekje sat down to sign a military alliance agreement. The forest is said to have been expanded during the reign of King Yeongjo in Joseon Dynasty. The riverside section of National Road 19, bordering the Seomjingang, is a fantastic stretch, especially beautiful in spring, when it is showered by pale pink cherry blossoms.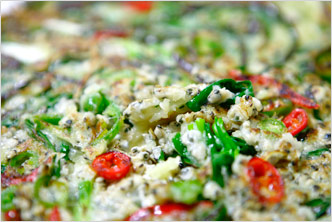 Flavors of Hadong
A well known dish of Hadong eaten in most riverside communities located along the Seomjingang, is freshwater clam soup. The soup, whose preparation, really quite simple, consists of boiling clams along with some garlic chives, has a surprisingly rich and satisfying flavor. Garlic chives give this soup a bluish hue, similar to the color of the Seomjingang River itself.

In Hadong of yore, clam soup was sold in early morning by old ladies going around the town with a soup laden cart. This soups hearty and soothing taste was in fact popular in the morning, as a hangover dish. Another savory freshwater clam based dish is warm rice topped with clam meat, chives, chopped onion and wild rocambole, which is eaten with a spicy and sour chili sauce.
☞ Hadong County Office Homepage: http://toureng.hadong.go.kr/main/