A Choo?Choo Train to Romantic Destinations
Gokseong awaits travelers with a dream itinerary extending along National Road No. 17, dotted with romantic attractions such as Locomotive Village, rail bike tracks and the Simcheong Storytelling Village. The departure point of this itinerary is Locomotive Village, deployed around an old?fashioned train station, where a steam locomotive can be seen chugging around, with a long trail of billowing smoke, and rail bikers pedal down rusty ancient tracks. The village is set up around a 13.2km section of the Jeolla Line, long since closed down, to provide recreational resources related to the nostalgia?provoking steam?powered locomotives of bygone times. Meanwhile, the 'Ice cake Film Set,' an open air set near the former Gokseong Station, reproducing street scenes from the 1960s, is a popular filming location. Admission is free, and the film set is open around the clock.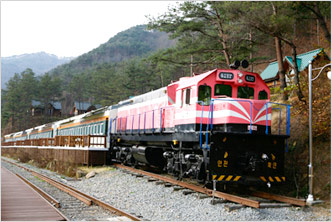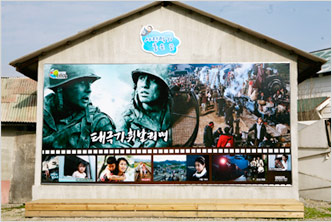 Steam Locomotive
Imagine the steam locomotives you see in films running again, through towns populated with real people and real homes! Locomotive Village of Gokseong is one such nostalgia provoking place where steam locomotives from another age chug along through picturesque scenery. The rumbling ride on a rickety old steam train is full of the romanticism of train trips, long since absent from modern trains. The steam locomotive runs back and forth between Locomotive Village and Gajeong Station throughout the day. Choose between a one way and a round trip. Hard boiled eggs and sprite are sold onboard, just as in the good old days.
Aside from the one that carries passengers, there is another antique locomotive stationed at former Gokseong Station, for display purposes. This locomotive was featured in the blockbuster film Taegukgi: Brotherhood of War. Won Bin and Jang Dong-gun, forcefully enlisted, ride this train to the warfront. The Seomjingang River seen from aboard the steam locomotive adds a special flavor to the traveling experience in this area.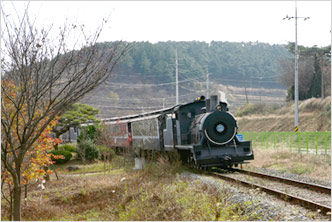 Rail Bike Ride
A rail bike ride is something family travelers can enjoy, as the idea delights young and old alike. Rail bikes are pedaled vehicles running along railroad tracks. They come in two-passenger or four-passenger bikes, so that couples and small families can ride them together. There are two itineraries: one around Locomotive Village and the other on a one-way route between Chimgok and Gajeong Stations. Both go through breezy riverside tracks. Are you up to the challenge?
Seomjingang Train Village
This exotic bed-and-breakfast is set up inside train cars. Units in Tongil Train I to VII, perched on a high ground looking down the Seomjingang River are especially romantic. Stars studding the night sky are larger and brighter in this pristine stretch of Korea's southwest region.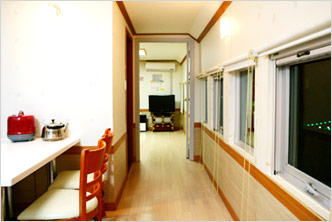 Seomjingang Riverside Bicycle Hiking
What better way to join the vast bosom of Mother Nature than racing through it on a two?wheeler. Treat yourself to the invigorating effect of a riverside bicycle trek along the Seomjingang. Bicycles are available for rental at the Gokseong Youth Camping Ground, and there are three different trails of varying lengths.
Flavors of Gokseong
Gokseong's most famous specialty dish is grilled sweetfish. A gutted sweetfish is stuffed with crushed garlic and ginger, chili pepper, black pepper and sesame grain and grilled over live flames; the resulting dish is succulent, and its mouthwatering aroma reaches miles around, titillating the nose and palate of all the inhabitants of the village.
There are also some interesting local tales associated with this dish. They say, in summertime in Gokseong of yore, men liked to eat raw filets of freshly caught sweetfish, abundantly found in the neighboring waters, along with a drink or two of soju liquor. When men returned home with sweetfish left over from this feast, their wives apparently said: "You had your fix of Seoul ladies," hence, comparing the sweetfish that kept their husband away from home to beautiful mistresses from Seoul. The slender body of the sweetfish and its mouth with reddish edges probably also contributed to this comparison. Despite this disgruntled remark, the sweetfish were welcomed by the wives who cooked them up into a tasty grilled treat.
☞ Gokseong County Office Homepage: http://www.gokseong.go.kr/02en/