Upo Marsh of Changnyeong
Upo Marsh, located in Changnyeong, Gyeongsangnam-do, has an exceptionally thick humus layer on its floor, formed by decomposing organic matter, in other words the remains of plants and animals. The wealth of information this humus layer offers on the ecological past of the area is such that many have called Upo Marsh the "Living Natural History Museum". Recently, a TV cosmetic commercial featuring Bi (Rain), a Korean singer who is a worldwide pop icon, was shot at this swamp, aged 140 million years and enshrining the mystery of primordial times.

Upo Marsh consists of four distinct zones: Upo, Sajipo, Jjokjibeol and Mokpo. Each of these zones has an exploration route extending 2 to 4 km. The swamp was named "Upo", in reference to its overall shape reminiscent of an ox, when seen from above.
This swamp, although rather shallow with an average depth of 1 to 2 m, nevertheless is a habitat for 1,000 varieties of life, including 160 species of birds and 28 species of fish. Upo Marsh was designated in 1997 as a protected ecological zone. In 1998, it was included among wetlands of international importance protected under the Ramsar Convention (Convention on Wetlands of International Importance especially as a Waterfowl Habitat). The Ramsar Wetland Convention Meeting was also hosted here in 2008.

Upo takes on subtly varying appearances, depending on the season. The swamp's fresh green spring dress is replaced by a colorful floral cloak, when wild flowers blossom in summer. When the fall begins, the swamp is hidden away by an endless stretch of a tall pampas grass, and in winter, by a snug blanket of white snow. But, none of the seasonal looks can quite compare to Upo Marsh in the summer months, when its surface is completely covered by aquatic plants, as though lined over by a green carpet. The beauty of this wetland certainly did not go unnoticed by professional photographers, who visit the area in droves. Upo Marsh on foggy days is particularly magical, with the mist casting a mysterious veil over it. There is also an observation deck, located close by, to get a sweeping view of Upo. Telescopes on the site allow close-up views of plants and animals inhabiting the various corners of the wetland. A bike tour of Upo Marsh is also an option worthy of consideration.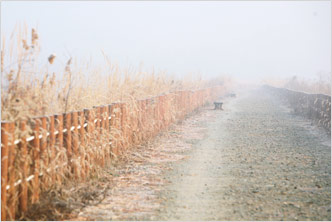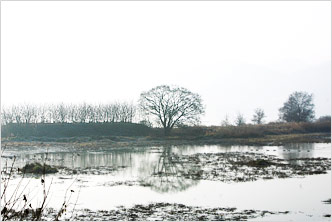 Upo Wetland Ecosystem Pavilion
The Upo Wetland Ecosystem Pavilion provides an easier and perhaps also more informative way of exploring the flora and fauna inhabiting this wetland. A large array of plant and animal specimens and models are on display. From the fascinating exhibits in this ecological hall, one learns about the unexpected, essential roles played by wetlands. By providing a home for aquatic plants, fish and birds, wetlands help maintain a food chain for humans. Meanwhile, by collecting and retaining excess ground water, wetlands help prevent floods and also counteract global warming. Finally, the wetland ecosystem is highly instructive and helps us better understand our own ecosystems. For an intuitive understanding of ecological phenomena and the ecosystem of wetlands, the exhibition hall is a must see with its extensive use of dioramas.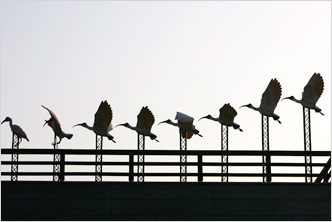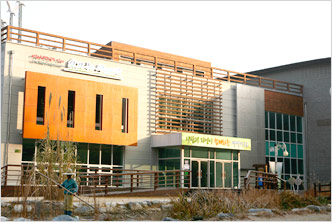 ☞ Upo Marsh Homepage: http://eng.upo.or.kr/main/