Bicycle Travel
Sangju is a must-stop for all bicycle tours in this area. The city has a bicycle museum where a large collection of bicycles from all over the world, including some with rare and original designs, can be seen. Bicycle roads of all types run crisscross across this city. Cruising through the beautiful countryside, travelers come across historic buildings and monuments along the road as well.
Of the many great bicycling trails of Sangju, the 28.3km riverside stretch extending from the Sangpunggyo Bridge near Gyeongcheondae to the Gangchanggyo Bridge in Jungdong-myeon, is doubtless the most scenic.
Bike rental places in Sangju include the Namseong and Muyang Offices of the Sangju City Hall, Sangju Train Station, Sangju Intercity Bus Terminal and six rental kiosks run and managed by local resident cooperatives in Namwon-dong, Bungmun-dong, Gyerim-dong, Dongseong-dong, Dongmun-dong and Sinheung-dong. Rental is free of charge, provided that a valid ID card is produced. Bike rental kiosks supply air valves, and tourist information booklets are available there as well. Rental hours are between 9:00AM and 5:00PM or sometimes 6:00PM. Bikes are available for free rental also at the Sangju Bicycle Museum.
Bicycle Museum
Sangju is home to Korea's first bicycle museum. All things one could ever wish to know about bicycles can be learned from this place, ranging from its invention, evolution and history and biographical profiles of cycling greats. The museum's extensive collection includes contemporary, and unusual, even eccentric bicycles, of the likes of Draisine, K. Mcmillan, P. Michaud-style bikes, 'ordinary' and coventry-style tricycles. The museum is open from 9:00AM to 6:00PM everyday, and admission is free.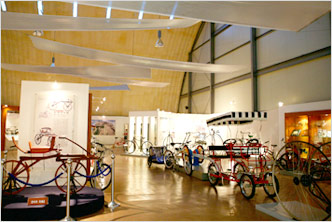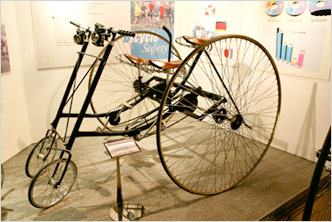 Sangju Gotgam (Dried Persimmons)
Not far from the Bicycle Museum is the Gotgam Maeul (Dried Persimmon Village). Sangju accounts for 60% of all dried persimmons produced nationwide. Close to 7,600 farming households engage making dried persimmons, and 4,500 tons of persimmons are processed annually. Of all Sangju neighborhoods, dried persimmon production activity is the liveliest in Namjang-dong. Between early October and mid-November, small groups of people sitting around a huge pile of persimmons, peeling them and hanging them to dry, can be seen across this neighborhood. Visitors of Sangju should consider bringing back some of these tasty dried persimmons, sold at a wholesale price here.

☞ Sangju City Hall Homepage: http://www.sangju.go.kr/eng/index.jsp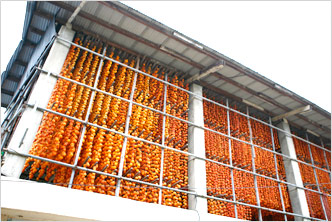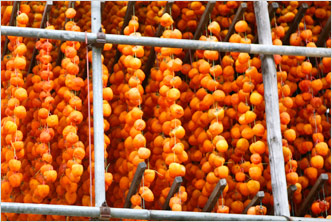 Mungyeongsaejae, the Olden Gateway to Joseon's Capital
This high pass, located at the crossroads linking two major waterways, the Nakdonggang and Hangang, was the fastest way to travel to the royal capital city of Hanyang from southeastern Korea, during the Joseon period. Many a scholar from this region, hopeful of being admitted to the public service, walked this path to attend the civil service examination in Hanyang (which is now present-day Seoul). Joseon scholars also chose this road, when they proved successful in the examination, to deliver the good news as fast as possible to their family back home. The name "Mungyeong" in fact, means 'hearing good news'. This pass to go over the rugged mountain ridges dividing the Gyeongsang-do region from the capital area is itself quite steep.
Mungyeongsaejae Pass has a series of three successive gates: Juheulgwan, the first gateway, Jogokgwan, the second, and Joryeonggwan, the third and last. Including a stop into the outdoor TV-series filming area it takes about five hours to complete the itinerary through the three gates of this pass.
At the beginning this road, there is a building called "Gyogwijeong", which was used for the succession procedures between a newly-appointed local government official and the outgoing incumbent. Past Gyogwijeong begins the road proper. Beyond Joryeonggwan, the last gate, lies a natural recreational forest on the slope of Joryeongsan Mountain, at about ten minutes walk downhill from the gate. One way to make the most out of the Mungyeongsaejae Pass tour, which is also the least strenuous, is starting the tour at this recreational forest, then continuing to the third gate, to finally end it at the first gate.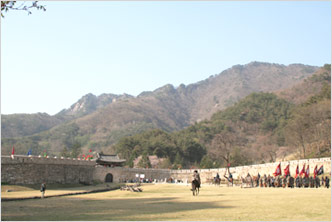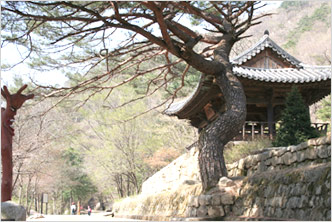 ☞ Mungyeong City Hall Homepage: http://english.gbmg.go.kr/open_content/main/