Hahoe Village
The village earned its name "Hahoe" from the S-shaped bend formed by the section of the Nakdonggang that meanders around it. The village is enveloped by mountains on three sides, and borders the Nakdonggang in the front. The river is fringed by sheer rock cliffs called Buyongdae and the white sand beach is set against the backdrop of a lush pine grove, and together they compose an idyllic landscape of rare beauty. Ancient buildings dating as far back as the early Joseon period pepper the village, and old folk customs such as the Byeolsingut mask dance performance and rice paddy field fire are still observed. Quite a few old estates in this village, including Yangjindang, Chunghyodang, Bukchondaek and Namchondaek, are protected historic homes. Buyongdae, a group of rocky cliffs accessed by ferryboat, is an excellent place for gaining a sweeping view of Hahoe Village.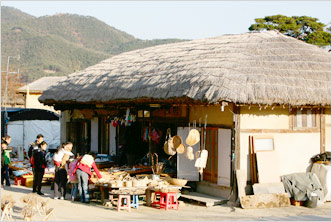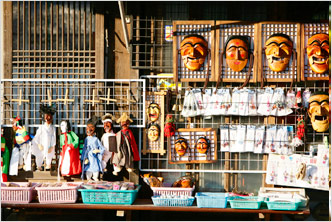 Byeolsingut Mask Dance: Drama of Hahoe
This mask dance, originating from Hahoe, is a gem of the world's mask dance heritage as well as a great tribute to the unique sense of humor and playfulness that characterizes Korean culture and the temperament of its people. The mask dance is performed as part of Byeolsingut, a community ritual aimed at ensuring peace in the village and good crop yields. Its humoresque plot satirically portrays absurd social realities over ten successive segments (known as "madang") making up the routine; including mudong (dancing boy) madang, juji madang, baekjeong (butcher) madang, halmi (old woman) madang, pagyeseung (depraved monk) madang and yangban seonbi (nobleman scholar) madang. The mask dance of Hahoe is performed every weekend in the Hahoe Byeolsingut Mask Dance Hall.
Andong International Maskdance Festival
This international maskdance festival is hosted in Andong, every year in October. Its program features performances of traditional dances by troupes from all over the world.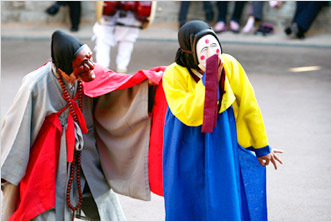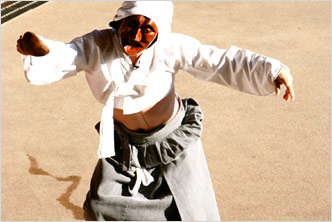 The Flavors of Andong
Andong has its own local variety of bibimbap, known as "heotjesabap." This bibimbap is prepared with the food leftovers from traditional memorial services. Its name literally means 'false memorial service meal,' and some explain this name by a custom in which young scholars of local Confucian academies held mock memorial services and just to eat the dishes offered at the altar. Some others say that the name derives from the fact that ordinary people of Joseon, who could not afford to regularly observe ancestral memorial services due to the scarcity of rice, sometimes held a mock memorial service as an occasion to eat to their heart' s content.
Heotjesabap consists of a bowl of warm rice topped with various vegetables, and is served with typical memorial service dishes such as pancakes, skewered meat and clear meat broth. There are several restaurants near the Andong Dam, specialized in this dish, including Teojut Daegam and Kkachi Gumeongjip.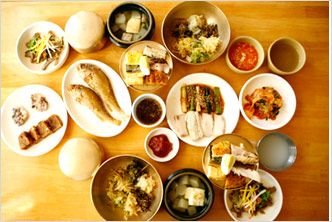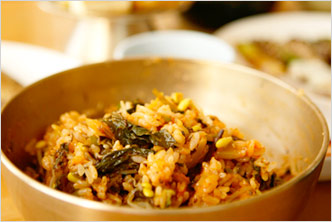 ☞ Andong City Hall Homepage: http://www.tourandong.com/english/coding/main.asp