Cheongnyangsan Mountain
Cheongnyangsan Mountain, rising to the upper reaches of the Nakdonggang, has the graceful allure of mountains lovingly depicted in oriental landscape paintings. Its twelve peaks were baptized "Yugyukbong (Six-Six Peaks)" by Yi Hwang, the larger-than-life figure of Korean Confucianism. Although rather modest in height and mass, this mountain has been named Sogeumgang (Little Geumgang), after the famous Geumgangsan Mountain, the paragon of mountainous beauty for Korean people. Legend has it that one of the Geumgangsan's ridges broke off and was placed here under supernatural circumstances in southeastern Korea. This region is well known for it's fabulous landscape formed by its chain of sheer peaks and whimsically shaped rock cliffs.
Perched atop a high ridge is Cheongnyangsa, a Buddhist temple enveloped by Cheongnyangsan Mountain's peaks, like stamens surrounded by lotus petals. Also popular among tourists is the Sky Bridge, connecting Jaranbong Peak and Seonhakbong Peak. This suspension bridge, located at 70m above sea level, extends 90m in length; the longest and highest bridge of this type in Korea.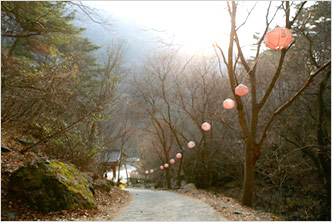 Hanbang Baeksuk (Whole Chicken Soup with Herbs)
Whole chicken soup with herbs, a fortifying stamina dish prized by Korean people, is at its best in Bonghwa, where it is cooked in water from local mineral springs. A whole chicken, emptied of its innards, is stuffed with things like ginseng, chestnuts and mung beans and boiled in a pot filled with mineral water from Ojeon Mineral Spring. Once the chicken is fully cooked, glutinous rice is added, along with dates and ginger. The result is rich in protein, and is known to promote digestion and make the summer heat easier to bear.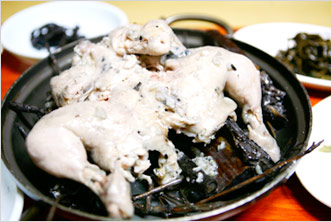 ☞ Bonghwa County Office Homepage: http://english.bonghwa.go.kr/open.content/ko/
Sosuseowon Confucian School
Sosuseowon Confucian School the first scholarly institution of its kind that was given its name by a king ('saaek seowon'). It is also the world's first full-fledged modern-era private higher education institution, predating the founding of Harvard University by 93 years. Its name, Sosu, means the 'space for a meditative walk.'The alma mater of some of the greatest scholars of Joseon, Sosuseowon is the spiritual home of Korean Confucianism and scholarship. It served as a hall of learning, in particular, for many of the disciples and followers of the illustrious Joseon scholar Yi Hwang. Aside from its role as an educational and research institution, Sosuseowon also served as a library, possessing a vast collection of scholarly works.
Seonbichon Village
Seonbichon Village is a folk village recreating the lifestyle of seonbi, the members of Joseon' s literati class, and honoring their philosophical legacy. Twelve history-laden ancient homes were meticulously restored to their original appearance, down to the smallest detail. The village awaits its visitors with scores of experiential activities and reenactments, including paper-making, tuho (arrow throwing), epigraphy and traditional wedding ceremony reenactments.
This folk village is a place to immerse oneself in the ethics and spirit of seonbi and living example of history and traditional values.
Exhibits on display here are selected and organized in a manner to provide a holistic understanding of the lifestyle of seonbi, and events are participatory to the highest degree. Overnight stays in these historic homes are also a great way to gain first-hand experience of traditional culture. The village is divided into four zones, that are each named after a fundamental seonbi value: Susinjega, Udoburubin, Ipsinnyangmyeong and Geomuguan.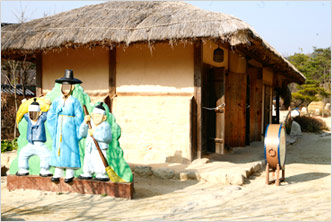 Buseoksa Temple
Buseoksa is considered among the most beautiful temple architectures of Korea. This Yeongju-based temple sits on a slope of Bonghwangsan Mountain, a forking point between Taebaeksan and Sobaeksan Mountains. Buseoksa is said to have been the grandest and most accomplished piece of architecture in its time.
The name "Buseok", literally meaning a 'floating rock,' comes from the large rock standing west of the main worship hall. The rock rests on another rock below, but not directly touching it; hence the impression of a floating rock. Befitting to the name "Floating Rock" the temple is built on a raised stone platform, giving it an airy appearance, indeed as though floating in the air.

The temple was constructed in 676 (16th year of King Munmu's reign in the Silla Dynasty) under the supervision of the Supreme Master Uisang, the founder of Korean Huayen Buddhism, upon the order of the king. The purpose was to implore Buddha's aid in ensuring safety and prosperity of the kingdom and thwarting the Tang Chinese invasion. Buseoksa is also the original home of Korean Huayen Buddhism. Muryangsujeon ('Paradise Hall'), one of the prayer halls of Buseoksa, is a building much praised for the elegance of its tapered wooden columns (baeheullim columns (entasis columns with a convex middle section and tapered upper and lower extremities, designed for optimal load bearing). No less impressive, however, are the subtly curvaceous lines of the roof eaves, their amazing harmony with the shape of columns below and the minimalistic yet refined jusimp-style bracket system over the columns. In the spring, the apple trees lining the mountain lane leading to the front gate of Buseoksa, is flooded with snowy blossoms, making the approach of the temple something like hiking in a dream.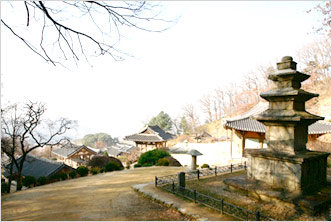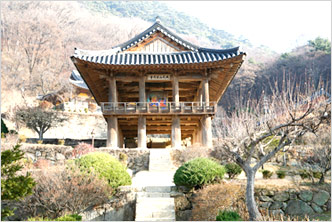 Old Jungnyeong Pass
Along with Mungyeongsaejae Pass and Chupungnyeong Pass, Jungnyeong Pass was one of the three main gateways of the southeastern region of Korea, the way to access the Joseon's capital. Many a scholar climbed its height to travel to the royal capital in the bureaucratic society of Joseon. At the summit of Jungnyeong, one can get a sweeping view of the surroundings, with Danyang lying to the west and Yeongju to the east. To reach this historic passageway, one must walk about 200 m uphill from Huibangsa Station. Two totem poles, representing a male and female folk deity, come soon into view. Information panels standing along the wooded lane ahead provide facts about this mountain pass, the battles led by the Goguryeo General Ondal in this area and the ancient tavern street, among others.
At the summit of the pass, there is a tavern, built in recent decades, reproducing a Joseon-era tavern. The descending path from Jungnyeong Tavern back to Huibangsa Station is quite a pleasant stretch for trekking.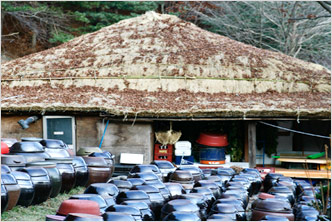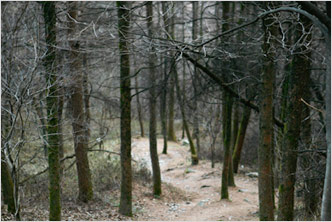 Punggi Ginseng Market
Ginseng roots from Punggi, an area uniting ideal conditions for this crop, are known for their high quality. Joseon-dynasty records that report the royal house consumed only ginseng from Punggi, a testament to the product's reputation for high quality.
Punggi Ginseng Market is an indoor market set up inside a single building; hence, rather easy to tour. The town of Punggi also hosts a ginseng festival every year. The program, offering experiential activities such as ginseng harvesting and ginseng-based cooking classes, is geared to promoting this crop, which is the town's main produce.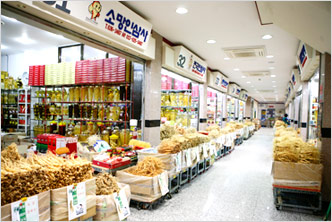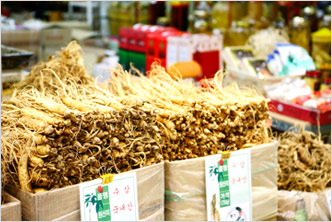 ☞ Yongju City Hall Homepage: http://english.yeongju.go.kr/pages/main.jsp