Deogyusan Mountain, the Choice Winter Destination
Deogyusan Mountain's beautiful ridges have been often compared to the comfort of a mother's embrace. Its name "Deogyu" literally means kindness and temperance. Deployed around Hyangjeokbong Peak, its highest peak at 1614m above sea level, Deogyusan Mountain is counted among Korea's twelve most scenic mountains. The valley stream originating in this mountain creates, in its downward journey, the so‐called Thirty‐three Scenic Views of Gucheondong Valley.
Deogyusan Mountain is stunning all year‐round. Its deep green‐coated summer valleys are refreshing to the eyes and the soul. In autumn, its ridges and gorges put on an ardent dress of fall foliage and in winter, a snug snow coat. In spring time, Deogyusan Mountain is tattooed crimson with royal azalea sprawling across its entire mass. Difficult as it is to compare these seasonal looks of Deogyusan Mountain, each with their own beauty, its winter view, nevertheless, stands out as the most breathtaking of all. The winter scenery at Deogyusan Mountain is particularly spectacular when the large communities of Korean fir and yew trees near Hyangjeokbong Peak are heavily weighed down by snow blossoms. Seen from atop the summit of Hyangjeokbong Peak, the mountains below seem like a frozen swirl of waves in the sea.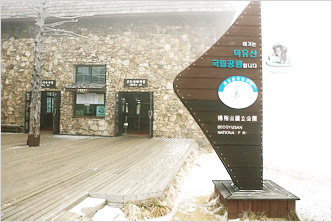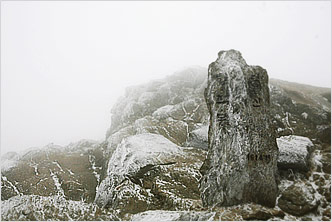 An Outdoor Spa
After a strenuous mountaineering trip to Deogyusan Mountain, nothing is as delightful as a hot spring bath. Gujeolcho Sauna in Sesoldong of Solmaeul inside the Muju Resort and the outdoor hot spring spa, also inside the same resort, are great places for quickly recovering from a vigorous hike. The outdoor hot spring spa, offering family baths, is closed on Mondays.
Bandi Land
This huge park, extending some 121,000m2 in total area, is entirely devoted to ecological education centered around fireflies. The park accommodates an Insect Museum, Nature Academy, Firefly Ecological Discovery Hall, Ecological Greenroom and a domed cinema. Also an outdoor life paradise, the park has a youth camping ground, recreational forest, log cabins and other accommodation facilities, and an astronomical observatory. Nature education can be perfectly combined with rest and replenishment at this place. Fireflies can be observed day and night inside the Firefly Ecological Discovery Hall. The Insect Museum, meanwhile, has rare insect specimens on display, and houses close to 200 species of tropical plants and thousands of butterflies.
Stars in urban areas are as hard to see as fireflies. At the Muju Firefly Astronomical Hall, visitors can view stars that have become increasingly difficult to perceive. The star‐studded sky of our childhood is once again spread before our eyes at this place. The astronomical center harnessed modern technology for more effective and intuitive understanding of celestial bodies, offering a 3D screening room and other technology‐aided display devices. The latest Nasmith-style 800mm telescope, the largest in Korea, in the observatory on the fourth floor, unveils mysterious celestial bodies invisible to the naked eye.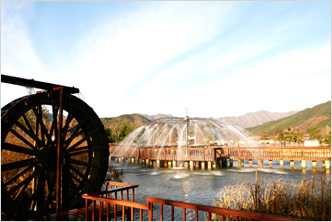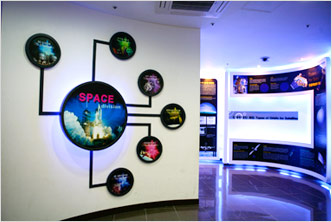 Muju Firefly Festival
This environmental festival hosted in Muju, every year in June, is on the theme of fireflies, the winged creatures inhabiting only the cleanest and most unspoiled areas. Its program is stuffed with activities such as exploration of fireflies in their natural habitat and various traditional folk performances.
Taekwondo Park
A world capital of Taekwondo is slated to be built in Muju. As part of a plan to promote this globally popular martial art of Korean origin, a park will be created under a construction project that began on September 4 last year. The first phase of the construction project is scheduled to reach completion sometime in 2013. Taekwondo Park is planned to offer an international stadium, a Taekwondo learning and exhibition center and traditionally‐landscaped gardens called "Taegwonjeon" and "Myeongingwan," among others.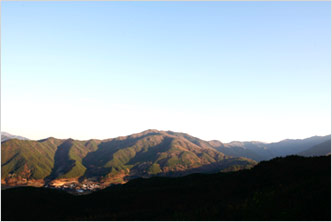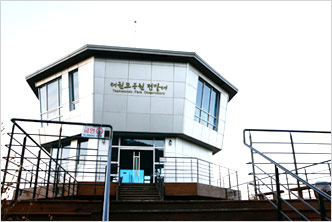 Flavors of Muju
The best‐known local recipe of Muju, an area at the upper Geumgang whose crystal‐clear stream is abundantly inhabited by freshwater fish, is eojuk (fish porridge). The porridge is prepared from a freshwater fish species known as "ppagasari (Liobagrus mediadiposalis Mori)." This fish is only found the clearest and cleanest water, and the texture of its flesh is affected by the depth and water quality of the stream they inhabit. Ppagasari, raised in the streams of Muju, well‐known for cold temperature even during the hottest summer months, has a firm flesh with very little fishy smell, and is prized, for this reason, for dishes like maeuntang (spicy seafood stew). The porridge is prepared with boneless fish; hence, the pleasantly light taste. To do this, fish is boiled for nearly two hours, until small fish bones can be easily separated from the flesh. The boneless flesh is then simmered in its juice, along with rice, perilla leaves, dropwort and other vegetables grown in Muju's cool highlands.
There are strings of restaurants specialized in fish porridge along the riverbanks, and Seommaeul (82-63-322-2799) and Gangnaru (82-63-324-2898) are two of the best‐known.
☞ Muju County Office Homepage: http://eng.muju.org/index.sko