Reed Field of Sinseong‐ri
This reed field at the edge of the Geumgang River extends 200m wide and over 1km in total length. The silvery swirling sea of reeds next to the shimmering stream of the river possesses an eerie beauty. Selected as one of the nation's seven most scenic reed fields by the Korea Tourism Organization, the reed field of Sinseong‐ri is a favorite natural spot among professional photographers. This magnificent reed‐covered waterfront stretch was also featured in movies. Until not long ago, the residents of Sinseong-ri made brooms out of these reed stems, selling some in the local market as well. Not just a feast for the eyes, reeds of Sinseong‐ri are famous for their sturdiness, making them suitable as a craft material.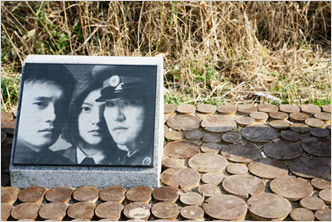 Hansan Ramie and Hansan Sogokju Liquor
Ramie fabric known as Hansan ramie is the most famous local specialty product of Seocheon‐gun, as well as an item prized by Korean people for more than ten centuries. Hansan ramie is an immaculate white color with a delicate texture and feathery weight, they say, like the wings of a dragonfly, which makes it an ideal fabric for summer clothes. The Hansan Ramie Hall is a learning resource center where visitors will find answers to any and all questions they may have about Hansan ramie. Visitors learn about the excellence of Korea's traditional natural fiber‐based fabrics and their unexpected historical and cultural value. To celebrate this age‐old weaving tradition, the Hansan Ramie Hall hosts a ramie festival every year in late July.

Five minutes' walk from the Hansan Ramie Hall is another interesting cultural facility: the Intangible Cultural Heritage Preservation Center. This place offers information resources, including exhibits, related to the lives and works of cultural heritage holders who are artisans native of Seocheon.

Another renowned specialty product of Hansan is a fermented brew called "sogokju." The oldest alcoholic drink of Korea, sogokju earned its name from the fact that former people of Baekje, after the demise of this kingdom, brewed it while wearing a white mourning outfit. The liquor has a very mild and sweet flavor. It is sometimes referred to by its nickname, "anjeunbaengisul (crippling wine)," as its taste and aroma are so delightful that once trying it, the drinker can no longer get up and leave. The liquor is also known as "baegilju (one hundred‐day wine)," in reference to the fact that it has to mature for about one hundred days for best taste.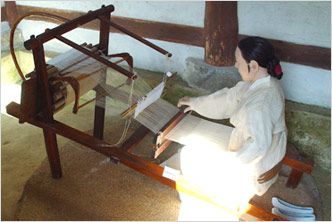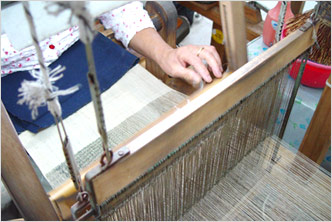 ☞ Seocheon County Office Homepage: http://www.seocheon.go.kr/html/en/index.html
Foot Tour of Gunsan through its Ever‐Changing Landscapes
Gunsan's versatile natural environment can be explored through four foot itineraries, each with their own distinct characteristics, which the locals call "gubulgil." The Gubul 1(il)-gil follows the course of the Geumgang River, and the Gubul 2(i)-gil is a sun‐lit route along the ridges of Manghaesan Mountain. The Gubul 3(sam)-gil cuts across large prairies, and the Gubul 4(sa)-gil goes through hilly sections near the Gunsan Reservoir where pristine woodlands appear as though intact since primordial times.
Geumgang Estuary Bank and Migratory Bird Observatory
Every year, with the start of winter, the vast shores of Geumgangho Lake literally disappear under the large colony formed by tens of thousands of swans and other rare migratory birds flocking there. This is also the time of the year where visitors flock into the area, in droves, from cities and towns nationwide, to witness this amazing spectacle of a gigantic congregation of waterfowls. Meanwhile, the area around the Geumgang Estuary Bank is currently being developed into an ecological park by the municipality of Gunsan. To spy on these attractive feathered creatures wintering in the area, there is no better place than the Migratory Bird Observatory, perched right on the deck of the estuary barrage. The bird watch station is equipped with high‐powered observation telescopes and a panorama camera, to allow a close look at the birds. The bird watch station offers other facilities such as the Bird Exploration Gallery, Geumgang Bird Park, Migratory Bird Observation Hall and the Hatching Room; all great resources for learning about the ecology of birds. The Gunsan Migratory Bird Festival, hosted every year in November, in Gunsan, is also noteworthy.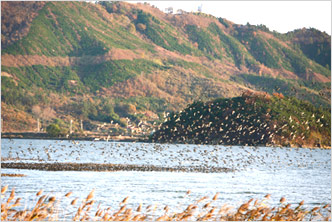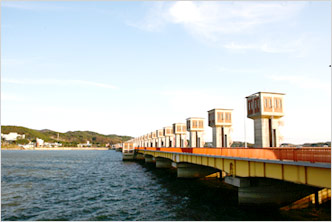 Flavors of Gunsan
A city set in one of Korea's biggest breadbaskets, Gunsan has a rich culinary tradition as well. Of the many specialty dishes of Gunsan, none is better known than its pickled blue crabs. The dish is sometimes referred to as "bap doduk (rice thief)," as this tasty pickle is so appetite‐arousing that people end up wolfing down two or three bowls of rice along with it. Blue crabs abundantly caught in coastal waters off Gunsan are marinated for three days in soy sauce boiled with a bouquet of spices and medicinal herbs. Blue crabs pickled following this recipe are rid of their usual acrid after‐taste and are not excessively salty. Crabs caught during the spawning season, full‐fleshed and packed with roe, are the best for pickling. Gungjeon Kkotgejang (tel. 82-63-466-6677 or 6678) and Geumgang Sikdang (tel. 82-63-443-5760) are some of the restaurants known for their pickled blue crabs.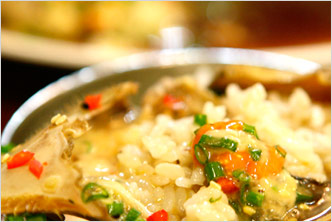 ☞ Gunsan City Hall Homepage: http://eng.gunsan.go.kr/