Hangang River is currently undergoing an exciting transformation. This river, running through the South Korean capital city of Seoul and the surrounding province of Gyeonggi-do was once the stage of the economic miracle baptized "the miracle of Hangang River." In recent years, new amenities like bicycle roads and rest areas were introduced on the banks of Hangang River, creating pedestrian-friendly waterfront stretches for residents and visitors of Seoul. Now with a wealth of things to do and see, the Hangang Park has been also redeveloped and landscaped in such a way that each of its zones, including Banpo, Ttukseom, Yeouido and Nanji, is endowed with unique and distinctive characteristics and personalities.

The Nanji Hangang Park, well known for its reed field, has been redeveloped into an ecological discovery area. Meanwhile, Ttukseom Hangang Park has been transformed into a recreational family theme park, providing something to do for people of all ages.
Hangang, a wide river with great long bridges, has long been praised for the beauty of its night scenes. Nothing, however, enhances the nightly incandescence of brightly lit waterfront scenes better than the Moonlight Rainbow Fountain, recently constructed at the Banpo Bridge. This latest addition to the list of urban landscaping accomplishments of Seoul, which quickly emerged as the city's premier new attraction, is equipped with forty-four underwater pumps spurting out 60t of water per minute. The breath-taking aquatic show can be seen between April and October every year.

The Hangang is also the best place to enjoy bicycling, the easiest and most straightforward way to practice environment-friendly living. A 69.94km stretch of the riverside road is reserved for bicyclers and pedestrians, and a rest area is available at each of its sections. The dazzling night scenes around the Hangang can now be enjoyed to the fullest, thanks to the new observation decks set up at major bridges, such as the Yanghwa, Dongjak, Mapo and the Hannam Bridges. 'On River Station' and other restaurants and cafes on the banks of the Hangang are also rapidly becoming Seoulites' favorite haunts. Taking in the view of Seoul aboard a sightseeing boat is a great way of enjoying the Hangang as well.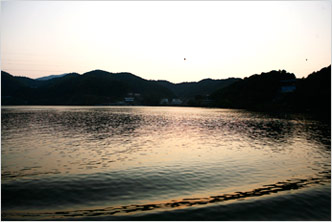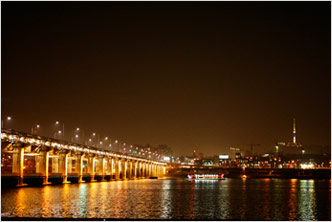 ☞ http://hangang.seoul.go.kr/eng/