Uiamho Lake and Jungdo Islet
One could almost mistake Uiamho Lake, hugging downtown Chuncheon, for a quiet river circumventing the city's center. Jungdo, the small islet in the middle of Uiamho Lake, has appealingly landscaped green areas and promenade trails. The recreational center on the islet supplies water sports equipment, including motor boats, banana boats and water-skis. This water sports haven also has superb hiking trails. But the first thing to do, after getting off the boat, is rent a bicycle from a bike rental shop at the harbor indispensable for efficiently touring the islet. This level islet with well-developed green areas and superb promenade lanes is particularly popular among family campers. Visitors also love the islet's dewy landscape at daybreak.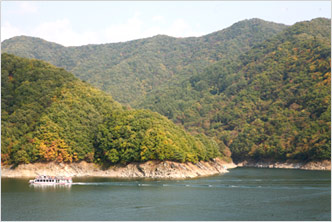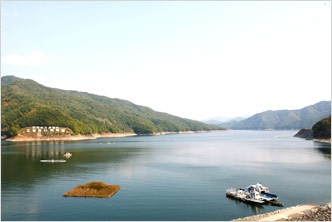 Animation Museum
With its richly varied collection of animations and figures of animation characters from all over the world, the Chuncheon Animation Museum is a perfect stop for family travelers accompanying young children. Learning sessions explaining how sound effects, such as the sound of footsteps or waves, are created and other basic techniques used to make an animation film captivate young visitors. Legions of animation character figures on display, some of them from popular TV animations from bygone decades, are quite a jaw-dropping sight for grown-ups as well. Some of the latest animated films are shown in the screening room of the museum to delight young patrons. Every autumn, an animation festival is hosted in the museum, titled the "Chuncheon Anitown Festival."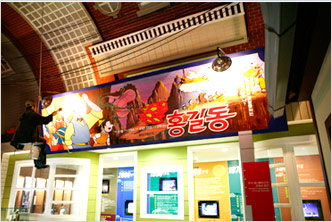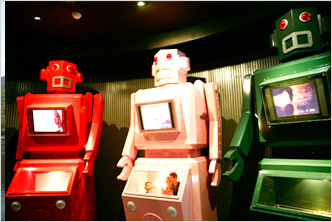 The Flavors of Chuncheon
Chuncheon's best-known dish is doubtless its dakgalbi (pan-fried chicken). Bite-size chicken pieces are sautéed on the table, in a hot frying pan, with vegetables like cabbage, sweet potato and carrot slices and perilla leaves. However, Chuncheon-style dakgalbi was originally grilled on a cast-iron hot plate, the same way pork barbecue is prepared. This recipe apparently was developed accidentally, sometime in the early 1960s. The owner of a pork barbecue restaurant in Chuncheon one day ran out of his supply of pork and decided to substitute it with chicken, accommodating poultry in the same manner as he would do with pork. Lean-tasting and cheaper than pork barbecue, dakgalbi became quickly popular as a bar dish. By the late 1960s, most street-side tent bars across Chuncheon served the chicken barbecue. Dakgalbi is as popular today, with many restaurants, sometimes an entire restaurant street, specializing in this dish. Barbecuing makes the meat leaner and tastier, and the dish is best eaten with makguksu (buckwheat noodles).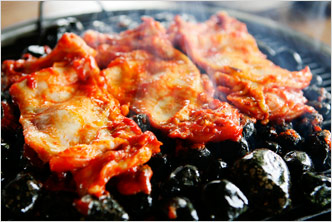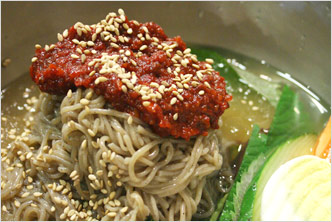 ☞ Chuncheon City Hall Homepage: http://tour.chuncheon.go.kr/eng/
This islet afloat in the Bukhangang River, shaped like a leaf adrift on a stream, is a prized destination for travelers fond of romantic hideaways. Its wooded lanes along the riverbanks are ideal for an idyllic stroll or bike ride. Namiseom Island was made famous in recent years as a filming location for the smash hit TV drama Gyeoul Yeonga (Winter Sonata). The promenade trails, lined with metasequoia, fir and ginkgo trees, are picturesquely beautiful.
The best time to be in Namiseom Island is during the morning hours. To enjoy the view of the misty river, one can either board the first boat departing at 7:30 in the morning, or check in to Jeonggwannu, the only inn in Namiseom Island and get up early the next day. This small island is, otherwise, packed with things to see and do, ranging from unusual vehicles like electric bicycles and narrow-track trains to performing and exhibition venues and museums.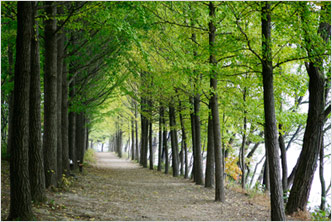 ☞ Namiseom Island Homepage: http://www.namisum.com/