Dodam Sambong
Danyang of Chungcheongbuk-do is a town that lies near the Namhangang River, famous for its pretty limestone formations. The Eight Scenic Views of Danyang, the most attractive corners in this area selected by the those living long ago, include Dodam Sambong Peaks, Seongmun Gate, Gudambong Peak, Oksunbong Peak, and four rocks, each named Sangseonam, Jungseonam, Haseonam and Sainam Rocks. Dodam Sambong are three rocks awash, located in the middle of the Namhangang River. The largest and most majestic-looking middle rock isle, known as "Janggunbong (General Peak)" or "Nampyeonbong (Husband Peak)," is flanked by two smaller ones. The pavilion erected on the middle isle adds to the draw of this group of rocks. Dodam Sambong is regularly visited by photographers trying to capture the gorgeous scene of the sun rising above the river, between its three rocks.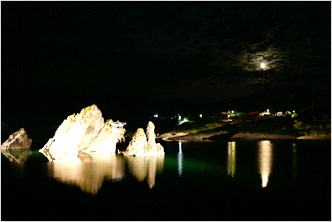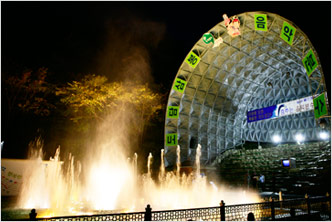 Maneul Dosotbap (Rice with Garlic in a Hot Stone Pot)
Garlic is the main ingredient in this specialty dish of Danyang, a rural area where garlic is one of the principal crops. Four different grains, namely, black and white rice, millet and glutinous rice, are cooked together in a stoneware pot, along with chestnuts, dates, ginkgo nuts and soybeans. The hearty grain and nut dish is served hot with a hefty variety of garlic-based side-dishes, such as a garlic and crab meat salad, deep-fried whole garlic heads, deep-fried chili pepper and garlic, pickled garlic and garlic bread.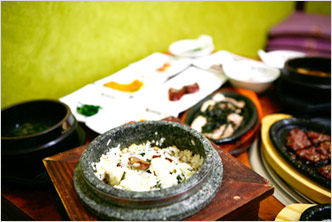 Exploring Eight Scenic Views of Danyang Onboard a Tour Boat
A great way to enjoy Danyang's scenic corners, known as the Eight Scenic Views of Danyang, is by hopping onto the tour boat departing at Janghoe Ferry Terminal. The tour boat travels back and forth between Janghoe Terminal and Oksunbong Peak several times a day. Afloat on the gentle waves of the Namhangang River, tourists can approach the awe-inspiring sheer cliffs and rock formations assuming myriads of shapes, in a way a foot tour does not permit. The round trip takes about one hour.