Travelers' Assistance from Tourist Police Officers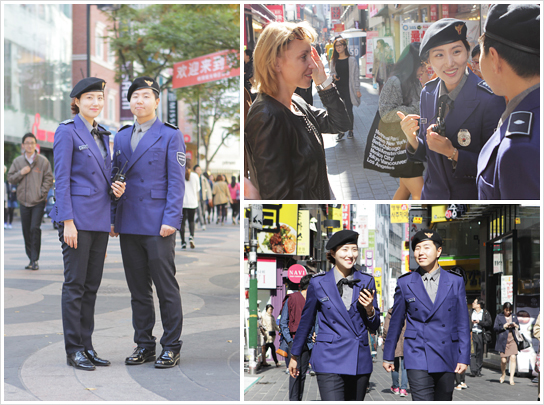 In an effort to provide assistance and improved conveniences for international visitors coming to Korea, the tourist police service is in place at major tourist attractions. Any tourists in need of assistance can receive their friendly services, which include patrolling duty, reporting illegal activity on merchants and trades, solving inconveniences, offering travel-related information and much more. If you are facing any of the aforementioned problems or issues, ask for help from the officers wearing navy jackets and black berets.
[Tourist Police Services]
Tourist Police Services
Addressing any arising
questions or concerns
Facilitating problem-solving in travel-related issues
Providing tourist
information and
interpretation services
Available in English, Japanese and Chinese
Encouraging fair and
friendly exchanges between
tourists and merchants
Enforcing law and order, restraining overcharging merchants and taxi drivers, etc.
[Tourist Information Centers (TIC)]
By visiting any of the following tourist information centers in person or calling the 1330 Travel Hotline directly, anyone can receive friendly tourist service from the police officers.
Inquiries: +82-2-1330 (Korean, English, Japanese, Chinese)
Tourist Information Centers (TIC)
Myeong-dong Street TIC
-Location: 14, Myeongdong-gil, Jung-gu, Seoul (Myeong-dong 2-ga)
(Across from Lotte Young Plaza / Exit from gate no. 15 of the Myeong-dong Underground Shopping Center, the TIC will be seen straight ahead.)
-Hours: 10:00-21:30 (open all year round)
Hongdae TIC
-Location: 365-28, Seogyo-dong, Mapo-gu, Seoul (Near KT&G Sangsangmadang Hongdae's public parking lot #1.)
-Hours: 10:00-21:00 (open all year round)
Dongdaemun TIC
-Location: 18-12, Euljiro 6-ga, Jung-gu, Seoul (Entrance of Doota shopping mall)
-Hours: 10:00-21:30 (open all year round)
Itaewon TIC
-Location: 34-2, Itaewon-dong, Yongsan-gu, Seoul (Inside of Noksapyeong Park)
-Hours: 10:00-18:00 (open all year round)
Nampo-dong TIC
-Location: B1F 44, Gudeok-ro, Jung-gu, Busan (Nampo-dong 5-ga)
(Entrance of BIFF Square (Former, PIFF) / Make an exit from gate no. 3 of Nampo Underground Shopping Center)
-Hours: 10:00-22:00 (open all year round)
[Tourist Police Patrolling Areas]
Tourist Police Patrolling Areas

| | |
| --- | --- |
| Seoul | Myeong-dong, Itaewon Special Tourist Zone, Namdaemun Market, Insa-dong, Hongdae (Hongik University Area), Dongdaemun Shopping Complex • Dongdaemun Shopping Town, Cheonggyecheon Stream, City Hall |
| Busan | Haeundae Beach, Gwangalli Beach, Gwangbok-dong (Gukje Market) |
| Incheon | Incheon International Airport, Songdo, Incheon China Town |
☞ [Video] Learn more about Tourist Police!
<Last updated on May 14, 2015>