Traveling in Korea with Children
In the following section you'll find information on some of the facilities and services aimed at giving family visitors a more comfortable and pleasant stay in Korea. Also included are a number of recommended tourist sites and shopping centers as well important emergency numbers and transportation information.

→ Related Article: Places to Visit with Children in Korea
Transportation – Children Travel Free!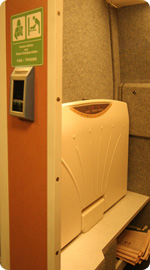 When traveling in Korea with children, trains are one of the most comfortable and economic transportation options. Children under the age of 4 (accompanied with an adult) ride free of charge, while children ages 4-13 are eligible for a 50% discount. For parents' convenience, train stations in Seoul, Yongsan, and Busan provide nursing rooms; high-speed KTX trains come equipped with both nursing rooms and baby-changing rooms.

Most subway stations in Korea are equipped with escalators or elevators, allowing those with strollers to easily move about the station. Children under the age of 7 who are accompanied by an adult can ride buses and subways for free. This special discount is limited to one child per adult; adults traveling with multiple children will be asked to pay additional transportation fees.

→ Click here for more on trains in Korea
→ Click here for more on subways in Korea
Shopping
Mega discount stores like Lotte Mart or E-mart provide free strollers or shopping carts with baby seats for use while in the store. These types of stores usually have fairly large nursing rooms. Department stores also provide free stroller rentals at the customer service center on the first floor and most stores even have children play areas.

Clothes for infants and children can be expensive in Korea, so if you're looking for children's clothing at discounted prices, check out Namdaemun Market. You can also buy goods at 30% to 50% off regular retail prices at street-front clothing stores in Dongdaemun Market.
Dongdaemun Market Stationery Street
Directions:

Dongdaemun Station (Subway Line 1 & 4) Exit 4 → Turn right at Dogil Pharmacy

Business Hours:

08:00-19:00 (Closed on Sundays and holidays)

Dongdaemun Tourist Information:

+82-2-2236-9135 (Korean, English, Japanese, Chinese)
→ Go to Dongdaemun Market
→ Go to Namdaemun Market
Theme Parks – Great Services for Children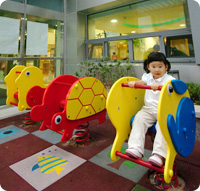 Theme parks have a million programs and attractions sure to delight even the smallest of visitors. In addition to free stroller rentals at the entrance, all theme parks have nursing rooms next to the ㅇrestrooms that are stocked with emergency diapers and baby wipes.
Hospitals & Emergency Numbers
In Korea, a doctor's prescription is required to buy certain medications. For anything other than simple cold medicines, you will need to visit a hospital.
Hospitals info
Location
Hospital
Languages
Contact
Incheon Int'l Airport (B1)
Airport Medical Center
English, Japanese, Chinese
Airport Information
+82-32-743-2600
Sinchon, Seoul
Severance Hospital
English
Emergency
+82-2-2228-8888, 6566
Appointments
+82-2-2228-5800, 10
Daehangno, Seoul
Seoul National University Hospital
* Also has a Children's Hospital
English
Emergency
+82-2-2072-2473 (Main hospital)
+82-2-0130-484-0505 (International Health Care Center)
+82-2-2072-3563~4 (Children's Hospital)
Appointments
+82-2-2072-0505 (International Health Care Center)
+82-2-2072-3580 (Children's Hospital)
Restaurants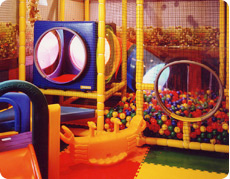 Most large restaurants, family restaurants, and fast food restaurants provide highchairs, but you'll need to make sure to ask for one as you're seated. Restaurants in Korea typically provide chopsticks, so if you are dining with a child, ask for special plates and forks. Nowadays, an increasing number of larger restaurants offer special play areas for children.
Special Places to Visit with Children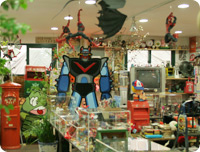 Both parents and children are sure to love N Seoul Tower and 63 City. These two landmarks not only offer a great view of Seoul, but also have a lot of unique facilities and attractions perfect for family visitors. Those traveling with children might also want to visit the Cheonggyecheon Stream to take a walk or go to the Seoul Forest or Seoul Park to see the animals, have a picnic, or play on the playgrounds. For a more cultural experience, family visitors are encouraged to stop by Gyeongbokgung Palace, Deoksugung Palace, or Seoul National Museum. Those who are willing to travel a little further may also be interested in visiting Dalki's Theme Park, a small theme park/play area at Heyri Art Valley in Paju City that is designed especially for children. (http://www.dalkiworld.com)

[Related Articles]
→ Places to Visit with Children in Korea
→ N Seoul Tower on Namsan Mt. – A Must-See Landmark of Seoul
→ Samsung Children's Museum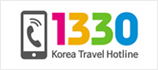 The 1330 Korea Travel Hotline, operated by the Korea Tourism Organization, is a one-stop helpline available as a public service for local and international travelers.