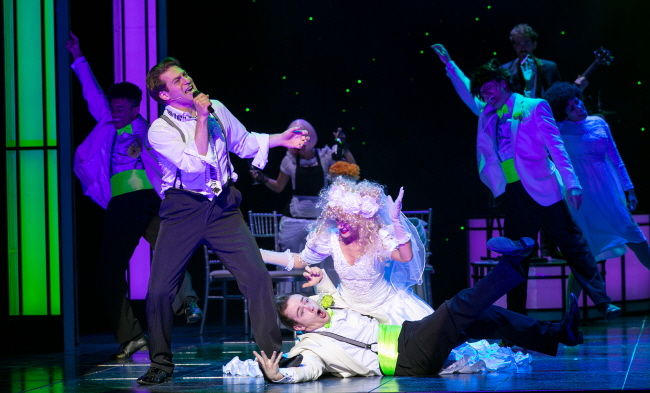 Photo: Invitational Musical "The Wedding Singer" at Daegu International Musical Festival (Credit: Daegu International Musical Festival, Inc.)
Daegu International Musical Festival
will be held around the city of Daegu from June 21 to July 8. This year's festival will feature musicals from around the world including the United Kingdom, Russia, Spain, France, Thailand and more, as well as various events and programs.
The opening ceremony on June 21 will feature a grand outdoor musical with seating for up to approximately 50,000 people. Main musicals during the festival include "The Wedding Singer" by the United Kingdom team; "Youth," a musical collaboration of Korea and China; and last year's winner of the Creative Musical Award and the Best Supporting Actor Award, "Blue Rain." Special performances in the creative musical genre will include "Turandot," "Mandoek," and "Lee Jung-Seob's Memory." Ticket reservations can be made using the Interpark Ticket website; please be advised that the age limit varies by performance.
Other events and programs include street performance "DIMFringe," a special backstage tour and more.
More Info
Enjoy Wonderful Musicals at Daegu International Musical Festival!
☞ Period:
June 21 – July, 2019
☞ Opening ceremony performance venue:
Daegu Duryu Park, 180, Yaoeeumakdang-ro, Dalseo-gu, Daegu (대구광역시 달서구 야외음악당로 180)
* Locations vary by performance. Please refer to the official website for more info.
☞ Directions:
Duryu Station (Daegu Subway Line 2), Exit 14. Walk approx. 15 min.
☞ Inquiries:
+82-53-622-1947 (English) / +82-53-622-1945 (Chinese)
☞ Website:
dimf.or.kr
(Korean, English, Japanese, German, French, Spanish, Russian)
* Reservation website:
www.globalinterpark.com
(Korean, English, Japanese, Chinese)
☞ 1330 Korea Travel Hotline:
+82-2-1330 (Korean, English, Japanese, Chinese, Russian, Vietnamese, Thai, Malay)