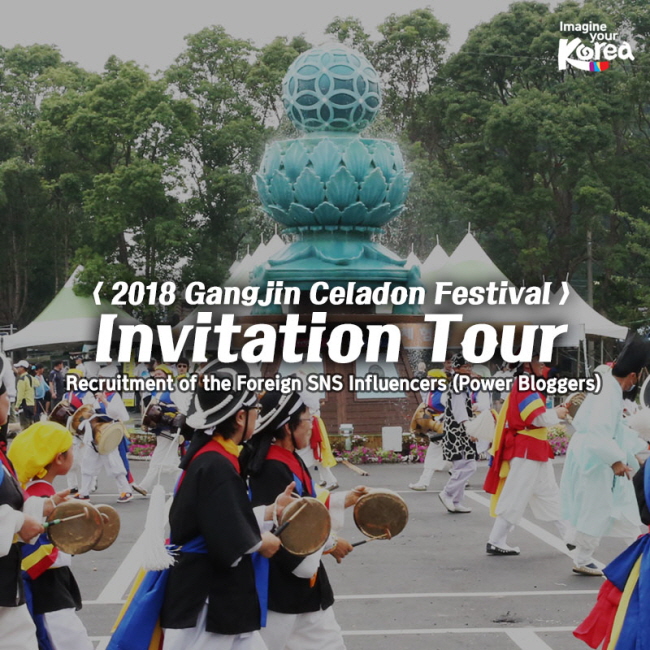 Photo: Social influencer recruitment banner for Gangjin Celadon Festival (Credit: Maru Changjakso, Inc.)
The Korea Tourism Organization is currently recruiting international social media influencers, including power bloggers, to promote Korea's major festival worldwide.

Selected participants will have the opportunity to join in on a tour of Gangjin Celadon Festival, a local festival in Gangjin that was selected as Korea's Best Festival by the Ministry of Culture, Sports, and Tourism. As a home to quality celadon, Gangjin hosts the annual Gangjin Celadon Festival to celebrate the beauty of celadon as well as Korea's culture through various events and activities.

Recruitment is open for 20 members; eligibility requires applicants to be a foreign national currently residing in Korea who is fluent in English, Japanese, or Chinese. Application can be submitted online from July 1 to July 15.

The tour will take place on July 28 to 29. Selected participants will be provided with Korea's southern region-style meal and an accommodation at a traditional hanok. Participants will also get a chance to experience festival's activity programs such as celadon making and create media contents to deliver the excitement at the festival via social media.
More Info

Recruiting Social Influencers to the Gangjin Celadon Festival!

☞ Recruitment period:
July 1 - 15, 2018
☞ Required participants:
20
☞ Eligibility:
Foreign nationals residing in Korea; must be fluent in English, Japanese, or Chinese
☞ How to apply:
Submit an application via e-mail or
online
☞ Tour period:
July 28 - 29, 2018
* Details will be sent individually to selected participants.
☞ Inquiries:
Send an e-mail to
koreanfestivals@gmail.com
☞ Gangjin Celadon Festival website:
www.gangjinfes.or.kr
(Korean, English, Japanese, Chinese)
☞ 1330 Korea Travel Hotline:
+82-2-1330 (Korean, English, Japanese, Chinese, Russian, Vietnamese, Thai, Malay)