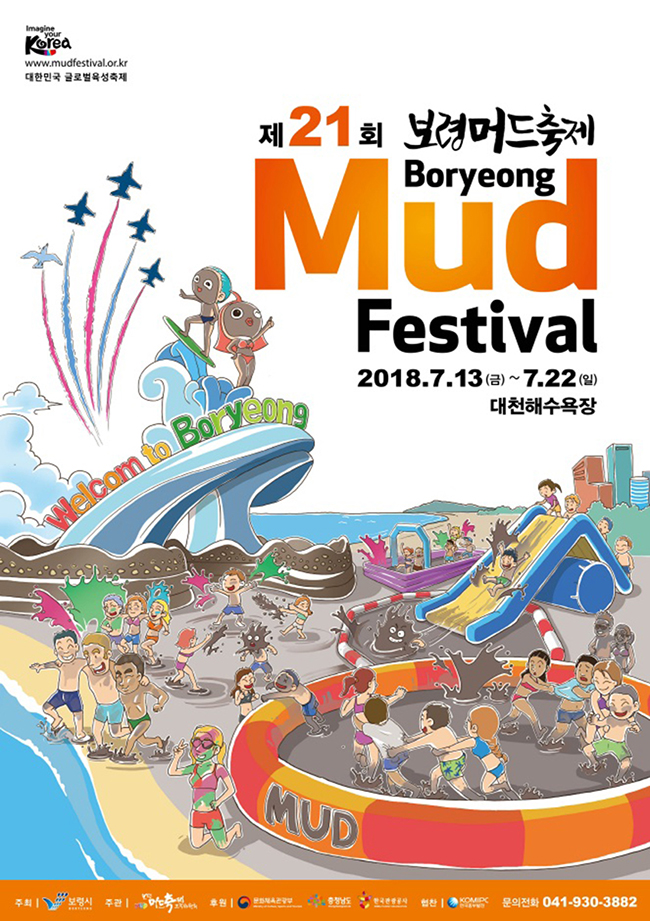 Photo: The 21st Boryeong Mud Festival Poster (Credit: Boryeong-si)
Under the slogan, "Let's Go to Boryeong! Let's Play in Mud!," the annual Boryeong Mud Festival will take place from July 13 until July 22 at Daecheon Beach and other parts of the city. Visitors are welcome to participate in 60 different programs, including color-mud face painting, mud self massage experience, mud soap making, and mud mob-scene, for a day filled with fun.

This year, the festival will feature a mobile payment system called Mud Pay for visitors' convenience. By using a QR code and chargeable wristband, Mud Pay allows visitors to take advantage of the festival's programs and facilities without the hassle of carrying a wallet or credit card around. Ticket reservations are available at the Boryeong Mud Festival's official website; on-site purchase can also be made on the day of the festival.

Due to positive feedback of Mud Tram last year, another mean of transportation called the Mud Mini Bus will also be added. In addition, K-Pop World Concert will take place along with the opening and closing ceremony, boasting an excellent line up of popular K-pop artists such as VIXX LR, Dynamic Duo, Cheetah, Eddy Kim, Jessi, 9muses, and more. Take note that the K-Pop World Concert is free of charge, but separate fees may apply to participate in certain programs.

Shuttle bus packages, providing convenient bus transportation between Seoul and the festival venue, will be prepared exclusively for international visitors. International visitors are also eligible for a 40% discount on admission on weekdays. Visit the official website for more details.
More Info
The Annual Boryeong Mud Festival Kicks off July 13
☞ Event period: July 13-22, 2018
☞ Operating hours: Mud Experience Zone 9:30-18:00 / Closed during maintenance hours (12:30-13:30)
☞ Mud Experience Zone Admission


Mud Experience Zone Admission
Individual
Fee
Note
Regular Zone
Adults
Mon – Thurs
12,000 won
Fri – Sun
14,000 won
Age 20-64
Teenagers
Mon – Thurs
10,000 won
Fri – Sun
12,000 won
Age 11-19
Groups
Adults
Mon – Thurs
11,000 won
Fri – Sun
13,000 won
20 or more people
Teenagers
Mon – Thurs
9,000 won
Fri – Sun
11,000 won
20 or more people
Family Zone
Adults
Mon – Thurs
4,000 won
Fri – Sun
6,000 won
Applies to all guardians
Children
Mon – Thurs
9,000 won
Fri – Sun
11,000 won
Age 3-10
Free
Children under the age of 3
(must be accompanied by an adult)

※ Visitors of age 65 eligible for a 30% discount (ID required).
※ International visitors can receive a 40% discount off with a coupon on Monday-Thursday (July 16-19, 2018). Coupon available on the website; take a photo of the coupon and present with photo ID (or passport) to avail discount. (Cannot be used together with other coupons or promotional benefits)
※ On-site tickets sold from 9:00 to 17:00
※ Certain programs and activities may require a separate fee
☞ Seoul-Boryeong Foreigner-exclusive Shuttle Bus Package
- Fee: Bus only 15,000 won (1+1 Promotion - buy two tickets for the price of one) / Bus + Festival admission (Monday-Thursday) 37,000 won / Bus + Festival admission (Friday - Sunday) 40,000 won / Bus + Festival admission + Attraction coupon (Monday - Sunday) 43,000 won
※ Rates above apply to both adults and children.
※ 1+1 Promotional rate is currently available for shuttle bus only package; at least two passengers required to be eligible for promotional rate. Ticket price varies depending on number of passengers; check website for details.
- Package reservations can be made online.
☞ Inquiries: +82-10-5438-4865 (English)
☞ Boryeong Mud Festival website: www.mudfestival.or.kr (Korean, English, Japanese, Chinese)
☞ 1330 Korea Travel Hotline: +82-2-1330 (Korean, English, Japanese, Chinese, Russian, Vietnamese, Thai, Malay)
Information courtesy of Boryeong-si