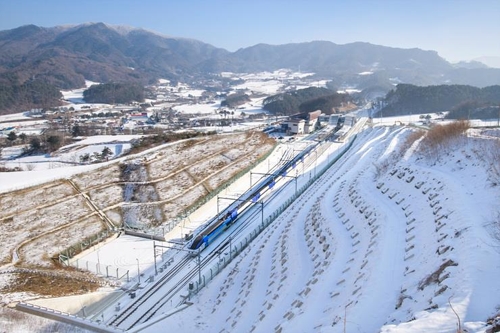 Photo: Train from Seoul to Gangneung
KTX tickets are running out fast with the PyeongChang 2018 under way, but there are still enough seats to the Olympics! As the trains departing from Cheongnyangni Station and Sangbong Station have more seats available than those departing from Incheon International Airport directly, Olympic spectators are recommended to book tickets leaving from the aforementioned stations.

Currently, KTX en route Seoul and Gangneung runs 51 times a day, consisting of 16 departures from Incheon International Airport Terminal 2, 10 departures from Seoul Station, 10 departures from Cheongnyangni Station, and 15 departures from Sangbong Station. Four additional trains are scheduled to run on Feb. 25, the day of the PyeongChang 2018 Closing Ceremony, for the convenience spectators leaving at night.

As of Feb. 5, KTX ticket sales for during the Olympic period (Feb. 9-25) were at 71.3% from Incheon International Airport to Gangneung Station, whereas sale rate KTX departing from Seoul, Cheongnyangni, and Sangbong Station remained at 60.2%. Even during the Seollal holiday peak season from Feb. 14-18, it is estimated that 4,000 seats and 7,000 seats are still available for KTX departing from Cheongnyangni Station and Sangbong Station, respectively, headed to Jinbu Station and Gangneung Station.

KTX will also be running late at night from Gangneung Station during the Olympic period to accommodate evening game spectators. Visitors can get to Seoul by taking KTX to Sangbong Station at 00:20 and Cheongnyangni Station at 01:00 from Gangneung Station.
More Info

Take KTX from Cheongnyangni & Sangbong to Watch the Olympics

☞ Korail website:
www.letskorail.com
(Korean, English, Japanese, Chinese)
☞ Incheon International Airport website:
www.airport.kr
(Korean, English, Japanese, Chinese)
☞ 1330 Korea Travel Hotline:
+82-2-1330 (Korean, English, Japanese, Chinese)
Information courtesy of Korail