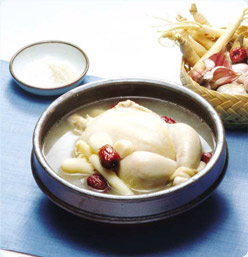 Samgyetang is famous as a summer- vitalizing food for natives and is justly popular among foreigners visiting Korea. Our ancestors used to gather under the shade of the tree or sit around the river and eat samgyetang in order to nurture their minds and protect their bodies from the summer heat.
A young chicken, which is somewhat larger than a chick, is used for Younggyebaeksook. Younggye was first used as Yeonggye, which means soft meat chicken, and was changed to Younggye, meaning young chickens that have not yet laid eggs. Younggyebaeksook is cooked by washing the young chicken, then the internal organs are removed, and the interior is stuffed with sweet rice, a chestnut, garlic and a Chinese date. Then, the chicken is boiled in its broth until the soup is white in color.
Samgyetang may taste plain to some, but its a healthy food that is especially good for those who perspire easily and have weak digestive organs. However, people who have high body temperatures or allergies should avoid the dish, as it boosts body temperature.
When cooking Samgyetang, its better to use undried ginseng; if dried ginseng is used, its necessary to crush the ginseng well. Ginseng, Chinese dates and milk vetch root are medicinal herbs that can be easily found in Korea, and are thus considered traditional dishes among Koreans. Ginseng speeds up the metabolism of the body and is good for recovering from fatigue. Garlic acts as a tonic, and Chinese dates protect the stomach and also prevent anemia.

Written by Professor Yoon Sook-ja
Photos by Ryu Seunghoo and courtesy
Professor Yoon Sook-ja

Professor Yoon is Chief of the Institute of
Traditional Korea Food & Director of Tteok
and Kitchen Utensil Museum
● Ingredients
• Four young chickens (2kg)
• Sweet rice, 1 3/4 cups (280g)
• Undried ginseng,
8 medium-size roots (180g)
• Green onion, 1 stem (20g)
• Water, 30 cups (6L)
● Sauce
• Garlic, 12 cloves (80g)
• Chinese dates, 12 (20g)
• Salt, 3 Tbsp (45g)
• Pepper, 1 tsp (7g)

● Cooking Instructions
1.
Wash chicken well and remove internal organs, if not already removed.
2.
Wash sweet rice and soak in water for two hours. Garlic and Chinese date are used whole. Wash undried ginseng and slice green onion.
3.
Stuff sweet rice, garlic, Chinese date, undried ginseng into belly of the chicken. Cross and tie with string the chicken's legs to retain the stuffed ingredients inside. Do same with three remaining chickens.
4.
Put chickens in the pot and boil in water for 40-45 minutes until the broth appears white. Sprinkle salt, pepper and green onion.
5.
Serves four.

* Cooking Tip
Make sure the rice is thoroughly cooked in the chicken's belly before serving.

The article courtesy of SEOUL magazine