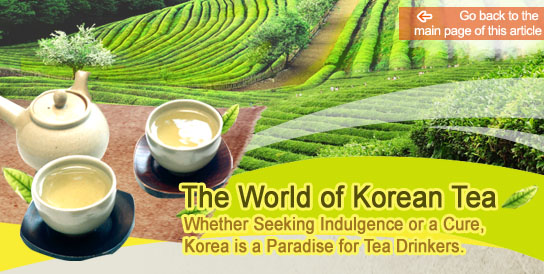 Medicinal Tea
Saenggangcha (생강차, Ginger tea)
For thousands of years ginger has been a key ingredient in dishes served throughout the world. In addition to its delicious flavor and culinary importance, the spice has great medicinal value. Ginger is believed to warm the body, ease symptoms related to fatigue and help absorb other medicinal compounds while neutralizing toxicity in the body. Saenggangcha is often taken at the first sign of a cold to prevent symptoms from getting worse, especially chills or fevers. It's no wonder that this beverage has long since been a mainstay among Korean home remedies.

* Recipe: Thinly slice fresh gingerroot and marinate in sugar or honey. Add a spoonful of the mixture to hot water and stir. Or, just simply boil ginger and honey in a pot of hot water. Pour and enjoy.

Purchase Information
Saenggangcha is available in powdered form or plastic bottles in department stores, supermarkets, or local markets. It is also served at traditional teahouses.

Insamcha (인삼차, Ginseng tea)
Korean ginseng is globally known for its health benefits. Ginseng tea stimulates the appetite, and prevents fatigue, nervous disorders, and diabetes. In spite of being known as an appetite stimulant, it is also highly valued as a dietary supplement because of its reputation as a natural energy booster. There is a mistaken belief that people who tend to have a higher body temperature should not eat ginseng. In fact, ginseng can either raise or lower the heat in the body depending on the individual and the amount of ginseng ingested. When selecting a ginseng root, look for a smooth surface, firm texture and significant weight. In Korea, the best ginseng roots come from the Punggi and Geumsan regions. For a first-hand look at how ginseng is grown and harvested, visit one of these exciting festivals: Pung-gi Ginseng Festival or Geumsan Insam Festival.

* Recipe:Add sliced ginseng and jujube to water and simmer for several hours. Mix with honey and garnish with a few pine nuts.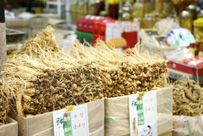 Punggi Ginseng Festival
* Major programs: Ginseng picking, Miss. Ginseng Pageant, Mt. Sobaeksan Ginseng Singing Contest, etc
* Location: Gyeongsangbuk-do Yeongju-si Punggi-eup Namwoncheon area
☞ Detailed info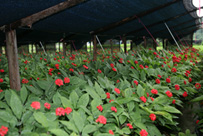 Geumsan Insam Festival
* Major programs: Ginseng ritual ceremony, health experience programs, ginseng picking, etc
* Location: Chungcheongnam-do Geumsan-gun Geumsan Insam Museum and ginseng market street
☞ Detailed info
Purchasing Information:
Insamcha is available for purchase in condensed and powdered forms in department stores, supermarkets and local markets. It is also served at traditional teahouses.
Ssanghwacha (쌍화차, Ssanghwatang)
Ssanghwacha or ssanghwatang is deep brown in color with a slightly bitter taste. The word 'ssang' refers to energy and the concept of 'yin and yang', while 'hwa' means harmony. Hence, the name of this tea is derived from an ancient prescription used to supplement energy and bring the body into a more balanced state of equilibrium. This kind of tea is said to cure fatigue, physical weakness, and cold sweats, making it a drink that it often consumed by Koreans when they feel under the weather. Ssanghwacha can be made by boiling down a number of medicinal herbs, but many people today buy it pre-made in medicinal herb shops, pharmacies, or supermarkets. For a more traditional experience, try one of the teashops in Insa-dong, which sell great-tasting ssanghwacha teas.

* Recipe: Add the roots of white peony, sukjihwang (steamed rehmannia root), other medicinal herbs (depending on your particular tastes and/or symptoms), ginger, and jujube to water. Simmer for several hours.

Purchasing Information
Ingredients for Ssanghwacha, or ssanghwacha in powdered form, can be purchased at supermarkets or local markets. It is also served at traditional teahouses.

☞ Click here for Seoul Medicine Market
☞ Click here for Namdaemun Ginseng Market