Nokcha (Green tea)
Nokcha (녹차), or green tea, is made from tea leaves that have been dried to retain their green color. It is one of the most frequently enjoyed beverages both at home and in teahouses, and is readily available in grocery stores. Nokcha is a light delicious beverage that can be served hot or cold. Special nokcha teabags are even available for a refreshing cold green tea drink in the summer. The best temperature for brewing nokcha is between 60~68℃, ideal for retaining all the properties beneficial to health. Korean people use nokcha to enhance the green color of vegetables and to neutralize fish or meat odors. As to its medicinal effects, the catechin in green tea helps prevent food poisoning and geriatric diseases. Nokcha is widely used in cookies, cakes, bingsu (a shaved ice dessert), and ice creams to enhance both flavor and color. People also use green tea for aesthetic purposes: water infused with green tea is used for bathing, while yogurt mixed with green tea powder is often applied as a facial pack.
The tea culture in Korea was widely influenced by Buddhism and Taoism, leading to the development of Suyangdado, the performing of tea ceremonies as a way of cultivating the mind. Tea was thought to soothe the mind and create a peaceful atmosphere. Korea has long been referred to as Geumsugangsan, meaning 'silken tapestry of rivers and mountains', and was known as a country flowing with water, a perfect backdrop for the fulfillment of the ancient teaching that says "good tea requires good water." The best-known tea production regions in Korea are Boseong in Jeollanam-do, Jeju-do, and Hadong in Gyeongsangnam-do, each of which annually holds a green festival.

* Recipe: Roast freshly-picked green tea leaves to evaporate the moisture. Continue roasting until leaves turn crispy. Infuse several leaves in hot water.

Purchasing Information
Price: Prices vary depending on the type of packaging (teabags, dried green tea, powdered form)
Place: Teabags and dried leaves are available at supermarkets. Green tea is also a standard menu item at most tea houses and coffee shops.
Official Site of Boseong Green Tea:

eng.greenbs.kr

(Korean, English, Chinese, Japanese, German)
Tel: +82-61-852-2181

Green Tea Destinations in Korea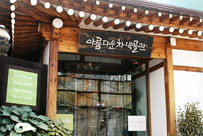 Beautiful Tea Museum (아름다운 차 박물관)
* Introduction: The Beautiful Tea Museum is a veritable tea department store. The teashop and tea café carry approximately 110 types of tea from all over the world from places like Korea, China, Japan, Taiwan, Sri Lanka, India, and Europe.
* Location: Seoul-si Insa-dong Gonghwarang Intersection
☞ Detailed info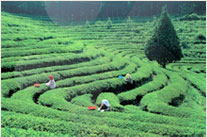 Daehan Tea (대한다원)
* Introduction: Daehan Tea is the name of the green tea tourist plantation of Boseong Dawon in Boseong, Jeollanam-do Province. The green tea tourist plantation was open in 1957 and has over 50 years of history.
* Location: Jeollanam-do, Boseong-gun, Boseong-eup
☞ Detailed info
☞ Related column: Best Spring-time Destinations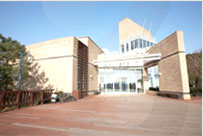 Jeju O'Sulloc Museum
* Introduction: The museum is the perfect place to learn all about Jeju's Sullokcha, the area's famous green tea. On exhibit are a selection of teacups from around the world, around 80 different kinds of green tea, an illustrated history of green tea in Korea, and a selection of food made from green tea.
* Location: Jeju-do, Namjeju-gun, Seogwang-ri
☞ Detailed info

[Tea Festivals]
☞ Click here for Boseong Green Tea Festival
☞ Click here for Hadong Wild Tea Cultural Festival
☞ Click here for Jeju O'sulloc Festival