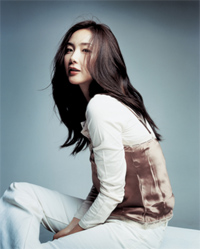 Choi Ji-woo has been gaining wide popularity not only in Korea, but from all over the Japan. Many fans will be happy to hear that she will be returning to television screens starting December 10 (Wed.) on Korea's SBS TV drama <A Star's Lover>.


This drama portrays a story most fantasize about, a story about falling in love with a top-star. This melodrama introduces two completely different people who meet in the tough realities of the real world and realize true love. <A Star's Lover> has been a special project of SBS that took a year and a half to prepare, with the help of Japanese media production company, Dentsu.


In the drama, Choi Ji-woo plays the role of the female lead, Lee Ma-ri, a top-star who turns down the proposes of many men in order to find that one true love. Her counterpart is an aspiring novelist in graduate school, named Kim Cheol-su, and played by actor Yu Ji-tae. The drama also features a solid supporting cast of actors including Lee Gi-woo, Seong Ji-ru, Jeong Un-taek, and others, anticipating a successfully in-depth drama.