Realization of the Buddhist Elysium, Bulguksa Temple
The people of the Shilla dynasty believed that Shilla was the country of Buddha actualized on earth, which is reflected in 'Bulguksa Temple,' meaning 'the temple of the Buddhist country'. The establishment of Bulguksa Temple in the center of the capital city of Gyeongju (as opposed to in the mountains) also reflects the strength of the Silla people's conviction. The larger temples of Bunhwang Temple, Heungryun Temple and Hwanryong Temple were built following the establishment of Bulguksa Temple, which was built in association with the construction of Seokguram Grotto in 774. Bulguksa Temple cannot be likened to any other temples of the Shilla dynasty. Bulguksa Temple symbolizes 'the country of Buddhism' and the spontaneity of Shilla.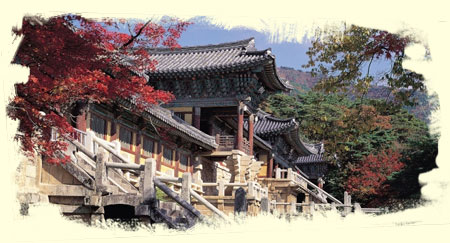 Looking at Bulguksa Temple directly, one can actively visualize the significance of the Bulguksa Temple to the Shilla people. The inside is subdivided into 3 parts: Birojeon, Geunrakjeon and Daewoongjeon. The Temple is said to embody the Buddhist Elysium and the three parts are representative of the Yeonhwa world of the Birozana Buddha, the heavenly world of Amita Buddha and the Saba world of Buddha. The concept of the Buddhist Elysium is equivalent to that of the Christian Heaven.

Essence of Stone Artwork, Dabotap and Seokgatap

Bulguksa Temple is located behind stone walls that are 100m in length. The area beneath the stone walls is the world of humans and the area above the stone walls is the world of Buddha. The stairways act as bridges between the two worlds, joining man and Buddha. These long stone walls and the stone stairway are the first image of Bulguksa Temple.

The second image of Bulguksa Temple appears when approaching Daewoongjeon inside the temple precincts. These are Dabotap and Seokgatap, which are located parallel to the east and west. The establishment of dual towers of the same shape in front of Daewoongjeon was a traditional style of temple construction during the Shilla Dynasty but the two towers in front of Daewoongjeon are totally different in shape. Dabotap represents feminity while Seokgatap represents masculinity.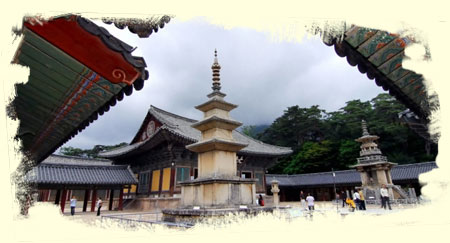 The skill that people of the Shilla had in handling stone is remarkably displayed in these two stone towers, which are both made of granite block. Dabotap is as detailed as if it were molded clay and is even featured on the 10KRW coin. It is not meant to look like it was made of stone. On the contrary, Seokgatap is a more rigid proportional stone tower. The world's oldest wood block printed document called was found in Seokgatap.