The sense of connectedness demonstrated by gi is very well illustrated in the way the Korean people regard mountains. Throughout history, Koreans have aimed to live in harmony with them, rather than regarding the mountains as a massive natural object alienated from human life. Beginning long ago, Korean people have made shelters in the middle of the mountains, and cultivated the farmland on their hillsides. Even in the highly populated metropolis of Seoul, a national park is only a short subway ride away, and Seoulites of all ages go for hikes on the weekends, taking advantage of the mountain's close proximity.

The older generation in Korea rarely uses the word "mountain climbing" as it denotes a sort of conquering or dominating the mountain. Instead the terminology of 'being accommodated' by the mountain is more commonly used.
Another expression of the Korean people's emphasis on harmony with nature is the principle Korean's call Pungsoo (geomancy).? Pungsoo is related to feng shui and is based on the notion that topographical configuration can generate invisible forces of good or evil. Pungsoo theory is always considered when constructing residences and even gravesites to ensure there is no discord with the divination of the terrain and flow of the water.
The gi energy of the Korean people can be felt through all aspects of art and culture and the critically acclaimed musical KARMA is a perfect example. KARMA has uniquely combined the grace of dancing, the vigor of martial arts and "Four Graceful Plants", a famous Korean painting. The gi and excitement of the musical have been well received local residents and international visitors.
'KARMA' Perfectly Expresses the Notion of Gi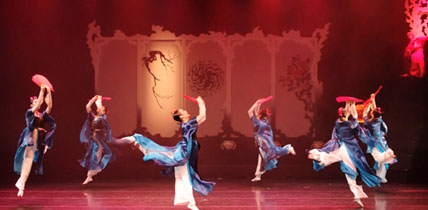 KARMA has been displaying awesome mental and physical power through a combination of martial arts, tradition and Korean dance since 2007.

www.karma.kr (Korean)