Intangible Heritage of Humanity List

---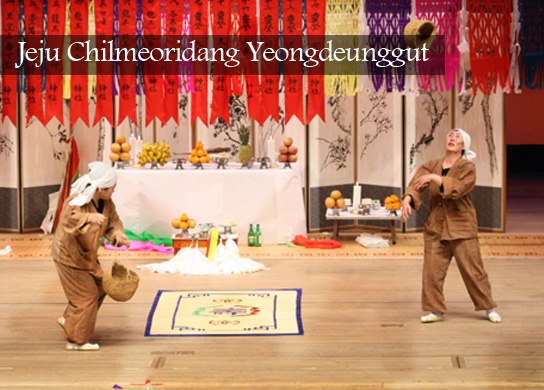 The Jeju Chilmeoridang Yeongdeunggut is a gut* ritual held in the first half of the second lunar month at the Chilmeoridang Shrine in Geonip-dong, Jeju-do. Geonip-dong is a small fishing community where the residents' livelihood once depended heavily on the bounty of the sea: especially, fish and clams. Female divers called haenyeo, caught sea cucumber and abalone and gathered seaweed to sell in the market.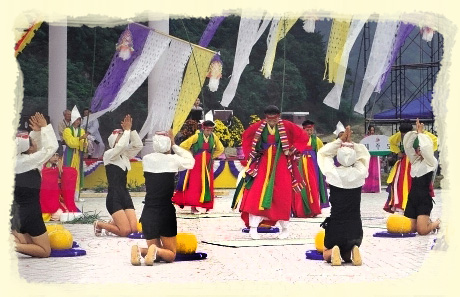 The Yeongdeunggut is a ritual offered to the goddess of the winds (Grandmother Yeongdeung), who was believed to visit the island on the first day of the second lunar month and leave again on the fifteenth day. People believed that the goddess made sea resources more abundantly available for the female divers to catch. For this reason, ceremonies were held all over Jeju Island during this period to pray for calm seas and plenty of fish. The Jeju Chilmeoridang Yeongdeunggut is the embodiment of the divers' belief of the Yeongdeung goddess and is a ritual unique to Jeju, not to mention that it is the only haenyeo gut ritual in Korea.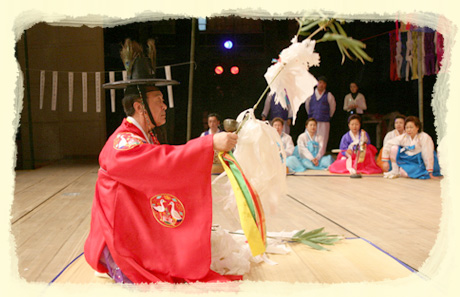 *'Gut' (pronounced 'goot') is a religious shamanist ritual. A shaman performs songs and dances in front of drinks and rice cakes offered to the gods and calls upon the gods to regulate the fortunes and misfortunes of the residents.



The Jeju Chilmeoridang Yeongdeunggut was designated as an Important Intangible Cultural Asset in Korea in 1980 and was inscribed on the UNESCO's Representative List of Intangible Cultural Heritages of Humanity in 2009.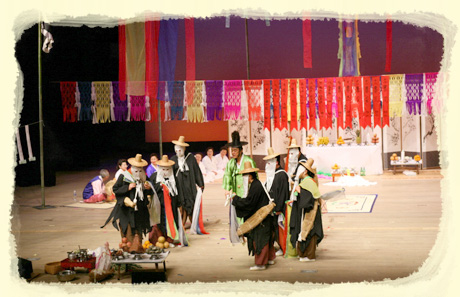 ☞ Where to see the ritual: Though originally located on the slopes of Sarabong Peak, Chilmeoridang Shrine was moved to the entrance of the Sarabong Park walking trail. Usually, the Yeongdeung welcoming ritual is held on the first of the second lunar month. The Yeongdeung farewell ritual is usually held on the fourteenth and is a much larger celebration than the welcoming rite.
☞ Click here for Sarabong Park
☞ Click here for Sarabong (Sara Oreum)
☞ 1330 Korea Travel Hotline: +82-64-1330 (Korean, English, Japanese, Chinese)
☞ Cultural Heritage Administration of Korea Homepage http://english.cha.go.kr/ (Korean, English, Japanese, Chinese)
---