Intangible Heritage of Humanity List

---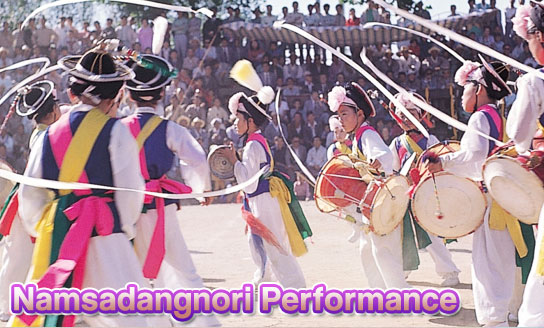 All-Male Vagabond Performance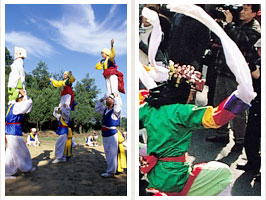 Namsadangnori (남사당놀이) generally refers to performances staged by Namsadangpae (남사당패), a vagabond troupe of 40 or more male performers. After the Joseon Dynasty, Namsadangpae troupes performed nationwide and were especially popular until the 1920s. Playing vital roles in the production were the kkokdusoe (leader), hwaju (performance planner), tteunsoe (music/dance planner), gayeol (performers), ppiri (trainees) and porters.
Namsadangnori was a tradition rooted in the experience of the common people, and performances were staged especially for them. Musicians and dancers could relieve the grief of the poor and disenfranchised, while criticizing the immorality of the yangban (noble class) through their sarcastic humor. Namsadangnori were thus staged in rural areas or outside of town, where the gentry would not see them. Weather permitting, performances were held outdoors from spring till late autumn.

How It's Performed

The Namsadangnori repertoire consisted of various types of music and dance: pungmul, beona, salpan, eoreum, deotboegi, and deolmi. Pungmul, a type of farm music (nongak) performed in rural communities, is played on traditional Korean wind and percussion instruments accompanied by dance and acrobatic performances. It functions as a call for the audience to gather for the performance. Lately Samulnori is quite well known, and it should be noted that Samulnori is a kind of pungmul that was adapted to be performed on stage. Beona is similar to the Chinese traditional dance in which a large plate is spun on the end of a stick. Salpan is similar to modern-time gymnastics, in which performers do various tumbling stunts.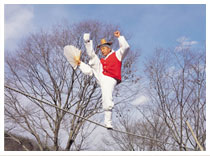 Tightrope walking, or eoreum, comes from the Korean word for ice, which is an indication of how difficult the practice is. Deotboegi is a type of mask dance. Finally, deolmi is a puppet performance. Several types of deolmi were popular at the time: kkokdugaksi noreum, bakcheomji noreum, and hongdongji noreum. Of those, kkokdugaksi noreum is still performed today. Namsadangnori is the last vestige of Korea's traditional puppet tradition, and thus holds great historical significance. These performances are said to have started around 9 pm in the evening and lasted for 6 or 7 hours until 3 or 4 in the morning.

This precious traditional dance was designated as an Important Intangible Cultural Property of Korea in 1964, and went on to become a UNESCO Intangible Heritage of Humanity in 2009.

● Where to find Namsadangnori performance
☞ Anseong Namsadang Regular Saturday Performances
☞ Official site: www.namsadangnori.org/index.htm (English)


---