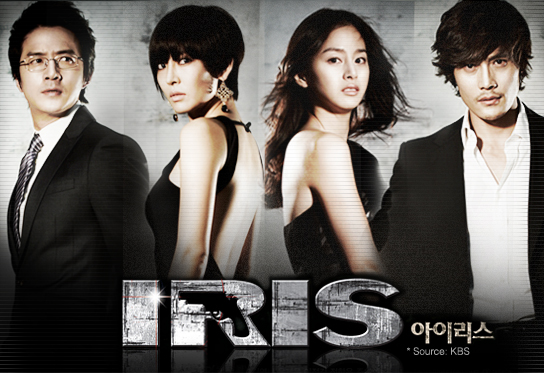 Iris
Even before it went on air, the new blockbuster TV show Iris was the talk of the town. The show features high-profile Korean stars Lee Byung-hun, Kim Tae-hee, Kim So-yeon, Kim Seung-woo and singer Top of the band Big Bang. The drama was Korea's first attempt at an action-packed spy thriller, and the 20 episodes depict betrayal, and romance among National Security System (NSS) agents.

Iris was filmed in various locations, including Akita Prefecture in Japan, Budapest and Lake Balaton in Hungary, Shanghai in China, and of course, here in Seoul, Korea. The Seoul segments were filmed at Gwanghwamun Square, Cheonggyecheon Stream, Noeul Park, and other popular tourist destinations.
Drama Information

Producer : Kim Tae-gyu, Yang Yun-ho

Writer : Kim Hyun-jun, Jo Gyu-won, Kim Jae-eun

Cast : Lee Byung-hun, Kim Tae-hee, Jung Jun-ho, Kim So-yeon, Kim Seung-woo, and Choi Seung-hyeon (Top of Big Bang)

Broadcasting company : KBS

Broadcast period : Oct. 14, 2009 – Dec. 17, 2009

Official site (Korean)
Synopsis

Best friends Hyun-jun and Sa-woo joined the National Security System (NSS) at the same time. Even though the two are competing to be the top agent, they develop a deep friendship. Hyun-jun falls in love with Seung-hee, also an NSS agent whom he first met at graduate school. When Sa-woo is introduced to the same woman, it is love at first sight. But neither Hyun-jun nor Sa-woo are aware of the the others feelings and their love for Seung-hee continues to grow. When Hyun-jun is trapped in a conspiracy led by the military society Iris that is plotting to prevent the reunification of the Korean Peninsula, the NSS orders Sa-woo to eliminate his friend and colleague. Conflict between the two drives the suspense-filled drama forward.
Characters
Kim Hyun-jun played by Lee Byung-hun
Hyun-jun was orphaned at the age of seven when his parents, who were scientists and agents with the NSS, died in an accident. He has no recollection of his life before the tragedy. The story unfolds as he and Sa-woo are hired by the NSS, where they soon become valued members of the agency. He also falls in love with Seung-hee, who is the team leader at NSS. Embroiled in a conspiracy planned by secret society Iris, he embarks on his last mission against the mysterious and powerful military clique to save the nation.
Choi Seung-hee played by Kim Tae-hee
Seung-hee is a profiler who forecasts terrorist actions, so that they can be averted by the agency. With intelligence and cool-headed judgment, she is already leading a team at the NSS. Assertive and beautiful, Seung-hee instantly captures the hearts of both Hyun-jun and Sa-woo. When Hyun-jun goes missing following a series of risky missions, she disobeys NSS orders and sets out to find him. She is aware of Sa-woo's feelings for her, but she is already in love with Hyun-jun.
Jin Sa-woo played by Jung Jun-ho
An elite member of the NSS, Sa-woo had always excelled in whatever he undertook, but now it seems he is always a step behind Hyun-jun. Like his friend, Sa-woo falls in love with Seung-hee the moment he meets her. In deference to his friendship with Hyun-jun, however, he hides his feelings. When the NSS orders him to eliminate Hyun-jun, he faces the decision of a lifetime. Will he follow a state order or honor love and friendship?
Kim Sun-hwa played by Kim So-yeon
Sun-hwa is a dedicated North Korean spy who works for Park Chul-young, the team leader of the North Korean guards. While on assignment to track down Hyun-jun, she realizes that the leader she had so deeply respected has abandoned her. She commits her loyalty to Hyun-jun, who had protected her. Eventually, she falls deeply in love with him, which spurs tension in her relationship with Seung-hee.
Park Chul-young played by Kim Seung-woo
The leader of the North Korean army guards, commander Park Chul-young is ready to sacrifice his life for his country and his beliefs. Even though he had watched over Sun-hwa like a little sister, he is ordered to get rid of her. A person who rarely shows weakness, Park Chul-young sets out for a fateful encounter with Hyun-jun.
Vick played by Choi Seung-hyeon (TOP of Big Bang)
A member of Iris, Vick is ordered to assassinate Hyun-jun. Vick is cold-hearted enough to kill families, including children, to achieve his ends. He tenaciously tracks his victim down.
Filming Locations

Gwanghwamun Square

Hyun-jun, Sun-hwa, and Seung-hee face off with North Korean terrorists to stop them from detonating a nuclear bomb. The scene was filmed at Gwanghwamun Square in the heart of Seoul. It is a landmark that features statues of King Sejong the Great, Admiral Yi Sun-shin, and the symbol of Seoul, Haechi. Citizens also enjoy the pond, which is transformed into a fountain or an ice skating rink depending on the season.


[INFO]

Address : Seoul-si Jongno-gu Sejong-ro

How to get there : Subway Line 5, Gwanghwamun Station, Exit 1 or 8

Tel : +82-2-120

Noeul Park

The scene where NSS Director and the North Korean delegate hold a secret meeting is filmed at Noeul, on the grounds of the World Cup Park. This site includes five theme parks: Peace Park, Haneul Park, Nanjicheon Park, Nanji Hangang Park, and Noeul Park, which feature beautiful outdoor sculptures on an expansive field overlooking the Hangang River. True to the park's name (noeul means sunset), visitors can enjoy a splendid view of the sunset.

9th Avenue

The site where Sa-woo convinced Iris members to take shopping mall customers hostage is the 9th Avenue shopping mall in Guro-gu. The entrance to 9th Avenue is where a bomb detonated by Iris hits special police forces. The unique site features Hallyu themes: Café de Juno, which is owned by Jung Jun-ho and Daejanggeum Korean Restaurant owned by Lim Ho (of Daejanggeum fame). The Lee Byung-hun Star Shop located on the first floor features the star's hats and accessories and other collectables. At the Choi Ji-woo Star Shop, visitors will find Namu's stylish shoes designed by Namuhana, the star's personal collection, accessories, and drama props.


[INFO]

Address : Seoul-si Guro-gu Guro 5-dong 501, 9th Avenue

How to get there : Subway Line 1, Guro Station, Exit 1

Tel : +82-2-6678-8000

Operating hours : 10:30 - 21:00

Official site (Korean, Japanese)
Lotte Hotel

This was the proposed site of the South-North Summit meeting. There, NSS Deputy Director met with Park Chul-young in preparation for the South-North Summit meeting and inspection teams from both sides met to discuss the agenda. Scenes of the Chief Presidential Secretary's penthouse at the top of a deluxe hotel in Pyongyang were also filmed in the Lotte Hotel in Seoul. The Lotte is considered to be one of Korea's finest hotels, with 1,120 rooms, 13 restaurants and bars, 15 function rooms, the Club Floor for businesspeople, duty free stores, fitness club, and a variety of other facilities.