Daejanggeum(Jewel in the Palace)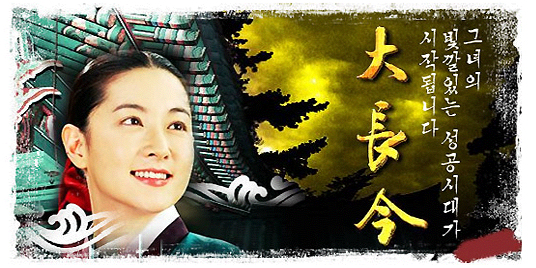 The TV miniseries Daejanggeum, or Jewel in the Palace, which aired on MBC from September 15, 2003 to March 23, 2004, set many new records. The miniseries, whose viewer rate averaged 47%, and even reached a high of 57.8%, is based on the story of a real historical figure (Jang-geum) who was the first and only woman to serve as head physician to the King in the rigidly hierarchical and male-dominated social structure of the Joseon Dynasty.
Daejanggeum, in English, "the Great Jang-geum," caught the attention of Korean TV viewers with its unique combination of two themes: the successful rise of a female, which is rarely covered in historical genre, and the elements of traditional food and medicine. For three months, beginning in May 2004, Daejanggeum aired in Taiwan, overtaking other Taiwanese miniseries, and snatching the title of most viewed program of the season. In fact, nowadays, visiting Taiwanese fans flock to the main filming locations on Jeju Island, at the Korean Folk Village, Naganeupseong, Suwon Hwaseong Haenggung Palace, and Changdeokgung Palace. The series was also launched on NHK satellite TV beginning October 8, 2004. In spring 2004, Daejanggeum also gained popularity in the West when the drama aired in 60 episodes on WOCH-Ch in Chicago, drawing large numbers of Daejanggeum aficionados.
These days, the main filming locations on Jeju Island, at the Korean Folk Village, Naganeupseong, Suwon Hwaseong Haenggung Palace, and Changdeokgung Palace are crowded with Taiwanese fans.
< Detailed Info >
Website : http://www.imbc.com/broad/tv/drama/daejanggum/index.html
Airing: MBC TV / Mondays & Tuesdays at 9:55 pm from September 15, 2003 to March
23, 2004
Production : Producer Cho jung-hyeon / Screenwriter Kim Yeong-hyeon /
Director: Lee Byeong-hun
Main Casts :Lee Young-Ae, Ji Jin-Hee Hong Li-Na, Im Ho, Yang Mi-gyeong, Gyeon Mi-ri

• Synopsis
Jang-geum (played by Lee Young-ae) is the daughter of Seo Cheon-su (played by Park Chan-hwan), a former judicial officer-turned butcher (the lowest social class) who lives in hiding after being expelled from the royal palace, and Madame Park (played by Kim Hye-seon), a former court lady working in the royal kitchen who narrowly escaped death following a murderous conspiracy planned by Court Lady Choi. As a young child, Jang-geum loses both parents and enters the royal palace in the kitchen. In the royal kitchen, she spends a harsh childhood in continuous competition with Choi Geum-yeong (played by Hong Li-na). Under the protection and tutelage of Court Lady Han, Jang-geum makes every effort to become the best cook in the palace. Her endeavors enable her to become a recognized cook; but Lady Choi and her faction, jealous of the success of Lady Han and Jang-geum, plot a conspiracy, which leads to the death of Lady Han and Jang-geum's expulsion from the royal palace. Jang-geum is relegated to the position of maidservant for the local government office on Jeju Island. While in exile, Jang-geum learns medicine. Through native intelligence and patient efforts, she earns her reputation as a woman doctor on the island. After a time, she returns to the palace, where she is recognized by the king and becomes the royal physician, and also the first female physician in history to serve the king. The king falls in love with her, but she cannot return his love, as she is already in love with Min Jung-Ho, who has stood by her side during the most difficult times. * The concluding part omitted.

• The Cast of Daejanggeum(Jewel in the Palace
Seo Jang-geum / Played by Lee Young-Ae - More Info
As a beautiful and intelligent woman blessed with a positive attitude, Jang-geum is haunted by numerous difficulties. Yet, she overcomes them with an iron will. She enters the royal palace at the age of ten and puts her heart and soul into cooking, finally achieving recognition for her talents. However, she is entrapped in a conspiracy aimed at her mentor Lady Han, and she is expelled from the palace. She is forced to work as a maidservant for the local government in Jeju Island. There, she studies medicine and re-enters the palace, ultimately becoming the head physician and also the first woman physician in the history of Joseon to serve the king.
Min Jung-ho / Played by Ji Jin-Hee - More Info
Min Jung-ho becomes closely bound to Jang-geum after his appointment as a Royal Guards officer. He is an outstanding scholar who not only passes the civil service examination, but also possesses great talent as a military officer, which leads to a position with the Royal Guards. He is a learned man with intelligence and good looks.
Deeply touched by Jang-geum's wisdom and passion for learning, he helps her in many ways. At the same time, he falls in love with her, but his love also puts him in deep trouble.
Choi Geum-young / Played by Hong Li-na – More Info
Geum-young enters the royal palace with Jang-Geum and becomes her long-time rival in the royal kitchen. She is the niece of Lady Choi, who holds the place of power in the royal kitchen. Arrogant and burning with ambition, Geum-young has loved Min Jung-ho ever since she was a little child, but her love is never returned. She considers Jang-geum her rival, and is always out to defeat her.
King Jungjong / Played by Im Ho – More Info
He is the 11th king of the Chosun Dynasty. A gentle man, but at the same time irresolute and indecisive, the king cherishes Jang-geum's many talents and later falls in love with her.
Lady Han (Han Ae-jong) / Played by Yang Mi-gyeong
–More Info
Lady Han is an outstanding cook and one of the teachers and mentors of the royal kitchen. Strict in her principles, yet warm-hearted, she cares for Jang-geum like a daughter. She dies in a conspiracy planned by Lady Choi.
Lady Choi (Choi Seong-geum) / Played by Gyeon Mi-ri
– More Info
She is the younger sister of the wealthy Choi Pan-sul and the aunt of Geum-young. Arrogant and self-assured, she is a master of cooking with a frightening tenacity to succeed. Her desire for power leads her to plot the death of Madame Park, the mother of Jang-geum, and Lady Han. She also expels Jang-geum from the palace.

• Photo Gallery of Daejanggeum
| | |
| --- | --- |
| | Click on the small photos to enlarge. To see more photos, click on to move to the next page. Click on to move back to the previous page. |

• Filming Locations of Daejanggeum
To enhance the visual impact of the miniseries, Daejanggeum was filmed in numerous locations throughout the country, from Seoul to Jeju Island. Presented here are the major locations, which are not only popular tourist destinations, but relatively easy to get to.
[ Daejanggeum Major Locations 01 – Seoul and its Vicinity ]
Changdeokgung Palace
- Click here for Transportation and More Info
Changdeokgung Palace has been designated by UNESCO as a world cultural heritage site. It appeared in episode 1 depicting the procession of King Yeonsangun, episode 3 depicting the procession of King Jungjong, episode 51 where King Jungjong is prevented from entering the residence of his son Gyeongwondaegun, and episodes 51 and 52 in which King Jungjong walks and talks with Jang-geum.
Korean Folk Village
- Click here for Transportation and More Info
The Korean Folk Village was the location of episode 54, in which Jang-geum gives birth to Min Jung-ho's child, and Jang-geum, Min Jung-ho and the baby become a family. It is also the site of episode 51 in which Jang-geum takes care of smallpox patients in a village. Numerous other scenes were also shot here.
Hwaseong Haenggung Palace
- Click here for Transportation and More Info
Scenes of little Jang-geum undergoing training at the palace in episodes 3 and 4, the cooking competition in episode 8, the training of women doctors and Naeuiwon (medical facility in the palace) scenes in the latter episodes, and many others were filmed at Haenggung Palace.
[ Daejanggeum Major Locations 02 – Jeju-do Island ]
Jeju Folk Village
Many of the scenes in which Jang-geum learns medicine as a maidservant for the Jeju local government from episodes 27 to 32 were filmed at the Jeju Folk Village. Here, information with photos and descriptions of the scenes make it easier for visitors to find the locations. In particular, there is a large photo of Daejanggeum in front of the Jeju government office gate, where visitors like to take photographs.
Hyeopjae Beach
- Click here for Transportation and More Info
The scene in episode 28, in which Min Jung-ho looks out to sea as Jang-geum leaves by boat, and the scene in which Jang-geum runs towards her cottage residence were shot here. Hyeopjae Beach is famous for its jade-colored waters.
Oedolgae
In episodes 30 and 31, Jang-geum stands alone on a precipice looking out to the sea in firm resolution. A site offering a spectacular view, Oedolgae is one of the most visited tourist sites on Jeju Island.
Jeju Jinjigul Cave
In episode 54, Jang-geum finds a woman in labor inside the cave. She performs an operation that saves both the woman and her child. Jinjigul Cave is actually man-made. Aiming to use Jeju Island as an advance base to protect its mainland, the Japanese military excavated Jinjigul Cave in early 1945. An exhibition showing military equipment and everyday articles used by the Japanese military has recently been opened in the cave, and it is becoming a popular tourist attraction.
Seongeup-ri Ranch Area in Namjeju-gun (ATV Jeju Joy)
Many of the scenes were filmed on an open range located in Seongeup-ri, Pyoseong-myeon, Namjeju-gun. Filmed here were scenes of Jang-geum carrying the dying Courtier Han on her back and later burying her. This is also where Jang-geum is taken by a military guard to a place of exile on the island. Other scenes shot here were Jang-geum going back to search for Lady Han's grave, and erecting a tombstone. Visitors can still see the tombstone by registering for the Daejanggeum tour operated by ATV Jeju Joy. A thrilling experience awaits tour-goers, who will visit the filming locations in an all terrain four-wheeled vehicles.
< More Details about ATV Jeju Joy >
Address : 2060-3 Seongeup-ri, Pyoseong-myeon, Namjeju-gun, Jeju-do Island
Telephone : +82-64-787-2040 (Korean)
Travel Phone : +82-64-1330 (English, Chinese, Japanese)
Daejanggeum Course Price : Adults 30,000 won
Time : Course takes about 40 to 45 minutes
How to get there : From Jeju City Bus Terminal, take a bus for Pyoseong, and get off in front of Seongeup Seungmajang (Seongeup Horseback Riding Club)
[ Daejanggeum Major Locations 03 – Other Regions ]
< Naganeupseong Folk Village >
- Click here for Transportation and More Info
This location, a butcher's village, appeared in episode 1, in which Jang-geum's father Seo Cheon-su and other officials deliver poison (given to them by the king) to deposed Queen Yun. Images of the Royal Guards training grounds and Joseon-era marketplace scenes were also filmed here. Episode 39, in which a contagious disease ravages the village, and episode 40, in which Min Jung-ho visits a disease-ridden village to save Jang-geum, were also filmed here.
Seonunsa Temple
- Click here for Transportation and More Info
Well known for its beauty, Seonunsa Temple provided the location for episode 2. Filmed at Jinheunggul Cave near Seonunsa Temple, it shows Janggeum's mother, Madame Park, alone in a cave absorbed in thought. The scene in which Jang-geum hides from a military search party, in a rock crevice was filmed at Dosoram Hermitage. The scene in episode 6 where Jang-geum climbs down the mountain carrying a golden pheasant was filmed near the temple. The scenes at the stone tomb of Madame Park in episodes 23, 27 and 28 were all shot nearby. Finally, in episode 48, Lady Choi asks for forgiveness at Madame Park's tomb.
< The Relics of the Historical Figures in Daejanggeum >
Daejanggeum Restaurant


This restaurant serves royal court cuisine and traditional Korean food. Dinner napkins and other accessories are decorated with the Daejanggeum logo and characters.
Address : 200-82, Jangchung-dong 2-ga, Jung-gu, Seoul
How to get there : Take Subway line 3 and get off at Dongguk Univ. Exit 5. The restaurant is behind Jangchung Stadium
Price : Daejanggeum Seon Set Menu 59,000
wonDaejanggeum Mi Set Menu 49,000 won

Daejanggeum Hanbok Tailor "Dolsilnai"


Hanbok worn in Daejanggeum can be purchased at this shop. The tailor shop is easy to find since it is located in Insa-dong, a well-known "traditional" area of Seoul.
- Click here for more details on Insa-dong and transportation
Address : F1, Insa-dong 146, Jongno-gu, Seoul
Telephone : +82-2-737-2232 (Korean)
* The pictures above are provided by MBC.