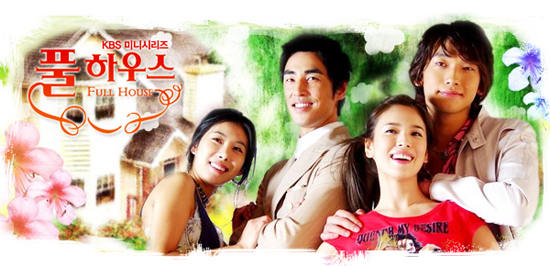 Full House
One of the most popular TV miniseries released in Korea in 2004 was Full House, based on a popular comic book series. This fun miniseries shows us the difficulties that occur while living together, as well as the funny side of life. The lead actress in Full House, Song Hye-kyo, is very succesful with her credits including Gaeul Donghwa (Autumn in My Heart) and All In. The lead actor, Rain (비 ) is one of Korea's hottest singers. From the onset, Full House was praised for its fresh and saucy take on the love lives of four young people. Within the first three weeks of airing, audiences responded with a 30% increase in viewership. Most of the miniseries is set at a beachfront house in Incheon. This area has become a popular tourist spot for fans of the show.
[ Show Information ]
♥ Homepage : http://www.kbs.co.kr/drama/full
♥ Airing Time : Wednesday and Thursday every week on KBS2 at 9:50 p.m.( July 14 – September 2, 2004)
♥ Screenwriter :Min Hyo Jung
♥ Producer : Pyo Min Soo
♥ Actors : Song Hye-kyo (송혜교) / Rain (비) / Han Eun-jung (한은정) / Kim Sung-su (김성수)
• Synopsis

Han Ji-eun lives alone in the house that she inherited from her parents. Her parents named the property 'Full House.' She has two close friends who end up selling the house behind her back to Lee Young-jae. Through a series of incidents, the two make a contract to marry, so that Ji-eun can stay in the house that her parents built. Although not in love with each other when they marry, a love between them develops slowly over time. The feelings of love are constantly interrupted by Gang Hye- won, Young-jae's love interest for quite some time and by Yu Min-hyeok, a man that Han ji-eun likes.

• The Cast


Han Ji-eun (Song Hye-kyo)
-Click here for more information on actress, Song Hye- Kyo

Living in the house that her parents left her, the tenacious Han Ji-eun is writing a novel for the internet. Through a series of events, she makes a contract to marry Lee Young-jae, eventually falling for him. She is bubbly, cute, and a stubborn, realist who is not daunted by new situations.


Lee Young-jae (Rain)
-Click here for more information on Jeong Ji-hoon, stage name: Rain

The straight talking actor is Asia's man of the moment. A strong sense of pride combined with a difficulty in expressing his true emotions results in many misunderstandings. In the beginning of the miniseries, he seems to be head over heals for Gang Hye-won; however, he eventually ends up falling for Han Ji-eun.


Yu Min-heok (Kim Sung-su)
-Click here for more information on Kim Sung-su

Working in management for a large media firm, Yu Min-heok is the ideal man to date. He is well mannered, a conversationalist, good looking and wealthy. He is kind-hearted, but at times can be cold and calculated. He cannot stand losing and will not give up until he has Ji- eun's love.


Gang Hye-won (Han Eun- jung)
-Click here for more information on actress, Han Eun-jung

Fashion designer Gang Hye-won has been friendly with Lee Young-jae and Yu Min-heok since childhood. Beautiful, accomplished and from a good family, she is every man's dream. She is very greedy when it comes to love. At first, she liked Min-heok, but later, after seeing Young-jae with another girl, she began to develop feelings for him.
[ Comic Book Series ]
| | |
| --- | --- |
| | The first book in a series of 16 was published in 1993 and quickly rose to the top, ranking number one in Korean comics. The series went on to gain equal popularity in Japan, China, Taiwan, and Hong Kong. |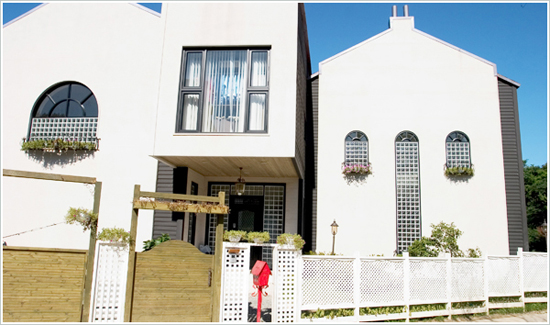 • Filming Locations
Full House was filmed in the Gwangyeok-si area of Incheon. Located near Incheon International Airport, it's a ten-minute boat ride from Sammok Harbor to this quiet, seashore getaway. Unlike other filming locations in Korea, this is an actual house. Made mostly of wood, this house, made especially for the miniseries, cost approximately one million US dollars to build. The beachfront property looks out onto open waters, with elegant views that could be used on any postcard. Many fans of the miniseries make a pilgrimage to this now famous home. Nearby sightseeing locations include Jogak (sculpture) Park on Modo Island; a bridge connects these two islands.

[ Full House Photo Gallery ]
Outer View
Beach View
Living Room
2nd Floor Hall Area
Han Ji-eun's Desk in Living Room
Han Ji-eun's Bedroom
Lee Young-jae's Bedroom
Living Room
Bathroom
Han Ji-eun's Bicycle
[ Fun Photos ]

[ Watch Episodes of Full House ]


Members of KBS can watch episodes online for free. Registration can be done in English, but the Full House page is in Korean. The following directions will help you navigate the website:
1. Become a member → KBS (membership is free!)
2. After becoming a member of the KBS website, go to the following page!
3. The most recently aired episodes are at the top of the list!
4. Select either 56K or 300K (700k requires payment)

5. Login



[ Download Full House wallpaper ]



Click on the size that you would like to download. Select either:

or

Then click on the right mouse button and select "set as background."


→ Clear here to select wallpaper!
[ Full House Photo Gallery ]

For more photos click on "Go to Photo Gallery" to see numerous pictures posted by KBS!

。


→ Go to Photo Gallery

* The pictures above are provided by KBS.