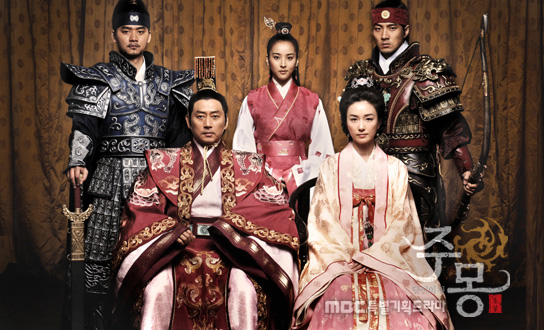 Jumong was the very first Korean historical drama to depict the Goguryeo period (BC37~668). The production cost approximately 3 billion won, and was loved by many viewers. The excellent performances by the actors made the program quite popular, and as a result the ratings shot up. The drama's filming location attracts more than 5000 tourists daily.

Jumong is a collaborative piece, written by Jung Hyung-Su of "Damo" Choi Wan-Gyu of "Heojun" and "Sangdo," attracting much interest from the very beginning of its production. These two writers are known as the 'dream team' of historical dramas in Korea. Also, the cast appeals to all ages. Song Il-Kook and Han Hye-Jin are popular among the younger generation, and Jeon Gwang-Ryeol and Oh Yeon-Su are loved by the older generation. This well-mixed cast allows Jumong to reach a wide range of viewers.

[Jumong]
Director: Lee Ju-Hwan, Kim Geun-Hong
Writers: Choi Wan-Gyu, Jung Hyung Soo
Cast: Song Il-Kook, Han Hye-Jin, Kim Seung-Su, Jeon Gwang-Ryeol, Oh Yeon-Su
Network: MBC
Air Time: May 15, 2006 / Mondays & Tuesdays at 9:55 PM
Homepage: http://www.imbc.com/broad/tv/drama/jumong/index.html (Korean)


About Jumong
Gojoseon (BC2333~BC108) was conquered by China, after which the very first nation state Goguryeo was established (BC 37). The drama begins with the fall of Gojoseon. After losing their country, the people disperse. The migrants who have lost their country aimlessly roam around and live under Chinese rule. However, the tribal nations cannot accept the migrants because of pressure from China. During this upheaval, the young hero, Haemosu of Gojoseon creates an army to fight against China. But he is defeated by Cheolgigun (military soldiers who arm themselves with ironclad weapons), and disappears.
After his disappearance, Yuhwa finds she is carrying his child, a son, but becomes a royal concubine of Emperor Geumwa while she's pregnant. Jumong grows up in the palace believing Geumwa is his father. However, his secret birth and the hostility from his half-brothers drive Jumong out of Buyeogung Palace. This drama is about Jumong's journey after leaving the palace to establish a new nation.


Characters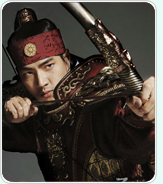 Jumong - Played by Song Il-Kook

Son of Haemosu and Yuhwa, Jumong grows up believing he is the son of Geumwa, his real father's betrayer. When he finds out of the truth, he longs to meet his father, but little does he know that his teacher is his father. He falls in love with Soseono, who he meets by chance, but he must marry someone else. However, with courage and strong determination, Jumung faces his destiny.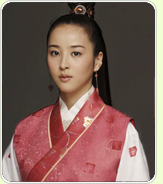 Soseono-Played by Han Hye-Jin

She is wise and can predict the future, but because she is a female, she is not allowed to reach her full potential. However, she is strong even in the face of death, and she is warmhearted. She is looked down upon because she comes from a weaker nation, but she deals with all her hardships wisely. Though Jumong is the one and only love of her life, she cannot be his wife, so instead she chooses to be his strongest ally in establishing Goguryeo.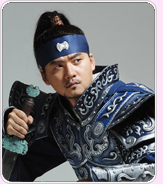 Daeso – Played by Kim Seung-Su

Although the oldest son of Buyeogung Palace, during childhood Daeso always came second in the eyes of his parents and it left an emotional scar. He detests Jumong for being the favored child, and having the love of Soseono. Feeling like he has lost against Jumong in everything, Daeso cunningly and intentionally puts Jumong in danger. He causes Jumong's birth father, Haemosu, to die as well as tries to put Jumong, Yuhwa, and Soseono's lives in jeopardy, even going so far as collaborating with the enemy for this purpose. He is a very intelligent and crafty character who will do whatever it takes to get what he wants.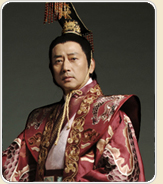 Geumwa – Played by Jeon Gwang-Ryeol

Geumwa fought together with Haemosu against China, and the two were once best friends, but Geumwa eventually surrendered to China and betrayed Haemosu. Geumwa was secretly in love with Yuhwa, Haemosu's lover and when Haemosu disappears, Geumwa takes her as his wife. He raises Jumong with mixed feelings of love and hate as he watches Jumong grow up to resemble his birth father more and more.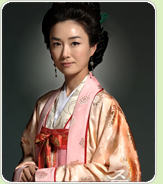 Yuhwa – Played by Oh Yeon-Su

Yuhwa is sought after by many men because of her beauty, and is the daughter of the Habaek Tribe. She saves Haemosu's life when she finds him fatally wounded. But all of her tribesmen are killed for hiding Haemosu from the Chinese army. She also becomes pregnant with Haemosu's child, but marries Geumwa for protection after Haemosu disappears.


Film Location
Samhanji Theme Park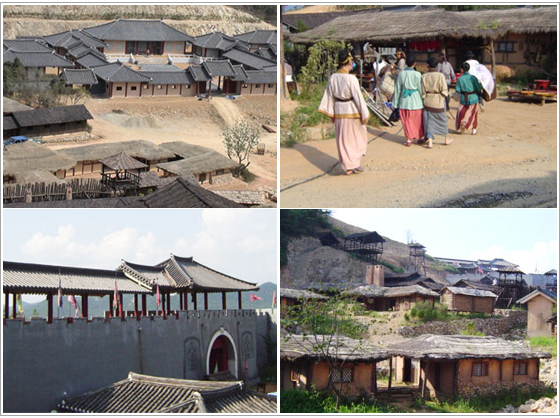 The Buyeogung Palace, and Buyeo period scenes in Jumong are mostly filmed in Samhanji, the theme park in Naju. Samhanji Theme Park is about 148,762㎡ in size, and is a large film set which costs almost 20 billion won to build. The authentic looking castle walls and the castle, the tile-roofed houses, and the surrounding natural environment all come together to create an amazing location.
After shooting the drama 'Jumong,' this theme park served as the filming location for other historical dramas. It takes about one hour to look around the entire set, and there are snack bars located here and there.
Tourist Information: +82-61-1330 (Korean, English, Japanese, Chinese)
Operating Hours: 09:00am – 18:00 pm (The set is not open to the public when the cast is shooting, so be sure to check the schedule in advance.)
Admissions: 19 years old and above 3,000won, 13 to 19 years old 2,500won, 6 to 12 years old 500won
Directions: Take bus #160 in front of Gwangju Bus Terminal → Get off at Yeongsanpo Terminal and transfer to the bus bound for Gongsanmyeon (comes every 15 minutes) → Get off at Gongsanmyeon and take a taxi to the theme park (fare: 5,000won)
* There is a bus from Gongsanmyeon to Samhanji Theme Park, but it comes after long intervals, and it is difficult to transfer. A taxi is a more convenient means of transportation.
Hwangmaesan Mountain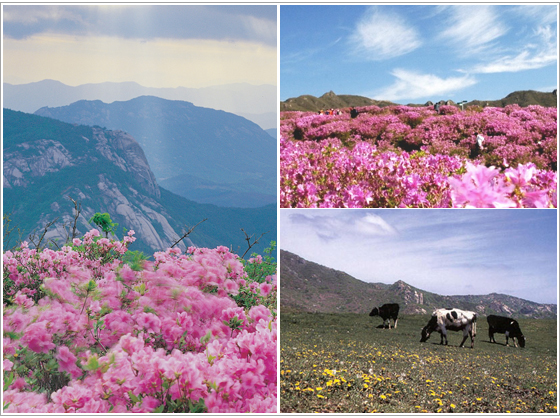 The cave from which Haemosu was rescued by Jumong and was taken care of in is a famous destination for migratory birds located at Hwangmaesan Mountain. Haemosu trains Jumong in martial arts at this location, and the two characters share some good memories as teacher and student. The final death scene of Haemosu was also filmed here on the wide grassy field, where it is especially beautiful on the mountaintop.
This location also served as a backdrop for the movie 'Tae Guk Gi: Brotherhood of War.' This film location also overlooks the ocean. Some scenes were filmed at the foot of Hwangmaesan Mountain at the movie theme park. This park is known as the film location for 'Gingko Bed' as well.
Tourist Information: +82-55-1330 (Korean, English, Japanese, Chinese)
Hwangmaesan Mountain's Movie Theme Park Hours: 09:00 - 18:00 (Closed on Mondays / Free admissions)
Directions: Get off at Nambu Bus Terminal Station from Seoul Subway Line #3 → Take the bus bound for Hapcheon at Nambu Bus Terminal (10:08~16:45, bus runs at 1 hour, 40 minute-intervals / fare 16,100won) → Take a taxi at Hapcheon Bus Terminal
Yumyeongsan Mountain's Seolmaejae Natural Park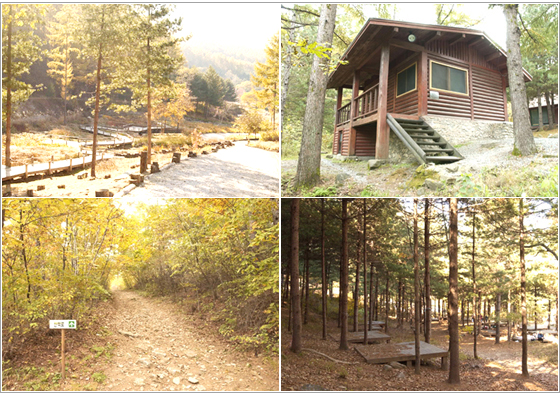 The armies of Jumong, Byeoldongdae and Cheolgigun, fight fierce battles at the Seolmaejae Natural Park located at Yumyeongsan Mountain. This is also the filming location for the scene where Jumong falls into a pit. The drama 'Damo' and the movie 'King and the Clown' were both filmed here as well.
When not serving as a filming location, tourists can enjoy paragliding, mountain biking, and other recreational sports, and nice relaxing walks. The park provides accommodations and snack bars; reservations are needed if you would like accommodations.
Tourist Information: +82-31-1330 (Korean, English, Japanese, Chinese)
Admission fee: 1,500won
Accommodation Rates: 56,000won - 350,000won (prices are subject to change depending on room size and season.)
Directions: Take a bus bound for Yangpyeong at East Seoul Bus Terminal (06:15~21:10, which runs in 30-minute intervals / fare: 3,300won / takes 50 mins.) → Transfer onto a bus bound for Yongcheon-ri at Yangpyeong Bus Terminal and get off at the last stop (Bus schedules: 06:50, 10:20, 18:20 / takes 50 mins.)→ Walk from Yongcheon-ri
Drama Haesin's Film Location – Wan-do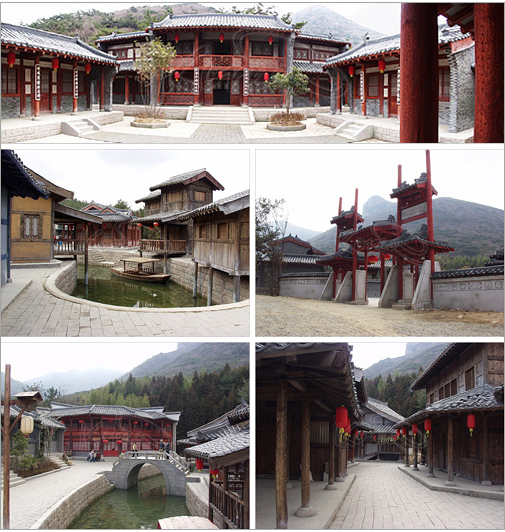 The drama 'Haesin' was filmed at Wan-do, and serves as the backdrop for Hyeontoseong Fortress in 'Jumong.' The Silla Village set was built for the KBS drama 'Haesin,' and the set has about 40 tile-roofed houses, including private houses, Chinese-looking streets, a tavern, and waterways, recreating the China of Dang Dynasty. The Cheonghaejin Pogu (Port) Village set includes about 42 buildings, a ferry dock, vessels, a military camp, and more. A tour of both film sets is recommended.
Tourist Information: +82-61-1330 (Korean, English, Japanese, Chinese)
Directions: From Gwangju Bus Terminal, take the bus bound for Gangjin (takes 1 hr, 30 mins.) or take a bust to Haenam (takes 1 hr, 40 mins.) → Transfer onto a bus bound for Wan-do's Wondong Terminal and get off at the terminal (takes 40 mins.) → Take a bus bound for Dongbu at Wondong Terminal (takes 20 mins.) → Get off at Bulmok-ri Sillabang * If you want to see another film location like 'Haesin,' take a bus bound for Seobu at Wondong Terminal (takes 20 mins.) and get off at Seosepo Cheonghae Pogu Village.
* The pictures above are provided by MBC.