• 'Gyeoul Yeonga'(Winter Sonata)
'Gyeoul Yeonga' was first released in Korea in January of 2002 quickly becoming one the most popular shows on television. This hugely popular TV drama was produced by Ho Yunseok, the same man responsible for immensely popular TV drama, 'Gaeul Donghwa'(Autumn in my Heart). This director has begun a seasonal theme of TV dramas. The third in his series is 'Yeoreum Hyanggi'(The Scent of Summer), which aired in the summer of 2003 in Korea. 'Gyeoul Yeonga' was released in 2001 to the Hong Kong audience and later released in China and Japan. Broadcast on NHK BS2 television in Japan, it was first shown in April ~ September of 2003. Due to popular demand, it was aired again in December 2003. The demand is growing internationally for this love story that steals the hearts of all who watch.


Detailed Information
Drama Homepage: http://drama.kbs.co.kr/winter(Korean)
Producer: Ho Yunseok
Cast: Bae Yong-joon, Choi Jiwoo, Pak yong-ha, Pak Sol-mi
Broadcasting company: KBS2 / January 14, 2002 ~ March 19, 2002


• Synopsis

Jeong Yu-jin, Gang Jun-sang, Kim Sang-hyeok and Oh Chae-rin are high school classmates from a small town outside of Seoul. Jun-sang and Yu-jin become each other's first true loves. Sadly, Jun-sang is supposedly killed is a car accident. Flash ahead, 10 years later, Yu-jin is an interior designer and is romantically involved with her high school classmate, Sang-hyeok. Yu-jin's company has recently signed a contract to work at a ski resort. The company heading the resort remodeling project is managed by Yu-jin's first love, who had allegedly died in a car accident 10 years ago. Yu-jin can't believe her eyes when she attends a business meeting with her first love. She is even more stunned to find out the man now known as Lee Min-hyeong doesn't remember her. Yu-jin, who never really got over her first true love, is confused and torn between the man who looks so much like Jun-sang and her current boyfriend, Sang-hyoek. Wanting to live in the past, Yu-jin often talks with Min-hyeong about her first love and the wonderful times that they had together. Min-hyeong is dating Chae-rin at the time he meets Yu-jin, but decides to separate from her as he finds himself falling in love with Yu-jin.

[Namiseom Island - Snow Falling of Winter Sonata]
This island is the location where many scenes were shot. A leisurely walk around the island will take approximately 2~3 hours. Many visitors opt for biking part way. Bicycles can be rented at the administrative office located near the center of the island. There is a small farm area on the island with many ostriches, which are free to roam the island on days when there aren't many visitors. It's fun to race the ostriches while riding bicycles, but don't plan on winning unless you have legs of steel. Summer tourists can enjoy boating around the island, but fall is certainly the loveliest time of year here.
-Click here for more detailed information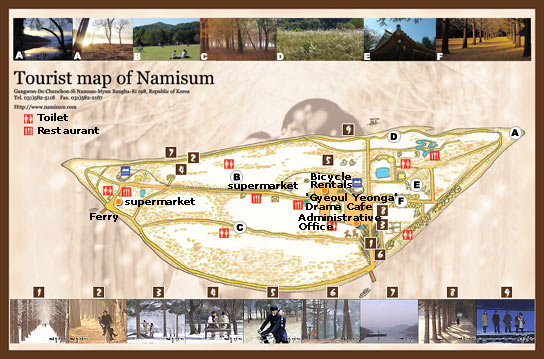 <Map of a filming site of 'Winter Sonata', Click on the map to enlarge image.>

<Actual spots where the drama was filmed>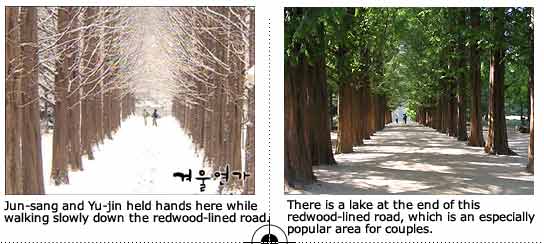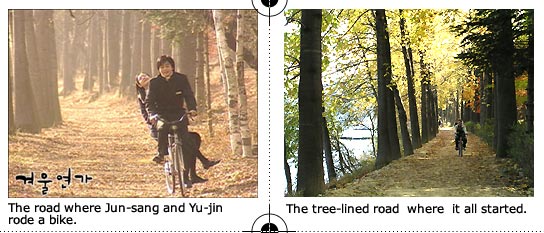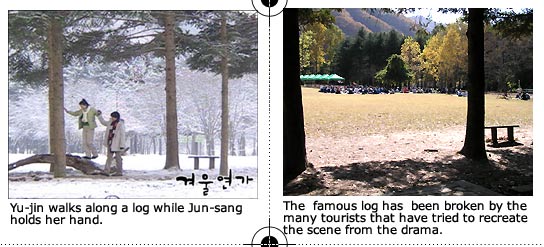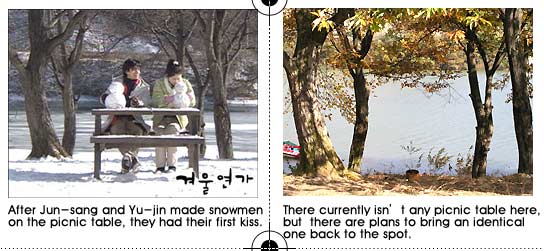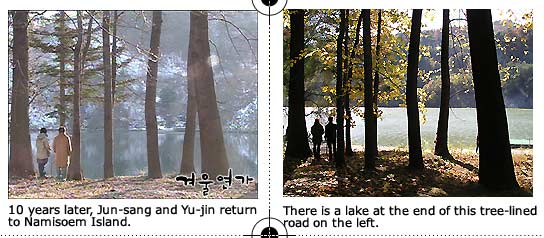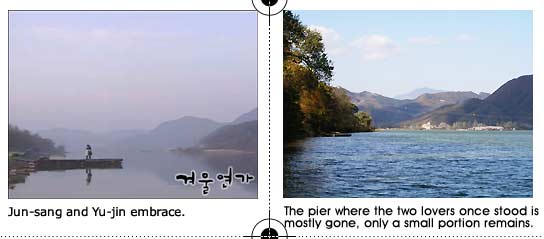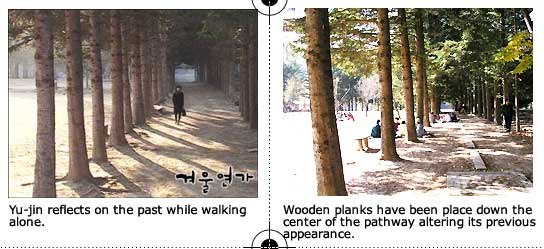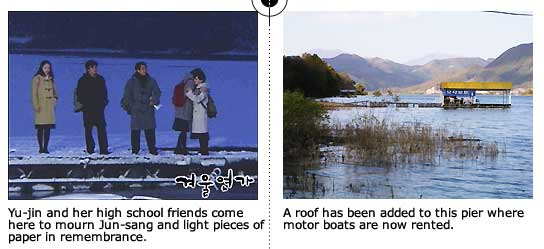 [Chuncheon Area]
1.Winter Sonata Cafe



This is the cafe where 'Winter Sonata' was first announced. There are clips from the show, souvenirs, and pictures of the cast. The famous Polaris necklace, that Min-hyeong (Jun-sang) gave Yu-jin, is for sale.

* Polaris necklace: silver 18,000 won / gold 150,000 won
* Winter sonata scarf: 1 -> 25,000 won / 2 -> 40,000 won

Former style lunch box: These lunch boxes can often be seen during the scenes shot at the high school. At the cafe you can enjoy the lunch box experience. Rice, kimchi, and an assortment of other foods are all packed into one of these tin boxes. The boxes are set on top of a furnace to stay hot, so be sure to use oven mitts when picking up the tin.



1 Lunch box : 4,000 won

< The authentic way to eat a Korean lunch box >


2, Jungdo Island



This is where Jun-sang and Yu-jin rode their bicycles. This sign has been placed here for fans to find the location with ease.
-Click here for more detailed information

3, Gongjicheon (road with the white fence)



This is the spot where Jun-sang and Yu-jin get off the bus together after they realize that they have missed their stop. They return to the same location 10 years later in a retrospective journey.
-click here for more detailed information

4, Chuncheon Station



This is the station that the high school classmates gathered at after finishing a group trip.
This is the view when exiting the train. There is a tourist information office in front of the station.

5, Famous shopping street in Chuncheon (춘천명동거리)



Yu-jin and Jun-sang promise to meet here on New Year's Eve. Yu-jin waits outside in the cold not realizing that Jun-sang was in a car accident. The two return to the scene 10 years later.
- Click here for more detailed information

[Yongpyong Resort]
Yu-jing's company, Polaris, and Min-hyeong's company sign a contract to work on the same design project at the Dragon Valley Ski Resort. The two main characters spent much time here working and falling in love again.
-click here for more detailed information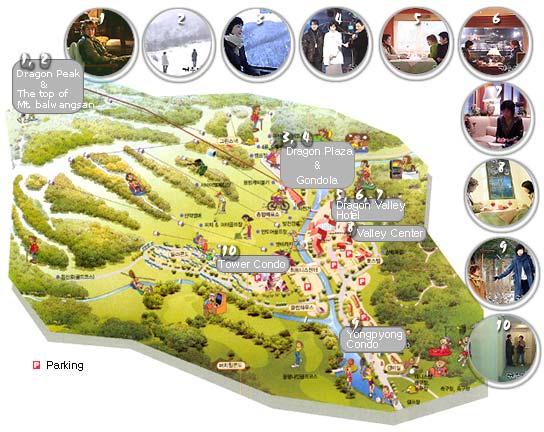 <Yongpyong Resort Guide Map>
(Click on guide map to enlarge image.)

<Actual spots where the drama was filmed>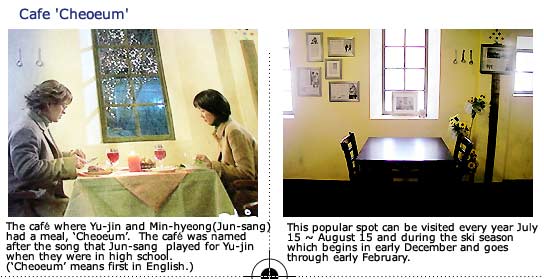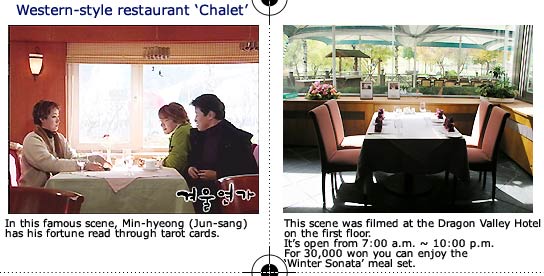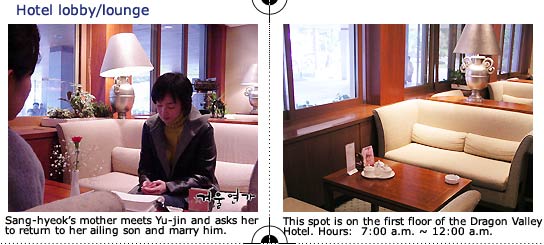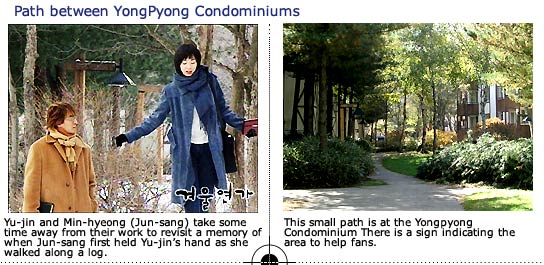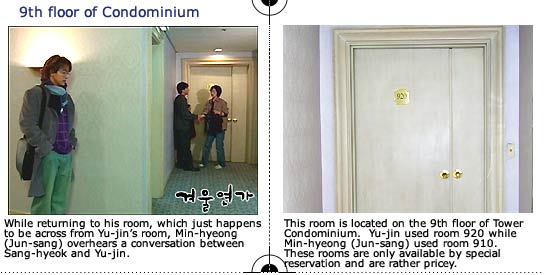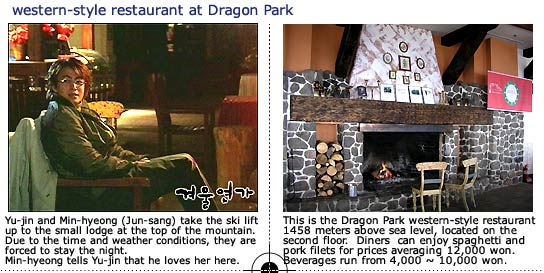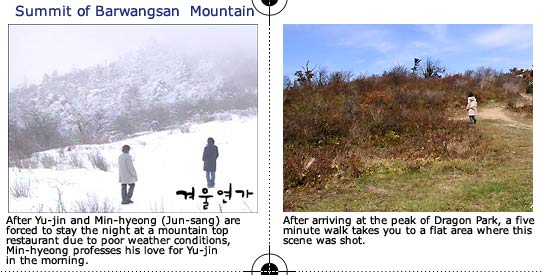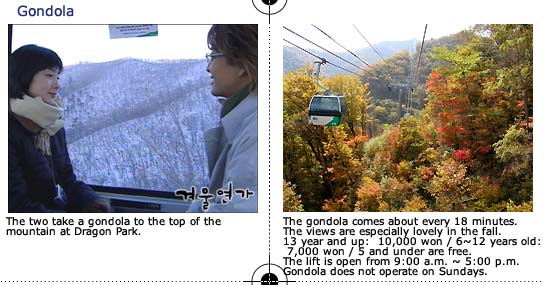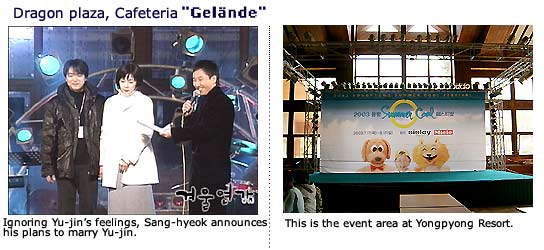 [Additional filming locations]
Choongang High School 중앙고등학교



Choongang High School was established in Seoul in 1910. This school is the set for the scenes during the cast's high school days. In actuality this school is an all boys' school. The show was filmed here during the school's winter break.
- see map

Daehangno



10 years after the supposed death of Jun-sang, Yu-jin is on the way to her engagement party when she sees a man who looks just like her first love, Jun-sang. She tries her best to follow him around the streets, not realizing that so much time had passed, she end up missing her own engagement party. - Click here for more information of Daehangno

Seoul Plaza Hotel



Min-hyeong (Jun-sang) checks into this hotel for an extended period of time. It is just outside this hotel where Min-hyeong is in his second car accident which brings back all of his memories. - Click here for more information

Oedo Island



The two lovers are reunited for the final time at the house that Min-hyeong built for Yu-jin. The house is on the picturesque island of Oedo.
- Click here for more information

* The pictures above are provided by KBS.