Experience the Traditional Martial Art of Taekwondo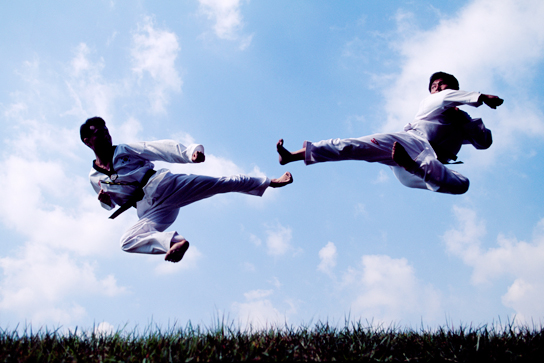 Taekwondo, the most recognized form of Korean martial arts, is a sport that emphasizes a sense of morality, humility, and a respect for one's opponent. It has become a globally-recognized sport through which practitioners can improve both their physical ability and mental strength. This martial art teaches both defensive and offensive techniques without using weapons. However, taekwondo puts more emphasis on defense because of the taekwondo spirit of respecting peace and justice. Continue reading to find out where you can experience this traditional Korean martial art.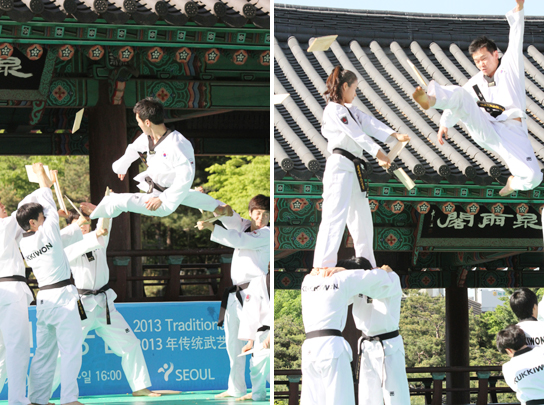 There are various kinds of taekwondo-related performances and hands-on programs at Namsangol Hanok Village. The programs are organized by the Seoul Metropolitan Government for international visitors who are interested in experiencing traditional cultural programs during their stay in Korea. These hands-on programs offer international visitors a chance to learn taekwondo's basic forms, self-defense skills, basic breaking and more. Foreigners can also watch professional taekwondo performances accompanied by gugak (traditional Korean music).
Those interested in joining the hands-on programs can apply on the website at www.taekwonseoul.kr (Korean, English, Japanese, simplified Chinese) or inquire by phone. There is no limit to the number of applicants; more lecturers will be made available if there are more participants. Admission to Namsangol Hanok Village is free of charge; however, fees apply for participation in the experience programs. (For more information, please visit the official website or inquire to taekwonseoul@istarcom.co.kr)
International Kumgang Taekwondo Center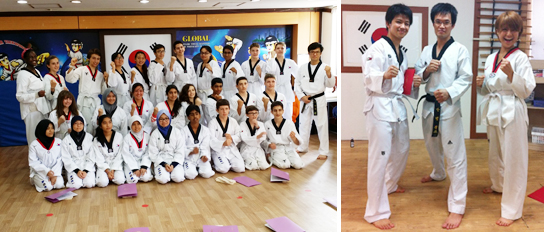 Photo courtesy: International Kumgang Taekwondo Center
International Kumgang Taekwondo Center specializes in providing taekwondo experience programs for foreigners. The programs are generally carried out inside taekwondo studios in Korea, making the experience more meaningful. Small group sessions and large group sessions are available, and times are flexible depending on the center's schedule. Programs range from short-term (basic forms and techniques) to long-term (a more intensive program held for a month or longer). After completing any of the programs, participants will be presented with a certificate and there will also be time allotted for picture taking. The taekwondo experience program is available from Monday to Sunday, 9:00 to 22:00. Classes are divided into 50-minute, 90-minute, two-hour, and three-hour classes. For more details, contact the center by phone or email and state your level (beginner, intermediate or advanced) before making a reservation.
Taekwondo Experience Program

| Duration | Level |
| --- | --- |
| 50 minutes | Beginner |
| 90 minutes | Beginner or intermediate |
| 2 hours / 3 hours | Advanced |
Information

☞ Location: International Kumgang Taekwondo Center (2F, 42, Mokdongjungangnam-ro, Yangcheon-gu, Seoul)
☞ Website: www.taekwontokorea.com (Korean only)
☞ Inquiries: +82-2-2642-0692 (Korean, English)
☞ Email: cashin76@hanmail.net

Photo courtesy: Muju Taekwondowon
Located on Baegunsan Mountain in Muju-gun, Jeollabuk-do, Muju Taekwondowon is a center where people can learn taekwondo in a place surrounded by nature. The center's expansive grounds occupy a land area of 2,314,000㎡ while the total building floor area measures 71,648㎡.
Muju Taekwondowon's main facilities include the T1 Arena (main stadium), T1 Theater (indoor performance hall), Experience Center Yap! (taekwondo experience hall), Doyak Center (training center), and more. Also available are training rooms where one can undertake an academic study of taekwondo, and accommodation facilities called "Doyakgwan." Doyakgwan is open to anyone visiting Muju Taekwondowon such as grandmasters, referees, practitioners, groups (schools or companies) and general visitors.
At the taekwondo experience hall, visitors can wear taekwondo uniforms and spar with a virtual opponent. The Taekwondo Museum exhibits the basics and the history of taekwondo, as well as some other taekwondo-related materials. Visitors can even watch a short taekwondo-themed animation here.
The center also offers program packages ranging from a one-day program to multiple-day programs. For more information, visit Muju Taekwondowon's website at www.tkdwon.kr (Korean, English).
Last updated, July 23, 2015
* This information was last updated in July 2015, and therefore information may differ from what is presented here. We advise you to check details from the official websites before visiting.