Yupki Tteokbokki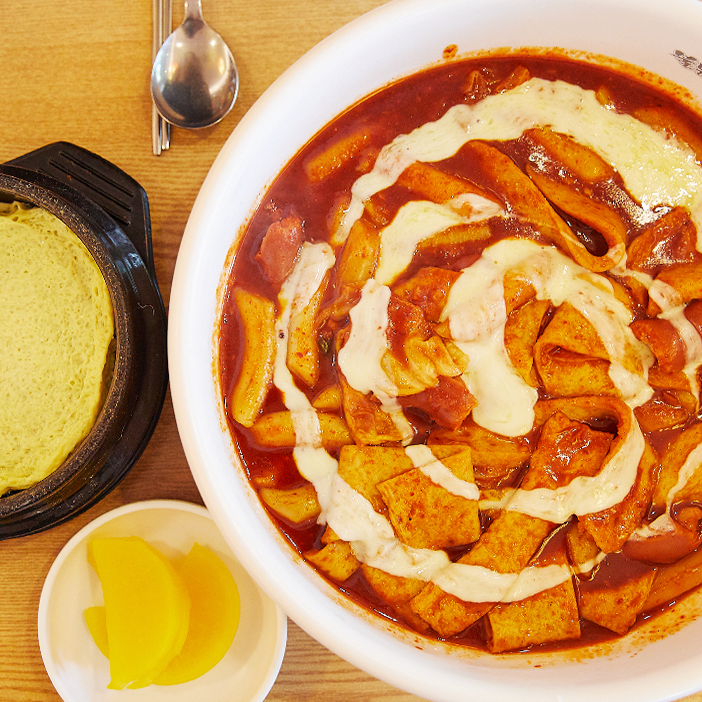 Koreans love spicy food. A little sprinkle of chili pepper and spice powder is no longer enough, and their love for spiciness has reached the point where they push and challenge themselves to find and bear the extreme. Some even say they feel immediate relief from stress as soon as they take a bite of something hot and spicy, identifying themselves as someone "addicted" to spicy food. At the center of all this is Dongdaemun Yupki Tteokbokki.
Yupdduk is available in six flavors based on the level of spiciness. The flavors are Nice – Jjajang – Yupdduk chobo (beginner) – Less spicy – Original – Spicy, in the order of the mildest to the hottest. If you are new to Yupdduk or can't handle spicy food, we recommend level "nice" or "jjajang."
Dongdaemun Yupdduk's most popular flavor is their original flavor. Don't let the name fool you; Dongdamun Yupdduk's "original" flavor is five times as hot as Shin Ramyun, a popular Korean ramyeon. Depending on your taste buds, this might be the hottest food you've ever had. We recommend that you start off with the mildest level and work your way up.
In addition, we recommend ordering one of the set menus that comes with additional foods. Included in the meal are steamed eggs, rice balls, twigim (fritters), and a milky soft drink that is sure to save your tongue from burning.
When the order arrives, eat a spoonful of steamed eggs to prepare your taste buds. You can also reduce the spicy flavor by mixing the cheese on top with the sauce. Eat tteokbokki, followed by a sip of the soft drink and a rice ball to ease the spiciness. Yupdduk's spicy kick will prove how Dondaemun Yupdduk rose to fame.
Helpful tip
Yupki Tteokbokki prices

It's always better to share your joy, and pain, with a friend. Yupdduk's price and quantity serve for two. A single Yupdduk costs 14,000 won and a set menu costs from 17,000 won.