Hwareohoe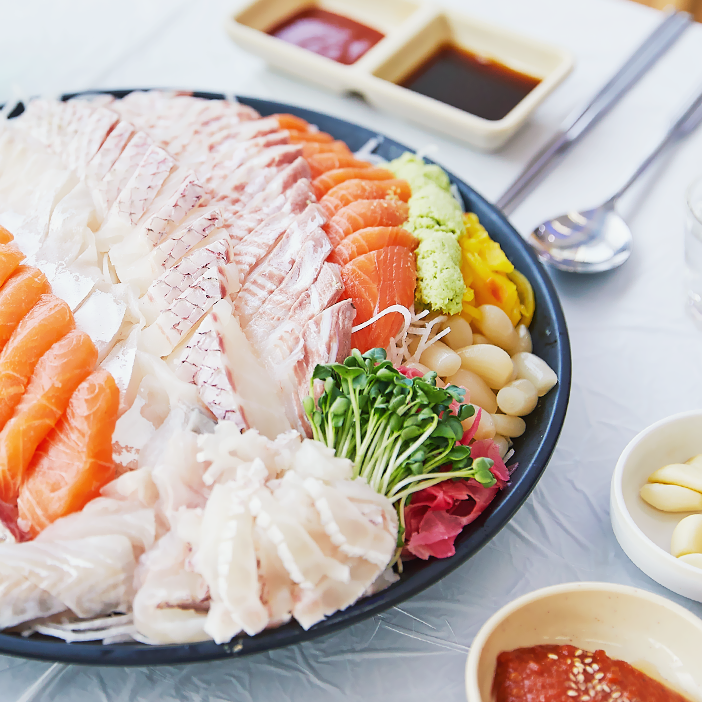 Korea and Japan are two of the few countries who enjoy eating raw fish. Raw fish is usually prepared by cutting the fish meat into thin slices after skinning and served on a plate as hoe (sliced raw fish). In Korea, it is usually accompanied by condiments like soy sauce, chogochujang (Korean chili paste with vinegar), or even doenjang (soybean paste) in some regions.

While the Japanese enjoy fish that are aged for a few hours, or even days, before serving, Koreans prefer hwaereohoe, a hoe prepared right away after it's been caught. Popular fish to use for hwareohoe are those that have white meat, such as halibut, rockfish, bream, and bass.

As a peninsula, Korea flourishes in the fish market industry along its coastal regions. It has become the norm for customers to buy live fish and have it prepared as hoe right on the spot to enjoy a meal in the market's restaurant hall. Follow the steps below to order and enjoy delicious hoe!
Most fishery markets that sell hwareohoe have their wholesale markets on the first floor, and a cafeteria where customers can dine on the second floor. Some sellers will even send the fish you purchase directly to an affiliated restaurant upstairs.
Available fish vary by season. If this is your first time to try hoe, we recommend white flesh fish like halibut, rockfish, bream, and bass.
Choose your fish, and pay the seller according to the number of people dining. Based on Noryangjin Fisheries Wholesale Market, it costs 40,000 won for two people. If you and your party have a big appetite, you might want to buy a fish that is estimated around 50,000 won.
Next, head to the restaurant hall upstairs. After a short wait, the fish you just bought will be brought to you, all prepared and ready to be eaten. If you are interested in the handling and skinning of your fish, you can observe how the fish is prepared while you wait.
At the restaurant, the table setting fee costs 4,000 won per person with an order of stew, and 6,000 won per person for a regular table setting without the stew. Side menus such as a bowl of rice, fried rice, or ramyeon noodles as well as drinks can be ordered separately.
Helpful tip
Make your experience better!

Hoe tastes much better when dipped in wasabi soy sauce or chogochujang
Better yet, add radish sprouts to your preferred condiment for a stronger taste
Koreans usually prefer to eat hwareohoe with soju rather than beer
Try it as ssam (vegetable wrap) by using a piece of lettuce to wrap a slice of hwaroehoe with a garlic clove and the sauce of your preference