Unlimited Tteokbokki Buffet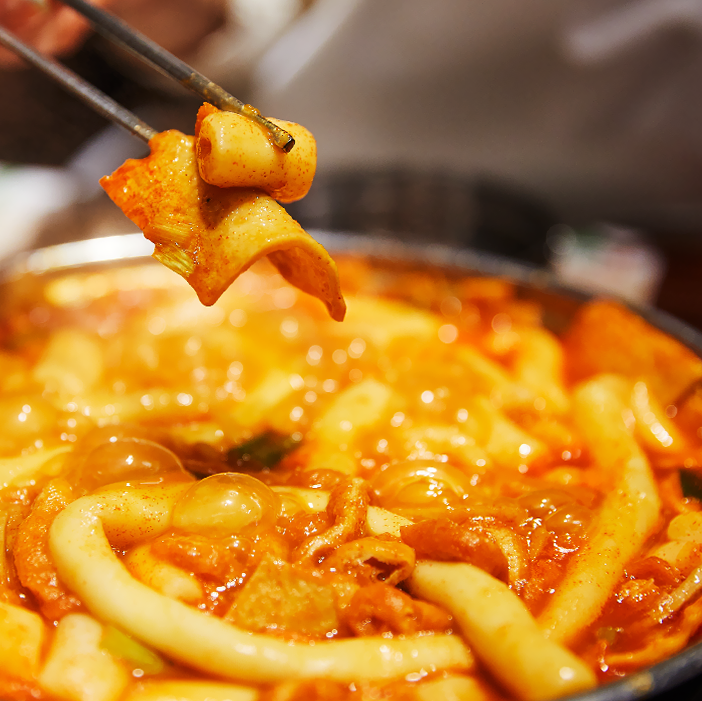 There are lots of buffets in Korea, from Korean and Western cuisine-based to meat, and even strawberry buffets! Therefore, it stands to reason that there would be buffets focused on Koreans' favorite snack food, tteokbokki (spicy rice cakes)! For just 10,000 won or less, you can eat as much tteokbokki as you want within a time limit. The biggest charm comes from being able to pick the ingredients and sauce you want from a wide variety.
First, you'll need to find a tteokbokki buffet. You can easily find a nearby branch of Dookki, one of Korea's largest tteokbokki buffet franchises, using Korean map applications.
The buffet offers a range of ingredients including tteok (rice cake), vegetables, noodles, sundae (blood sausage) and more. Even among these options, you have the freedom to choose. For example, you can mix and match long garaetteok (rice cake stick), joraengi tteok (peanut-shaped rice cake), sujebi tteok (hand-pulled dough rice cake), or gamja tteok (potato rice cake). Fill up your bowl with what you'd like and take it back to your table.
Fill the large pan at your table about two-thirds full with broth and turn on the tabletop stove. While waiting for the broth to heat up, head back to the buffet for some vegetables like cabbage, perilla leaves, mushrooms, and onions, or twigim (fritters). Just be sure to take only as much as you can eat, as there is a 2,000 won charge for leaving food behind.
Next up, you'll need to pick your sauce from the sweet and spicy original, black bean, curry, soy, or cream sauces that are available. If you can't handle spicy foods, we recommend the cream or black bean sauce. You can also mix different sauces together for a unique flavor.
After mixing the sauce with the base broth, slowly add your tteokbokki ingredients and cook over high heat. When it's all cooked, eat up! You can always refill your pan with more broth and ingredients, or change up the sauce if you want; it's all up to you!
Helpful tip
Dookki usage rules

Dookki is a self-serve, all-you-can-eat tteokbokki buffet. All tables are given a time limit of 1 hour and 30 minutes, during which you can freely use the buffet. The rate is 8,900 won for adults, 7,900 won for students, and just 4,900 won for preschoolers.