Kimchi Jjigae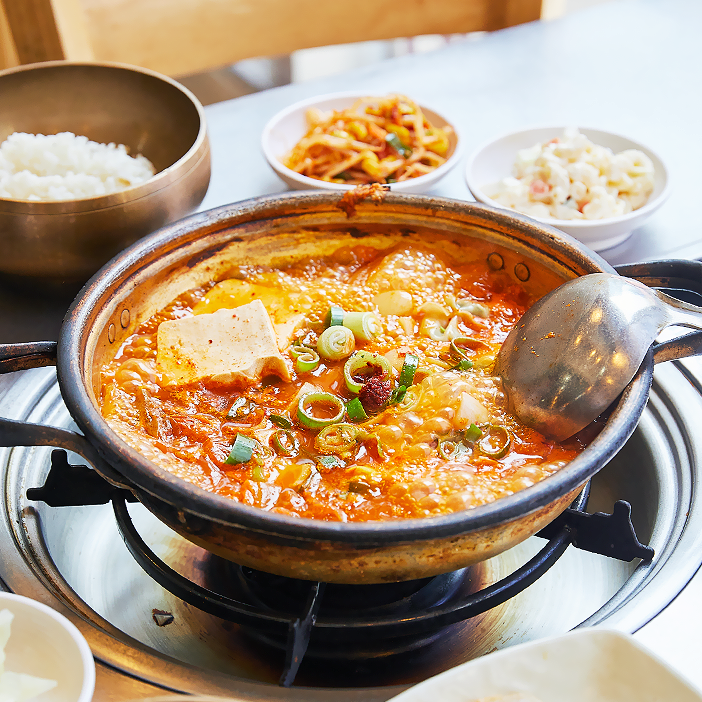 One of the most beloved Korean food among Koreans is kimchi jjigae, a stew that uses – you guessed it – kimchi as the main ingredient. Despite being a rather simple recipe, each ingredient and the way it is prepared can have a huge impact on the resulting flavor. Some people fry their kimchi in oil, others use anchovy broth. Some add samgyeopsal, others add tuna or kkongchi (mackerel pike). No matter how it is prepared, you're sure to have a filling meal with kimchi jjigae!
Nearly every restaurant in Korea has kimchi jjigae on the menu. Because the flavor can vary so greatly, for first-timers, we recommend visiting a restaurant that specializes in kimchi jjigae.
An added benefit of visiting a restaurant that specializing in kimchi jjigae, you can enjoy it with all-you-can-eat fried eggs! You'll have to make them yourself at the egg station; be sure to only make as much as you can eat.
You can also mix the stew with freshly prepared rice and laver flakes.
A serving of freshly made rice with oats comes with each order of kimchi jjigae.
The basic kimchi jjigae features pork and tofu slices in addition to the kimchi, for a filling meal
Helpful tip
Kimchi jjigae restaurants

There are many kimchi jjigae restaurant franchises in Korea, such as Daedokjang, Banban Sikdang, and Saemaeul Sikdang, famous for 7minute pork kimchi. The prices vary by franchise.
- Daedokjang: Kimchi jjigae set 7,000 won per person
- Banban Sikdang: Kimchi jjigae 8,000 won per person
- Saemaeul Sikdang: 7-minute pork kimchi 6,000 won per person