Lunchbox Café
at Tongin Market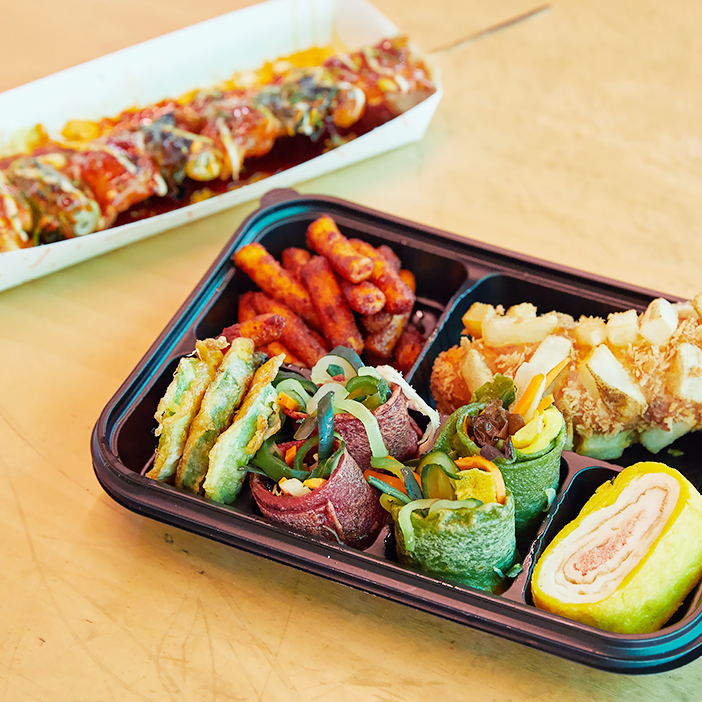 Traditional markets offer many tasty treats, but for beginners, it can be hard to know what to eat, or how much to buy. If you've never visited a traditional market before, we recommend trying the Lunchbox Café at Tongin Market! Explore the market and buy small servings of all the foods you'd like to try.
First, you'll need to exchange some money for yeopjeon, brass coins that were used as currency during the Goryeo and Joseon eras. You can get a tray and ten yeopjeon for 5,000 won at the Lunchbox Café, in the center of the market. The coins, with a value of 500 won each, can be used to pay for a number of tasty treats for a full meal within the market.
Look for shops with a "Lunchbox Café" sign; these vendors participate in the Lunchbox Café experience and accept yeopjeon as payment. After you've filled up your tray, head back to the Lunchbox Café to eat. You can also buy rice and soup there for two yeopjeon.
Buying seems easy, right? The hard part is deciding WHAT to buy. Follow our recommended meal for just 20 yeopjeon (10,000 won).

1. Gujeolpan yachae ssam (wrap of nine delicacies) & myeongnan gyeran mari (omelet roll with pollak roe)
2. Gamja cheese hot dog (potato cheese corn dog)
3. Gireum tteokbokki (pan-fried rice cakes)
4. Bul dak kkochi (spicy chicken skewers)
5. Hobak jeon (batter-fried summer squash)
Helpful tip
Make your experience better!

Food prices:
Gujeolpan 2ps – 4 yeopjeon
Myeongnan gyeran mari – 2 yeopjeon
Hot dog – 5 yeopjeon
Gireum tteokbokkki – 3 yeopjeon
Bul dak kkochi – 5 yeopjeon
Hobak jeon – 1 yeopjeon
There are plenty of other delicious foods available at the market, like rice cups, sundae bokkeum (spicy stir-fried blood sausage and vegetables), japchae (stir-fried glass noodles and vegetables), and goguma mattang (candied sweet potatoes). Be adventurous and try something new!