Korean table d'hote
with Icheon rice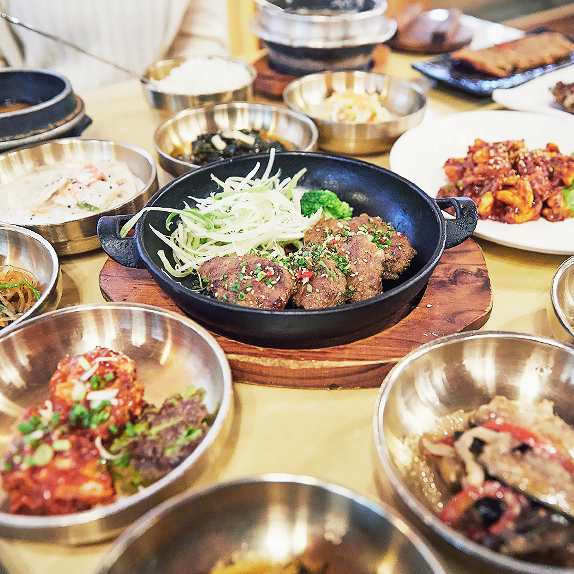 Rice is a staple food loved by people all over the world. Cooked Korean rice can be characterized by its glutinous and soft, yet firm texture. In particular, rice cultivated in Icheon is highly praised for its excellent taste and quality. Icheon has always been famous for its spacious fields and nutrient-rich soil, subsequently producing the best quality rice and the city is recorded to have even offered rice crops to kings during the Joseon dynasty. Have a Korean table d'hote that consists of Icheon rice and twenty side dishes for a meal you'll never forget!
The best place to enjoy a Korean table d'hote with Icheon rice is, of course, in Icheon! There are many Korean table d'hote restaurants to choose from within the city, with the most popular restaurants being "Naratnim Icheon Ssalbap" and "Cheongmok." A basic Korean table d'hote costs around 10,000 won per person.
One unique aspect of Korean table d'hote is that the many dishes come all at once, unlike Western style course meals. Be sure to keep the table cleared of your personal items so you can get your meal faster!
Once the table is all set, remove the lid of the dolsot (hot stone pot). Carefully scoop the rice from the pot into a separate bowl. Be sure not to scrape off the nurungji (scorched rice) stuck on the inside of the stone pot.
After removing the rice, fill two-thirds of the pot with hot water and replace the lid to prevent the heat from escaping. By the time you're done with your meal, the sungnyung (scorched rice water) will be ready for you to drink.
Now it's time to dig in. Start with a spoonful of steamy soft rice, followed by the twenty-some side dishes one by one. You can ask for more side dishes if you run out.
Helpful tip
Characteristics of Icheon rice

Transparent and shiny coat
Oval shaped and short in length
White color throughout
Savory aroma; glutinous and moist
Chewy and soft in texture