Convenience Store
Ramyeon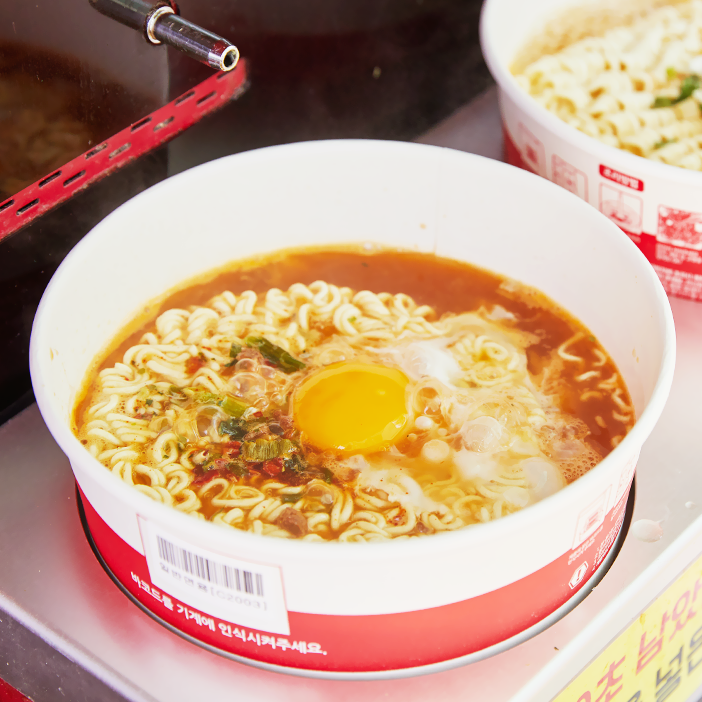 If you've ever had ramyeon, you'll know that cup ramyeon can never compete with the full-bodied flavor of ramyeon prepared over the stove with an egg added. If you're traveling in Korea and wish you had access to a stove where you could make your own ramyeon, then wish no more! You can easily prepare ramyeon at the convenience stores at Hangang Parks in Seoul!
First you'll need to buy ramyeon; Jin Ramen and Shin Ramyun are two of the most popular brands in Korea. If you want to put an egg in your ramyeon, you can also buy that now.
Put your ramyeon and seasoning in one of the disposable cooking containers provided by the convenience store.
Scan the barcode on the disposable container and then place your container on the ramyeon machine.
Press the 'Start Cooking' button and water will automatically come out to cook your ramyeon.
If you are going to add in egg, be sure to add it exactly when there is one minute and 30 seconds remaining.
Just like that, your ramyeon is cooked! Technology is amazing, huh? Sit on a picnic table and enjoy your hot ramyeon.
Helpful tip
Cost of Hangang Park convenience store ramyeon

Regardless of type, all ramyeon costs 3,000 won,
with eggs costing 500 won.