Korean Street Toast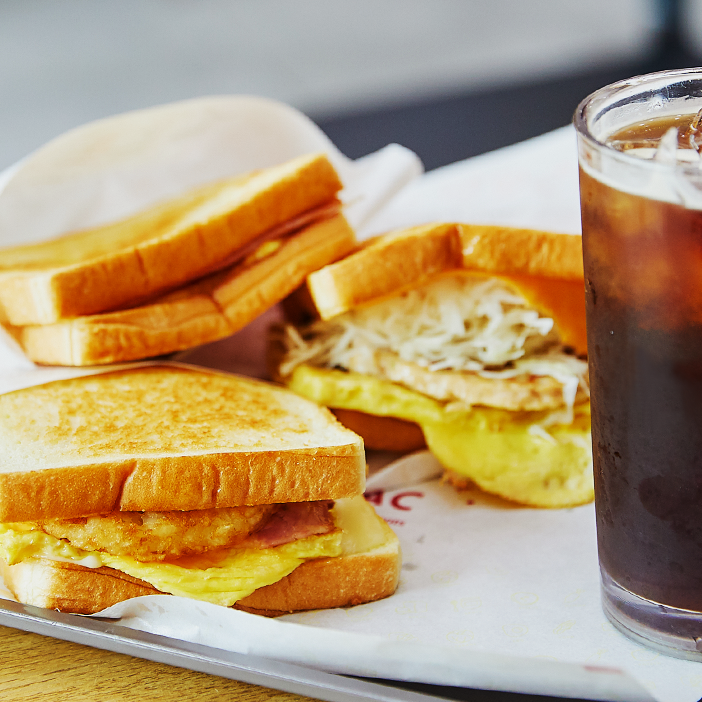 In Korea, "street toast" is not just an ordinary toasted sandwich, but a food that has its own character. In between two slices of toasted bread lie ham, cheese, vegetables, and egg, making for a perfect morning meal easily found on the street for people rushing to work. The original street toast recipe heavily relied on an egg omelet with ketchup and sugar as condiments, but the recipe has evolved over time to include chopped cabbage, sliced ham, cheese, and more.
First, toast two slices of sandwich bread front and back until they are yellow-brown in color.
Take one slice of bread and add the ingredients of your preference such as ham, cheese, hamburger patty, bacon, vegetables, and more.
Cover it up with the other slice of toasted bread. You can choose to cut the sandwich in half, or just start munching straight away.
Street toast vendors can usually be found in major downtown areas. Korea's most well-known street toast franchises are "Isaac Toast" and "Seokbong Toast." They both started out as small food stalls on college streets and in downtown areas before growing into nationwide franchises. If you come across one, stop by and see how they differ from toast sold at small pojangmacha vendors.
Helpful tip
Top 3 street toast menus popular among foreigners according to toast vendors

1. Buldak (spicy chicken) toast
2. Deep cheese, bacon, and potato toast
3. Ham and cheese toast