눈꽃 세상으로 떠나는 겨울 여행, 강원도 평창 대관령눈꽃축제
When snow falls, all turn shining silver and silence spreads across the city of Pyeongchang in Gangwon-do. Pyeongchang's snow scene is simply the most beautiful and peaceful. It is a time for reminiscing old winter memories and making new ones. It is also the time for the most fun winter festival, the annual Daegwallyeong Snow Festival.

Daegwallyeong Snow Festival first began in 1993, and has since become the largest winter festival in Korea. The 22nd Daegwallyeong Snow Festival was held on January 3 – 12, 2014 against the backdrop of beautiful winter scenery in the famous Daegwallyeong Highlands area.

The 22nd Daegwallyeong Snow Festival had no shortage of activities for the entire family. Starting with an opening ceremony, the festival held singing contests, half-nude marathon, hiking competition, art and literature festivals, etc. Additionally, there were snow rafting, sledding, potato baking, and other fun activities on the snow-capped field.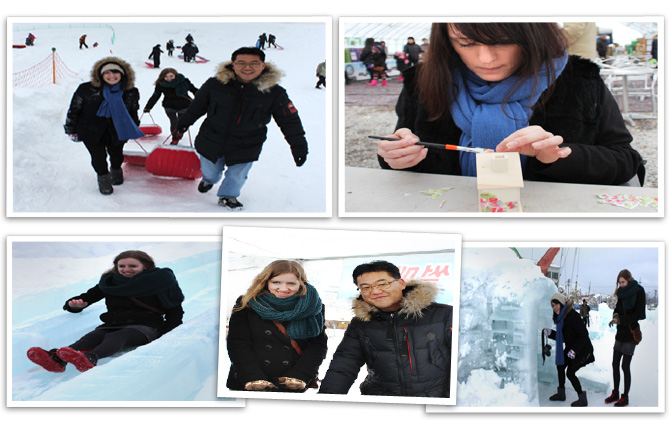 The festival venue is divided into different areas, each one with its own range of winter events and activities. One area has a giant snow sculpture project, a snow sculpture exhibition showcasing original works of local artists, a snowman-making activity, and various performances and events. Others have recreational activities such as snow sledding, bobsleighing and Winter Olympic Games experience programs. Visitors can also sit and relax at the igloo zone, go ice sledding, play a top spinning game, or build a bridge made of snow.

Another appeal of the Daegwallyeong Snow Festival is the availability of other popular tourist attractions nearby and local foods. Famous ski resorts including Yongpyong Resort, Alpensia Resort, and Phoenix Park, as well as cultural tourist sites like Pyeongchang Trout Festival, Eco Green Campus (formerly Samyang Daegwallyeong Ranch), Daegwallyeong Sheep Ranch, Odaesan National Park, and Woljeongsa Temple are easily accessible. Moreover, famous local specialties including sanchae jeongsik (prix-fixe of various wild greens and vegetable dishes), memil makguksu (buckwheat noodle), hwangtae-gui (grilled dried pollack), hwangtae-guk (dried pollack soup), Daegwallyeong hanu (Korean beef), and trout sashimi are widely available.
Regular Programs
(Fees may apply for some hands-on programs)
Period : January 3 – 12, 2014
Hours : 09:00 – 17:00
Exhibitions : Snow and ice sculptures, "Snowflake Writing Contest" winning compositions
Leisure & Recreation : Snow sledding, ice sledding, ice sliding, snow rafting, snow bobsleigh, snow ATV, hwangtae drying center, potato baking, skiing, top spinning, mask making, herb soap making, chocolate and cookie making, etc.
Performances and special events
Main Programs
International Half-Nude Marathon
Location : Daegwallyeong Highlands area
Date : January 12, 2014 at 10:00
About : Marathon runners must complete either a 5km or a 10km course wearing only pants. Each runner is given a small souvenir gift.
Courses (5km & 10km) : Both courses are set against the beautiful winter landscape of Pyeongchang. (Festival Venue -> (Old) Daegwallyeong Rest Area -> Festival Venue)
Giant Snow Sculpture Project
Location : Main festival venue
About : The project showcases Korea's largest snow sculpture that stands 70 meters high, and depicts sports of the Winter Olympic Games as well as symbols of Pyeongchang, the host city of the 2018 Winter Olympic Games.
Ice Slide : 5,000 won per person (maximum of five times per person)
Snow Rafting : 5,000 won per person
Snow Sledding : 5,000 won per person
More info
Period :January 3 – 12, 2014
Location :Hoenggye-ri area (Daegwallyeong-myeon, Pyeongchang-gun, Gangwon-do Province)
Homepage : http://www.snowfestival.net (Korean)
Telephone : +82-33-335-3995 (Korean)
1330 Korea Travel Hotline : +82-2-1330 (Korean, English, Japanese, Chinese)
Admission : 2,000 won (Participation fees for hands-on activities: 1,000 ~ 10,000 won / Cash only.)
Tourist Attractions

Donkey Ranch Don Quixote, the first donkey ranch in Korea, is an ecological park in Daegwallyeong. It offers a variety of hands-on experience programs, as well as play and food programs throughout the year. Visitors can feed the donkeys and take pictures on the vast plain that spans over 16 acres, or feed the sheep on the hill. They can also ride the four-wheeled ATVs, or go sledding, rafting and boating in snow during winter.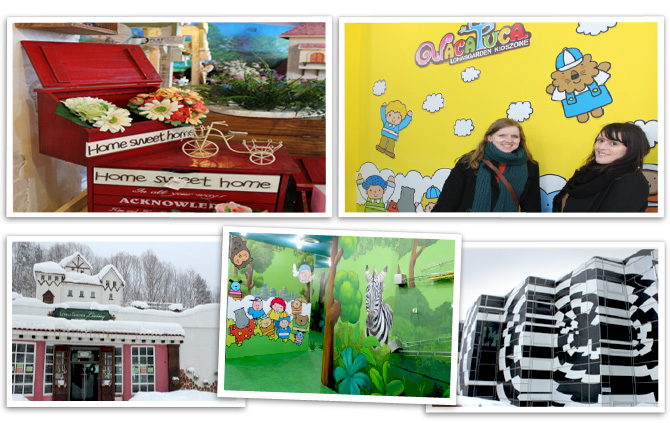 Nestled in the beautiful nature of Pyeongchang, Lohas Garden & Wacapuca Children Science Hall is a place for leisure, relaxation, shopping, and offbeat experiences. Lohas Garden offers accommodation and convenience facilities. The Children Science Hall of Wacapuca presents the theme of 'Imagination and Illusion', and offers offbeat experiences to children. The Media Experience Zone is designed to stimulate emotions, sensibility and creativity, while the Outdoor Zone is all about cute characters. This is a perfect cultural space for children to have fun with their families in a pleasant and safe environment.

Woljeongsa Temple is not only one of the oldest, but also one of the most significant temples, as it houses numerous National Cultural Assets. Moreover, its location at the foot of Odaesan Mountain and its surrounding forest of fir trees add to the temple's landscape. The fir tree forest is a famous site of forest bathing, a leisure activity that involves strolling inside the forest for therapeutic benefits.

The Korea Botanic Garden is a must-see attraction for those visiting Odaesan National Park. The garden highlights simple yet beautiful Korean native wild flowers and features about a thousand species of plants. This is the first garden in Korea dedicated to indigenous plants of Korea. Opened in April 1999, the flowers are divided into sections by theme such as plants whose names are associated with persons, and plants that are beneficial to human health. Also, given that Korean native flowers are more beautiful in groups, a number of colonies of flowers are organized by season. Walk along the long walking path and enjoy indigenous plants.

Korean Traditional Food Culture Experience Center offers a special opportunity to experience Korean traditional cuisine and dining culture. The center showcases the process of fermenting kimchi, doenjang (soybean paste), and ganjang (soy sauce), as well as the traditional way of storing Korean food and spices. Meanwhile, the center is also famous for appearing in the Korea drama Sikgaek (Gourmet).

Herbnara Farm features 14 gardens with distinct themes such as children and fragrance. In addition to housing more than 120 species of herbs, the farm offers diverse programs like making herb soap and candles.

The best features of Alpensia Ski Resort are the quality of snow and views of Daegwallyeong Highlands. The resort has six slopes accommodating all levels and up to 3,000 skiers at a time. It also has several snowboard-only slopes and an extra long sledding hill. Three high-speed lifts carry anywhere between 2,400 and 3,000 people per hour, so there is almost no waiting time. Finally, there are top accommodation facilities on the resort including the Holiday Inn Alpensia Pyeongchang Suites Hotel and the Intercontinental Pyeongchang Resort, as well as the Holiday Inn Alpensia Pyeongchang Resort, which boasts outstanding spa facilities.

As the first ski resort to offer modern skiing facilities, Yongpyong Resort has been leading the development and popularization of skiing in Korea. It has successfully hosted several international ski competitions like the World Cup Ski Competition and the Winter Asian Games, and will host the alpine ski events during the 2018 Pyeongchang Winter Olympic Games. Previously, it served as a filming location of the blockbuster TV drama Winter Sonata. The resort has 28 slopes accommodating all levels, and operates 15 lifts and a 7.4km round-trip gondola. Thanks to the favorable weather conditions in the region, the resort is able to operate ski slopes from mid-November through early-April, which is longer than the average ski resort opening period.
Local Food
Pyeongchang is home to a wide variety of foods, so much so that a culinary trip could be organized.
Hwangtae dried under the snow of Daegwallyeong

There are several big and small hwangtae drying centers in Hoenggye, Daegwallyeong. Hwangtae is the yellow pollack that is dried outdoors during winter. High in protein, it is frequently grilled, steamed, and made for soup. Due to the similarity in its texture as that of deodeok (type of mountain herb), hwangtae is also called deodeok bugeo.
Hot and spicy memil makguksu and memil buchim
Memil (buckwheat) is one of the most popular ingredients in Pyeongchang, and known to help with digestion, blood circulation, and skincare. It is a famous specialty of Bongpyeong, a small town in Pyeongchang-gun District that appears in Korean author Lee Hyo-seok's famous short novel, When Buckwheat Flowers Bloom (메밀꽃 필 무렵; Memilkkot pil muryeop).
Buckwheat restaurants specializing memil makguksu (buckwheat noodles) and memil buchim (buckwheat pancakes) can be found in Hyoseok Cultural Village, which is named after the famous author. Memil makguksu refers to a bowl of chewy buckwheat noodles dressed in a hot, sweet and sour dressing. Memil buchim is a buckwheat pancake fried with fermented kimchi and wild vegetables. The more authentic and traditional way of making memil buchim is topping a buchim with kimchi and radish, and rolling it. The two types of memil dishes are often eaten together, as they complement each other very well.
Top-Quality Beef

The Daegwallyeong hanu (Korean beef) has risen as a symbolic food of Pyeongchang. Daegwallyeong Hanu Town (+82-33-332-0001), located on the way to Alpensia Resort, is a famous restaurant that serves top quality beef. Its customers choose their own meat from the butcher case, and grill it at the table for a small table fee (4,000 won per person). Moreover, hanu here is much more affordable than that of other restaurants.
Sanchae jeongsik, serving up flavors of nature

Sanchae jeongsik is a prix-fixe meal consisting of various dishes made of wild vegetables picked from the Odaesan Mountain National Park area. The greens are picked in the spring, and dried for use in the winter.
Songeohoe, the chewy, orange-colored trout sashimi

In the cold waters of mountain valleys in Pyeongchang live songeo or the trout. Naturally, songeohoe or the trout sashimi has become a famous and delicious specialty of the region. Songeohoe is tender, much similar to raw salmon, and also chewy. It is high in calcium, vitamins, protein, and especially DHA. Therefore, it is known to be extremely effective in preventing aging, cancer and anemia, and also treating high blood pressure and diabetes. In Pyeongchang, songeohoe is served with red pepper paste and bean powder.
Major Festivals

The Pyeongchang Trout Festival takes place every winter in Pyeongchang-gun District, the home of Korea's biggest trout farm. The festival holds a wide range of snow and ice leisure activities including ice fishing, sledding, and more. Trout can be prepared raw or cooked right away at a nearby restaurant.
Period : January
Address : Jinbu-myeon, Pyeongchang-gun, Gangwon-do
Inquires : +82-33-336-4000 (Korean)

Hyoseok Cultural Festival is held to commemorate Korean author Lee Hyo-seok and his short novel, When Buckwheat Flowers Bloom, which demonstrates the connection between human life and beauty of nature through the dazzling scenery of Bongpyeong. The festival offers various cultural programs including a poem exhibition, literature night, Hyo-seok essay contest, nature experience (e.g. fingernail coloring using balsam), and buckwheat food cooking.
Period : September
Venue : Lee Hyo-seok Culture Village (Bongpyeong-myeon, Pyeongchang-gun, Gangwon-do)
Inquires : +82-33-335-2323

The Odaesan Buddhist Culture Festival takes place every year around October at the foot of Odaeson Mountain. Through a wide range of Buddhist rituals and cultural programs, the festival offers a chance to learn about and experience Korean Buddhism.
Period : October
October : Jinbu-myeon, Pyeongchang-gun, Gangwon-do
Inquires : +82-33-339-6800 (Korean)