【 Photo: Bukhansan Dulle-gil 】

【 Photo: Panoramic view of Bukhansan Mountain 】
Recommended Hiking Trip following Bukhansan Dulle-gil
Stretching across downtown Seoul and further into the mountainside of Gyeonggi-do, Bukhansan Dulle-gil, a hiking trail 71.5 km in total length, connects the forest paths and villages along the foothills of Bukhansan Mountain (alt. 836.5m) and Dobongsan Mountain (alt. 739.5m) in Bukhansan National Park.
The trail is made up of a total of 21 sections, with each course having a different length and difficulty, and requiring various time to complete. Courses 1 through 20 are open every day to visitors without making a reservation; however, route 21 (Uiryeong-gil Trail) can only be entered by hikers who have made a reservation in advance online or via phone.
There are two starting points that hikers may embark on the Uiryeong-gil trail, and foreign hikers can make a reservation via phone call to Gyohyeon Hiking Information Center. Reservations must be made at least one day before hiking, and hikers will have to present their identification card or passport for verification on the day of the hike, before entering the trail.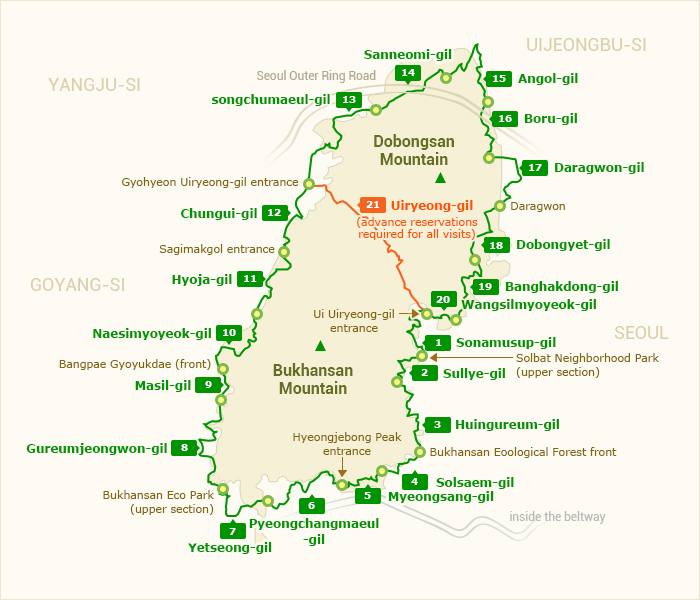 More info
Bukhansan Dulle-gil Hiking Information Center
Address: San 73-1, Suyu 4-dong, Gangbuk-gu, Seoul
Operating hours: Weekdays 10:00-17:00, Weekends 09:00-18:00
* Uiryeong-gil Trail 09:00-14:00 (all hikers must descend from the mountain by 16:00)
Website: ecotour.knps.or.kr/dulegil (Korean, English, Japanese, Chinese)
Inquiries: +82-2-900-8086 (Korean only)
Reservation Inquiries (Uiryeong-gil Trail): 10:00-17:00
Ui Information Center +82-2-998-8365 (Korean only)
Gyohyeon Information Center +82-31-855-6559 (Korean, Japanese, Chinese)
* Note: Foreign language assistance may not be available, depending on the staff working that day.
1330 Korea Travel Hotline: +82-2-1330 (Korean, English, Japanese, Chinese)
This page was last updated in August 2016, and therefore information may differ from what is presented here. We advise you to check details from the official website before visiting.
<Last updated on August 30, 2016>